Wrap up the Holidays with Good Cheer
Warm, Welcoming, Fun and Festive – Spend the Special Days With Us
Christmas Eve – Friday, December 24
We'll be open for lunch and dinner on Christmas Eve, offering our regular menu highlighting the best of the season, along with a some festive specials.
Please note that we will be closed on Christmas Day and Boxing Day.
New Year's Eve – Friday, December 31
Warm up for your New Year's Eve festivities at Naramata Inn. While we are now sold out for New Year's Eve Dinner in the Restaurant, there's another great way to celebrate with us. Our pop up Wine Bar is hosting two seatings for guests to enjoy great wine, feature beverages, and lovely bites like cheese and charcuterie boards.
Join us before going out with friends from either 3:30pm-6:30pm or 7pm-10pm.
Both seatings are $20 per person, include a lovely glass of bubbles and have limited availability. Book now at naramatainn.com/events.
Please be sure that you have booked for the correct time!
*Note: The Wine Bar is closed for private events on December 23rd.
Emily's Holiday Wine Picks
What we all love most about Christmas is how it really just takes care of itself. Kidding. We all know that the holidays have the potential to be a stress-fest, especially when the wine fridge isn't adequately stocked. Here's a short and sweet list from our Wine Director, Emily Walker, featuring a few local wines that you'd be smart to crack into this holiday season.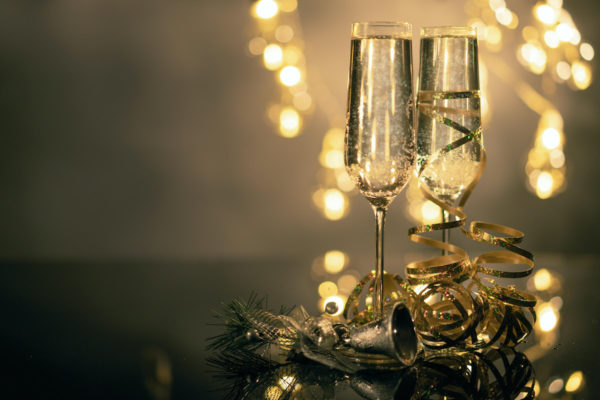 1). "Festive Fizz" pack from Bella Wines – Naramata Bench
Bella is BC's only fully-dedicated sparkling wine house. It's all they produce, so they're pretty good at it. Jay and Wendy's focus is on single-vineyard, traditional method and ancestrale wines made from Chardonnay and Gamay grapes. I'd suggest opting in for one of their "Festive Fizz" party packs while you still can and bust out those pigs in a blanket.
2). Tantalus 'The Bear' Chardonnay 2020 – $20 – Kelowna
Here is truly one of the best value Chardonnays you'll come across locally. With some of the earliest vinifera vines planted in the province, Tantalus is widely recognized as one of the finest producers of Riesling in Canada, but their Chardonnay program is not to be overlooked. This particular bottle is made from grapes from one of their younger vineyards planted in 2013 and shows a bright, vivid, pure expression of the grape with just a kiss of oak that's more evident in the wine's textural weight than it is in its flavour. It's not fussy, but this wine would really appreciate a seafood tower with freshly shucked oysters, crab legs and maybe a few lobster tails if you can be bothered.
3). Monte Creek Ranch Pinot Noir 'Reserve' 2019 – $35 – Thompson Valley
I recently visited Kamloops in the Thompson Valley which included a stop at Monte Creek Ranch Winery. This is a region and a winery to watch. Owned by a local family, the winery has over 75 acres of vines planted and the commitment to both quality and sustainability is impressive. The 2019 Pinot Noir is made with a minimal intervention approach and shows both intensity and elegance in the glass. It begs for roasted duck but will settle for a turkey dinner.
4). Echo Bay Vineyard, Cabernet Franc 2018 – $45 – Okanagan Falls
This is a small family farm just north of Okanagan Falls where the Rufiange family live, work and create. The property has been in their family since the late-1960s and together Kelsey (winemaker) and her parents, Kathy and Mark, have transformed it into a self-sustaining wine growing oasis through organic and biodynamic farming and a genuine devotion to quality. Their Cabernet Franc is one of my favourite examples of this grape variety in the Okanagan, showing bright raspberry fruit, bramble and crushed gravel with soft but structured tannins. I'm thinking roasted pork tenderloin.
5). Modest Wines 'By Jove', Sangiovese 2019 – $29 – West Kelowna
Modest Wines is a sub-label of Mt. Boucherie Estate Winery, who are venturing to have some fun while making some seriously delicious wine at the same time. Imagine that. The line-up of wines features obscure grape varieties (at least, by BC standards) and cheeky names. But the juice inside is no joke. This is 85% Sangiovese with a dash of a few other more expected Okanagan grape varieties to balance. It's that perfectly juicy, medium-bodied red, peppered with spice and game notes while keeping things fresh and lifted. Grab your glass and snuggle up right next to the charcuterie board.
6). Esquimalt Wine Company 'Rosso Vermouth' – $36.99, Victoria
For those not familiar, vermouth is a fortified and aromatized wine. This BC vermouth is made in the traditional Italian rosso style and if you ask me, they really nailed it. The start of a small-batch soda company in 2015 is what led husband and wife team, Quinn and Michaela, down the path of researching botanicals. This then spun-off into a "feverish love-affair" with vermouth and all things apéritif. To make this rosso, they used uncovered techniques, botanicals and methods from the great, long-forgotten, 19th-century vermouth houses of Italy and North America, while weaving in their own modern approach. The base wine is their traditional Wildflower mead blended with the 2013 Schönburger from Venturi-Schulze Vineyards in the Cowichan Valley, and spirit from Stillhead Distillery in Duncan. They then add 32 different botanicals. This is what I'm drinking either in my Negroni (click here for Naramata Inn's House Negroni Recipe) or with a splash of soda before or after a meal.
Gifts for the Whole Flock
Are you a last minute holiday shopper? We've got you covered, and you don't even have to leave the couch. Plus it comes with a gift for you!
Pay it forward with a gift card that your loved ones can use towards their own "Inn Real Life" Naramata experience next year. Even better: spend over $500 in total on gift cards in the one transaction, and we'll give you your own bonus gift card worth 10% of your total! Click here to purchase a gift card.
Check out our 2021 Holiday Gift Guide now, and have our best-selling stocking stuffers of preserves, granola and a signed copy of Chef Ned's Lure cookbook shipped directly to recipients through our online store.
Finally, don't miss the chance to win a VIP Naramata Inn experience for a very good cause. For as little as $20 you could win a 3-course dinner for two with wine pairings, a welcome amenity, an overnight stay in a queen room with no blackout dates. All this while lending support to Naramata's littlest residents. Click here to learn more and buy your tickets.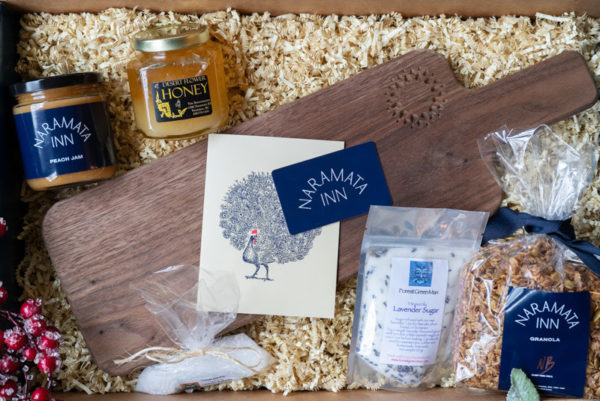 Chef Ned's Holiday Roasted Scallops with Cranberry, Bacon, Kelp & Whiskey Vinaigrette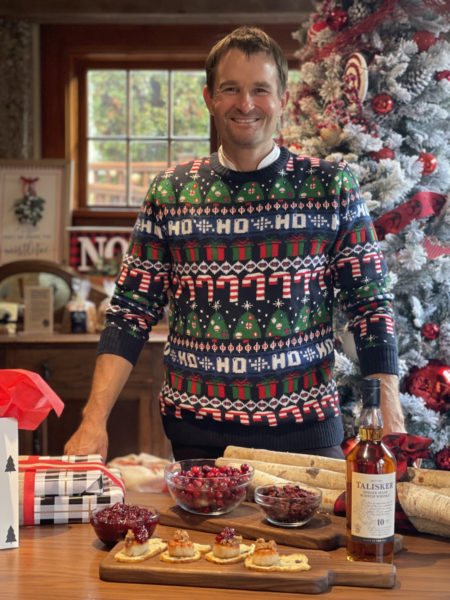 This holiday season, who isn't looking forward to sharing some tasty bites and celebrations with family and friends?
It's been a while since we've been able to get together to enjoy great company with delicious food and drinks. In that spirit, Chef Ned has created a recipe that's ideal for sharing and has festive flair and flavour that's sure to impress. These perfect bites combine sustainably-sourced scallops, cranberries, bacon and a splash of whiskey.
It's a recipe that combines flavours that are both comforting and festive, but isn't your typical holiday recipe. On a deeper level, the ingredients on the plate represent Chef's ongoing commitment and passion to sustainability and the 'rewilding' of our lakes, oceans and rivers. Passing on a recipe that shares Chef's commitment, inspires his work as a chef, ocean advocate and father, which is always a gift he always enjoy passing along.
View the festive recipe and share your creations with us @naramatainn socially.
There's more! Our team shares more holiday feast inspiration ~ start off with Chef Minette's Apple and Chicken Liver Parfait, and choose a main course from Chef Stacy's traditional Perfect Turkey recipe or a lighter Seared Steelhead and Apples, followed by one of Pastry Chef Liz's delectable Whiskey Fruitcake, Bailey's Creme Brûlée, and Squash & Pumpkin Pie recipes. and have a very happy holiday.. and have a very happy holiday.
Wintersleep
Naramata Inn will be closed January 1 through March 2022
This has been another unforgettable year in many ways, and we're so grateful for your continued support. On January 1, Naramata Inn will close for the rest of the winter, reopening in March 2022, ready for another exciting year. The closure will give our team time to catch their breath, while our 114year old building gets a little TLC.
But don't be a stranger – keep up with us on Instagram to be the first to know about our promotions and news. And we'll continue to share recipes from the Inn so we can still be connected while we are roosting during our wintersleep.
Book Now for 2022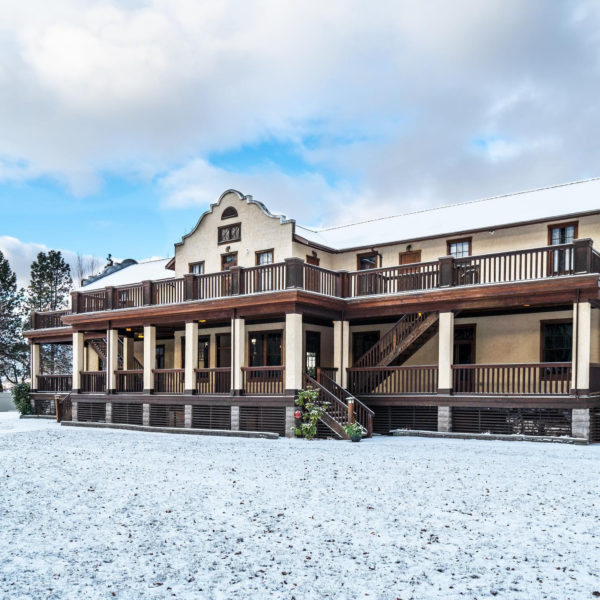 As many of you know, we're a really great restaurant. With rooms. We continue to discover and share the best of the Okanagan's natural bounty and put it all in one place.
Chef Ned Bell's hyper-local menus help enhance diners' connection with Naramata – the unique flavours, sights, smells, sounds and beauty of the Naramata Bench sub-region. People travel to eat. And when they do, they want to taste the region.
Every room has a unique construction and showcases its original 1908 charm through period details like carpentry and clawfoot or deep soaker tubs. But don't worry—our recently updated rooms offer all of today's comforts. We're talking fluffy linens, cozy robes, and reliable WiFi.
Naramata Inn is over a hundred years old, but we feel more youthful than ever. And people feel different when they stay here. The good kind of different. It's a bit hard to explain—you should probably just come discover it for yourself. Or better yet, come back again!
Information and images provided by Kate Colley, Narmata Inn. Feature image: Thanks to Mark Brett and Will Van Middendorp for the great picture!