'Thon Frais et Rillon en Salade'  (Fresh Tuna & Pork Belly Salad)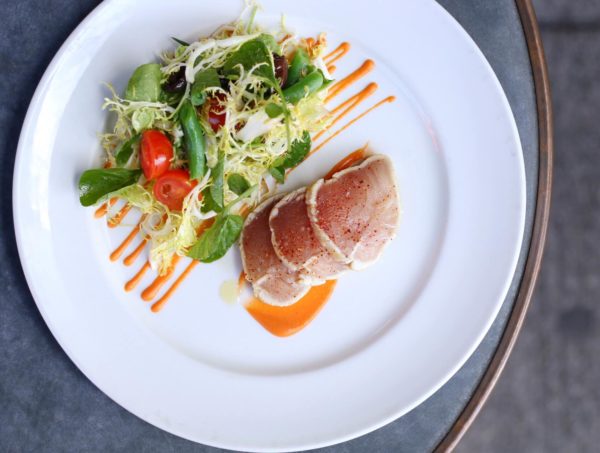 By Dan McGee, Chef, Au Comptoir
Albacore Tuna, Crispy Cured Pork Belly, Olives, Summer Beans, Tomato Watercress
Yields 4 servings
INGREDIENTS
2 cups Frisée, washed and trimmed of dark green parts
2 cups Watercress, washed and trimmed
12 Cherry Tomatoes, cut in half
12 Summer Beans (green, dragon's tongue, yellow, etc.)
12 Niçoise Olives, pitted and halved
1 loin Albacore Tuna (roughly 2 lbs)
400 g Cured Pork Belly
Juice of 1 lemon
150 mL Extra Virgin Olive Oil
4 Red Tomatoes on the Vine
2 Shallots
2 cloves Garlic
METHOD
Tomato Coulis:
Preheat oven to 350°
Roughly chop red tomatoes, shallots and garlic. Season with salt and toss with 50 mL of extra virgin olive oil.
Transfer to an oven-proof pan and place in the oven for approximately 45 minutes, or until tomatoes begin develop a rich colour and break down.
Allow to cool slightly, then transfer to a blender. Add another 50 mL extra virgin olive oil and purée until smooth.  Pass through a sieve and set aside.
Tuna:
Remove any bones from the tuna loin, season with salt and refrigerate until chilled.
Heat a small amount of canola oil in a pan on medium high heat, and sear tuna for roughly 45 seconds per side.
Transfer to a clean plate and place back in refrigerator.
Pork Belly:
Cut pork belly into 10cm thick slabs and sear on medium high heat until golden brown and crispy.
Transfer to a paper towel-lined plate.
Assembly:
Chanel your inner Van Gogh and decorate your plate with the tomato coulis as you desire.
In a medium mixing bowl, combine the frisée, watercress, cherry tomatoes, olives, and beans. Lightly dress with 50 mL extra virgin olive oil and the juice of 1 lemon. Toss gently and divide between four plates.
Place the golden brown crispy pork belly next to the salad.
Slice the tuna into 1-cm thick slices and divide between four plates. Enjoy!
DANIEL MCGEE
Executive Chef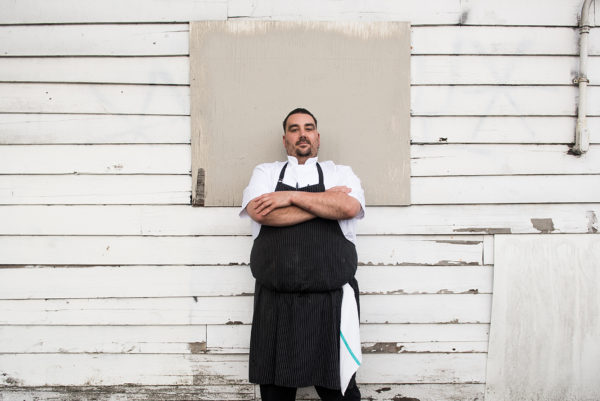 Although born and raised on Vancouver's North Shore, Daniel McGee has nurtured an abiding passion for the delicate and celebrated nuances of French cooking ever since he embarked on his culinary career more than 15 years ago.
Before opening Au Comptoir with co-owners Maxime Bettili and Julien Aubin in 2014, Daniel honed his culinary skills and knowledge of the fine art of traditional French cooking in a number of notable Vancouver restaurants, first as Chef de Partie at Bacchus at the Wedgewood Hotel and then as Sous Chef at both Pied-â-Terre and PiDGiN.
Just as Au Comptoir's front-of-house staff has cultivated a reputation for recreating the same quintessentially Parisien atmosphere and attention to detail for which the City of Light's cafés are renowned the world over, Daniel's joie de vivre in the kitchen has also garnered the restaurant rave reviews thanks to his West Coast-inspired takes on classic French bistro fare. Whether it's le petit déjeuner, le brunch or le dîner, Daniel's menu offers a memorable array of French classics featuring the best fresh, organic and sustainably sourced ingredients, all while using Vancouver's coast, farms and pastures as his inspiration.
Twitter: @Au_Comptoir
Instagram: @Au_Comptoir
Facebook: /AuComptoirVAN
Website: www.aucomptoir.ca