This Valentine's Day, TWG Tea, the world's finest luxury tea brand invites you to indulge your amour to a romantic breakfast in bed with TWG Tea Glamour Collection Teapot and Tea Bowls. The elegant porcelain Glamour Collection is a simple yet refined addition to the morning table, a happy balance of tradition and modernity. With a milky white porcelain interior, the Glamour Teapots are available in bright, hand-painted hues of Rose or Turquoise, perfect as a chic 'His & Hers' complement, to enjoy an exquisite tête-à-tête on Valentine's morning. Reminiscent of the silhouette of a flower, a matching collection of porcelain tea bowls awaken the senses with any variety of tea. Available in the same shades of Rose or Turquoise, they are lined with an opalescent inlay which was carefully shaped to perfectly fit the curvature of your mouth.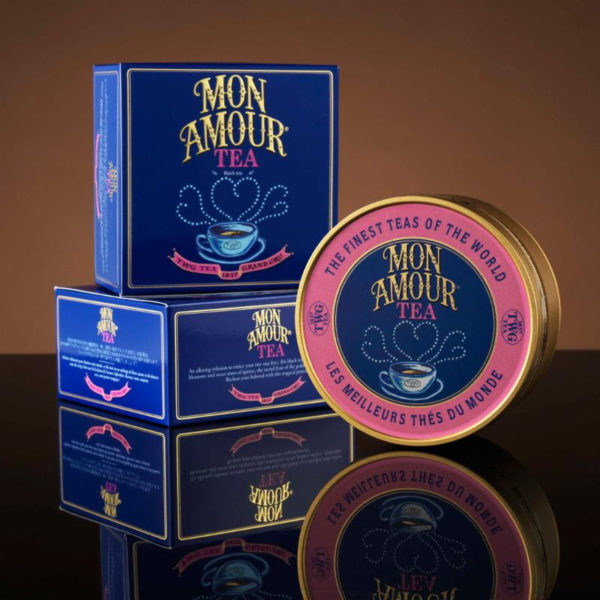 Mon Amour Caviar Tin Tea
Embrace the season of romance with a wam cup of Mon Amour Tea, encased in a glamourous, royal blue caviar tin tea and gift box for your valentine. Beckon your beloved and cosy up in bed with this magical potion of black tea blended with yellow blossoms and sweet notes of quince, the sacred fruit of the Goddess of Love.
The TWG Tea Glamour Teapots range from $528 – $1,021 and the Glamour Tea Bowls range from $113 – $339. The Mon Amour Caviar Tin Tea retails at $47 and will be available beginning 1st February 2017 at the TWG Tea Salon & Boutique in Vancouver. Canadian orders can be made online at www.VanSingDG.com.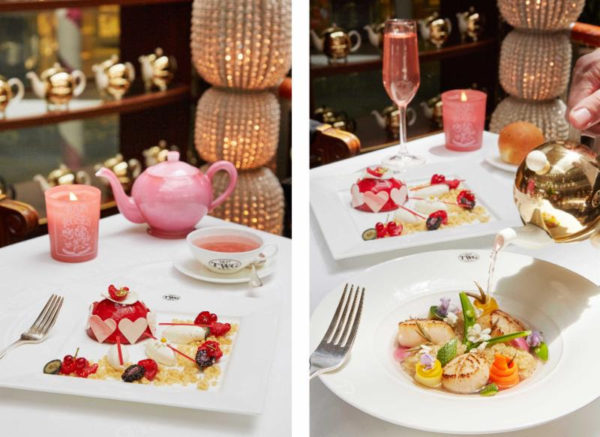 Valentine's Day Set Menu
Complete the day of romance with an exquisite dinner to celebrate this season of love. TWG Tea offers the perfect setting for you and your beloved on this special occasion, with a tea-infused Valentine's Day Set Menu created to enchant and delight the taste buds. Start your evening with a glass of bespoke Bain de Roses Tea infused Champagne cocktail, created by TWG Tea Connoisseurs for this special occasion. Ignite your senses with TWG Tea's pan-seared scallops complemented by a dashi broth infused with White Desire Tea; accompanied by steamed garden vegetables and White  Desire Tea leaves; served with garlic Korean brown rice. Round off your tête-à-tête over a delightful treat of Bain de Roses Tea infused mousse and raspberry confit, served with scoop of Vanilla Bourbon Tea infused ice cream and fresh berries. The Valentine's Day Set Menu is paired with a pot of Mon Amour Tea, for a true celebration of love.
The TWG Tea Valentine's Day set menu is available exclusively on 7 to 14th February 2017 at the TWG Tea Salon & Boutique in Vancouver.
Follow us on social media and tag us with #TWGTeaOfficial #TWGTeaCanada #GlamourCollection #MonAmourTea 
Facebook – www.facebook.com/TWGTeaOfficial  & www.facebook.com/TWGTeaCA 
Instagram – @TWGTeaOfficial & @TWGTeaCA
Twitter – @TWGTeaOfficial & @TWGTeaCA
YouTube –  www.youtube.com/user/TWGTea1837
About TWG Tea
TWG Tea, the finest luxury tea brand in the world, was established in Singapore and celebrates the year 1837 when the island became a trading post for teas, spices and fine epicurean products. TWG Tea, which stands for The Wellbeing Group, was founded in 2008 as a luxury concept that incorporates unique and original retail outlets, exquisite tea rooms and an international distribution network to professionals. Committed to offering teas directly from source gardens, TWG Tea's collection is the largest in the world, with fine harvests from every tea producing country and exclusive hand crafted tea blends. Internationally recognised as a true innovator with the creation of new varieties of tea every season in collaboration with the world's most renowned estates, TWG Tea also offers exquisite signature modern tea accessories and delicate tea-infused sweets and savouries.
After launching its first Singapore tea salon & boutique at Republic Plaza in 2008, TWG Tea has opened in iconic destinations such as ION Orchard, Marina Bay Sands and Takashimaya Singapore. Expanding its presence internationally, TWG Tea has heralded the opening of exquisite Tea Salons & Boutiques in Bangkok, Dubai, Guangzhou, Hong Kong, Kuala Lumpur, Taipei, Tokyo, Manila, Jakarta and Shanghai.  In addition, TWG Tea's exclusive collection of the finest teas of the world is available from TWG Tea Boutiques in Harrods Knightsbridge, London and Dean & DeLuca Madison Ave, New York. The premier tea supplier to the finest hotels, restaurants and international airlines, TWG Tea is retailed around the world in gourmet épiceries, including El Corte Ingles in Portugal, Feinkost Kaefer in Germany, David Jones in Australia and GUM in Moscow, Russia, and served in Business Class, First Class and Suites and in the Lounges of Singapore Airlines and Nippon Airways.
TWG Teas are available in Singapore, Australia, Azerbaijan, Belgium, Cambodia, Canada, China, Czech Republic, Denmark, Estonia, Germany, Hong Kong, India, Indonesia, Japan, Kuwait, Macau, Malaysia, Maldives, Mauritius, Mexico, Morocco, New Caledonia, New Zealand, Pakistan, Philippines, Portugal, Qatar, Russia, Saudi Arabia, Seychelles, South Africa, South Korea, Spain, Taiwan, Thailand, Turkey, Ukraine, United Arab Emirates, United Kingdom, United States of America, and Vietnam. European online orders can be made at www.Harrods.com; online orders within the USA can be made at www.DeanDeluca.com; Canadian orders may be made online at www.VanSingDG.com; worldwide online orders can be made directly from the TWG Tea e-Boutique and m-Boutique at www.TWGTea.com.
About VanSing Distribution Group Ltd. 
VanSing Distribution Group was founded in Vancouver in 2012 by Tom James (CEO) and Karinna James (President, COO) as an importer and exporter of fine gourmet products and accessories. The principles have over 24 years of combined experience in the restaurant and catering industry, in experiential retail through high-end stand-alone boutiques and shop-in-shops, and in HORECA wholesale distribution to luxury hotels & resorts and ecommerce customers across Canada. VanSing Distribution Group is pleased to be the exclusive franchise partner and distributor of TWG Tea in Canada. For more information visit,  www.VanSingDG.com.
All images: TWG Tea