When I heard about an event involving pizza my interest was immediately piqued.  Richard Wolak from Vancouver Foodster has hosted a number of delectable food-crawl and Tasting Plates events over the years and this was no exception.  "Pizza Palooza 2" marks its second year, which involves following a map around the city while (one could say) painting the town marinara red.  So it was with a hungry stomach that I started my tour.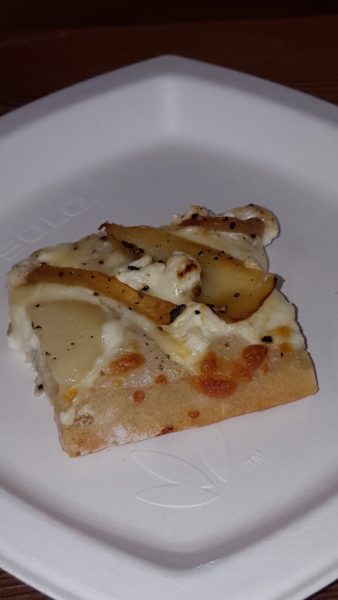 I began at Dogwood Brewing, located at 8284 Sherbrooke street in South Vancouver.  Upon walking in I found the atmosphere to be small and quaint.  There were a number of wooden tables and some games stacked in a corner.  Owner Claire Wilson has a zero waste policy, recycling at every opportunity, and also is a big supporter local organic breweries.  Dogwood is also the only certified organic brewery in the Lower Mainland.  I sampled the "You've Got to be Kidding Me" pierogi" pizza which had a thin crust, potatoes, caramelized onions, creme fraiche, and goat cheese.  The slice literally melted in my mouth. I paired this with their "The Fest" beer which was medium bodied and malty.
My second stop was Dosa Hut at 7233 Fraser Street.  As you enter the door you are surrounded by kitsch.  There are tanks of coloured water filled with bubbles, stringed little lights surrounding the place, and it is quite small.  I sampled the vegetarian pizza and the chicken pizza.  What's unusual about this restaurant is that the crust is made from dosa; rice flour and lentils, also making it gluten free.  It comes from the Southern part of India and is called, "uttampan," much like a pancake.  There was cheese, onions, and tomatoes, on one which they said was vegetarian.  The second slice had the same ingredients with breaded chicken.  The breading was a bit overpowering.  Also served with desiccated coconut dip. Overall a good choice.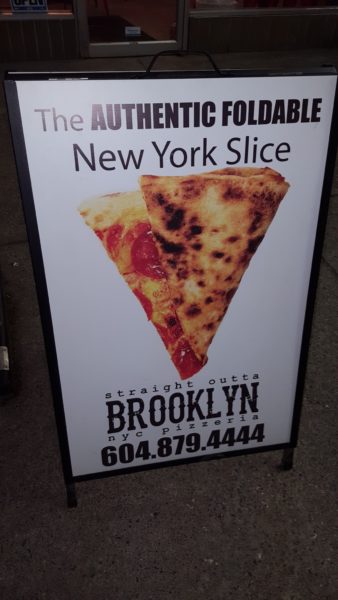 The third stop was Straight Outta Brooklyn at 701 Kingsway.  I met with Frank, the co-owner, who runs the place with his brother Dom, to give me the goods.  The restaurant has been open for 5 years.  His family is Neapolitan and as children they would visit  in the summer.  They also scoured the streets of New York to find the best of the best.  It shows. I tried the Margherita/"Original" (tomatoes, fresh mozzarella, and basil)  and "The Classic"  (pepperoni and cheese) pizzas. All made with a thin crust with a special blend of flour, and a leavening process "which is a family thing," according to Frank who wouldn't reveal anymore details.  Every bite was heavenly; the crust a perfect thinness, in delicate ratio to the ingredients.  Frank did divulge something else; "fold it" and by that he means the pizza. They also own locations on Robson, and are launching a new restaurant in March in Chinatown.  They also own Via Tevere Pizzeria Napoletana.
Fourth stop on this great tour-de-force, Firecrust Neapolitan Pizzeria.  I was welcomed by warm lighting, long benches for family-style dining, and funky chandeliers.  The smell of pizza filled the air.  This place is about good value with a novel idea.  Build your own 10″ pizza.  You can choose your own toppings from three stations: sauce, cheese, and meat.  I chose pesto, roasted chicken, red onion, kalamata olives, artichokes, and fiore di latte. You get to watch while the pizza cooks in a wood burning oven.  Mine was delicious but I felt that the cheese was a bit sparse.  However, it is a good deal for $10.95.   The sample was paired with Cedarcreek wine,  a BC Pinot Noir, which complimented the pizza as it was not too oaky and dry but had a fruity, crisp, finish.  I was informed that soon Firecrust will be serving a $12 wine float made up of 3 reds and 1 white.  Great experience, low prices.
The fifth location was Zero Zero Pizzeria at 415 Abbott Street.  This restaurant was tiny, packed, and bustling with people.  It was a welcome change from the cool night air to enter such an embracing space.  There were some wooden benches and stools near the window for people watching.  The pizza samples were Chorizo with Brussels sprouts, and, Pomodoro (cherry tomatoes, sun dried tomatoes, oregano, and fresh mozzarella).  They were made with a thicker crust similar to focaccia. It was flavorful and held up to the gooey toppings.  The Brussels sprouts with the chorizo was hearty and tasty.  This is an ideal place to stop by on your way to watching a movie at Tinseltown mall, but it also worth going to just for the pizza.
The last and an excellent end to my tour was Ragazzi Pizza at 2996 E.22nd Avenue.  This restaurant isn't fancy but it's comfortable.  It seats about 20 people.  They serve pizza and they have a coffee bar for espressos.  There were two types of pizza to taste. Carbonara (pancetta, bocconcini, garlic, cream sauce) and Arrabiata (salami, capicollo, onion, chili flakes, and mozzarella).  Every bite was heavenly.  The crust was thin but still held up well to the toppings which were very fresh and flavourful.  The chili flakes lent just the right kick without being too spicy. The carbonara was my favourite with a hint of saltiness in the pancetta tamed down with a thin layer of decadent cream sauce.  Ragazzi Pizza won first place in Vancouver Courier's 2016 Stars of Vancouver Reader's Choice Awards in the category Pizza-East.  A memorable slice.
Fabina Rajwani