Songs For A New World is a rare kind of show, neither a musical nor a revue, but a song cycle. It explores themes of immigration, war, motherhood, poverty, and the singular moments that transform our lives.
Fabulist Theatre is a new company in Vancouver committed to producing shows that promote diversity in all forms and creating opportunities for a wide variety of performers. For Songs For A New World, a show traditionally done with a four-person cast, the directors have expanded the cast to fifteen, ranging in age from 11 – 62. Some are seasoned professionals, many are exceptionally talented amateurs. Some are new to Vancouver's theatre scene, and some are even new to Canada.
Audience members will be taken on a journey to new worlds including Syria, Afghanistan, the North Pole, the Philippines, a Shaughnessy mansion, colonial America, the Bronx, and the middle of the Pacific Ocean. Fabulist Theatre will be donating partial profits to the UNHCR (UN Refugee Agency in Canada) as well as donating tickets to new immigrants.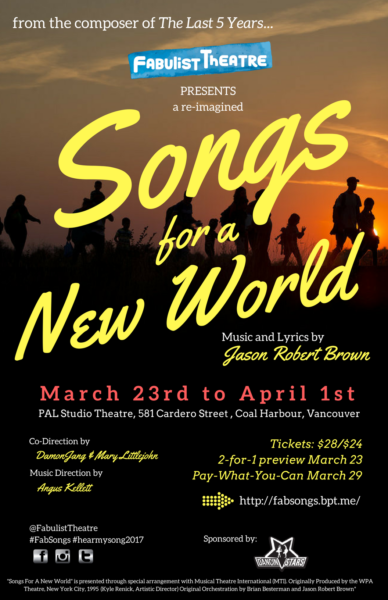 Songs For A New World by Jason Robert Brown. Produced by Fabulist Theatre. Directed by Mary Littlejohn and Damon Jang, musical staging by Jang. Music direction by Angus Kellett,.Stage managed by Jasmin Sandhu. March 23 – April 1, 2017 at PAL Studio Theatre, 581 Cardero Street, Coal Harbour, Vancouver.
Tickets: $28 General Admission, $24 Students/Seniors
March 23 (Preview) 2-for-1, March 29 Pay-What-You-Can Evening Shows 8pm, 2pm Matinees on Sunday March 26 & April 1
Starring: Frankie Cottrell, Michael Czyz, Allyson Fournier, Isabella Halladay, Maria Herrera, Damon Jang, Rema Kibayi, Aerhyn Lau*, Shina Likasa, Kate MacColl, Chery Mullen*, Arta Negahban, Regi Nevada, Charity Principe, Arielle Tuliao
*Actors appearing courtesy of the Canadian Actors' Equity Association