On March 25, Café Medina Will Feature Signature Belgian Liège Waffles as a Mealshare Menu Item, Allowing Guests To 'Buy a Meal, Give a Meal' To Local Youth in Need 
Café Medina owner Robbie Kane is inviting the restaurant's loyal fans, friends and family to come together and support the local community and a worthy cause in Mealshare while celebrating the 2017 edition of International Waffle Day on Saturday, March 25.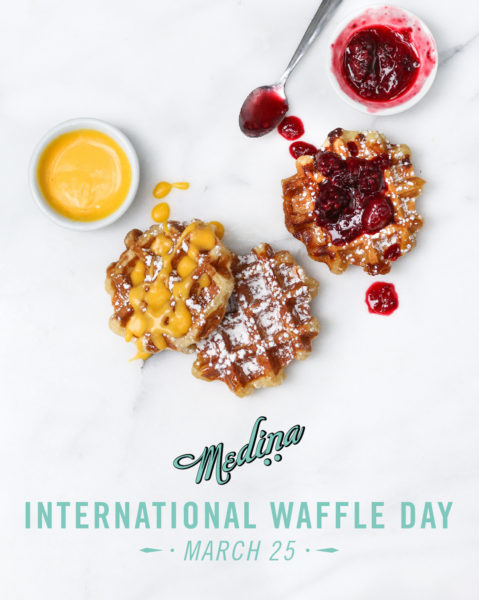 For one day only, Café Medina will offer its signature Liège waffles as a Mealshare-branded menu item, meaning that for each waffle sold, the restaurant will donate the funds to provide a complementary meal to youth in need at no extra costs to guests. This initiative is in addition to the more than 10,175 meals and counting that the daytime hotspot has already donated through the Canadian non-profit since 2014.
Mealshare — a national non-profit organization on a mission to end youth hunger — partners with hundreds of restaurants across Canada that support the charity's 'buy one, give one' model and contribute financially to the organization, which forwards funds to its network of partner charities to purchase the groceries and ingredients needed for a meal. Last November, Mealshare celebrated its milestone one-millionth meal provided to youth in need since its inception in 2013 with a special ceremony at Café Medina.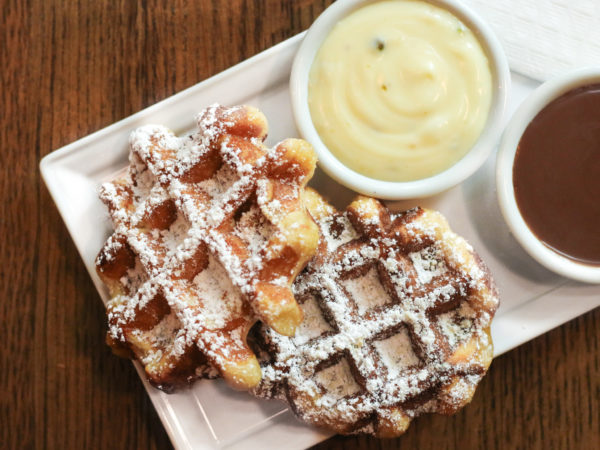 "While March 25 is a banner day for waffle lovers, it also affords our staff an opportunity to honour what has become an extremely important relationship with Mealshare and reaffirms our commitment to the local community," says Kane. "We look forward to continue building that relationship not only on International Waffle Day but each and every day throughout the year."
"Café Medina has been such a passionate supporter of our cause and we're excited to see the restaurant write yet another chapter in their ongoing support of youth in need with its International Waffle Day initiative," says Derek Juno, VP of Business Development with Mealshare.
Already renowned for its unique brand of eclectic, Mediterranean-inspired cuisine, Café Medina has earned its reputation as the city's leading brunch destination thanks in large part to its Liège waffles, made with yeast-leavened dough — as opposed to batter — and use of pearl sugar to give the rich and delicious waffles their trademark molten caramelized texture. Whether enjoyed in the restaurant or packaged to go, Café Medina's waffles ($3.15) are further enhanced by an array of decadent toppings, including mixed berry compote, passion fruit, raspberry caramel, salted caramel and milk chocolate lavender available for an additional $1 as well as Betterwith Ice Cream for $2 for dine-in guests.
ABOUT CAFÉ MEDINA | Since opening in 2008, Café Medina has been serving up its signature brand of Mediterranean-inspired cuisine, connoisseur-savvy coffee and sweet sustenance via the city's best Belgian waffles. A quaint, bistro-styled restaurant replete with old-world charm and proprietor Robbie Kane's determined philosophy of enlightened hospitality, Café Medina provides a full complement of fresh and eclectic breakfast, lunch and daily brunch alternatives and a pioneering attitude towards café culture. Since moving to its new location in Vancouver's Library District at 780 Richards St., the new Café Medina has garnered numerous rave reviews, cementing its longstanding reputation as the city's leading brunch destination.
780 Richards Street, Vancouver, BC | 604-879-3114 | medinacafe.com
Hours: Monday – Friday 8 a.m. to 3 p.m., weekends and holidays 9 a.m. to 3 p.m.
Available to be booked for private evening events
Facebook: /medinacafe | Twitter: @cafemedina | Instagram: @medinacafe
ABOUT MEALSHARE | A not-for-profit organization launched in Calgary in 2013, Mealshare partners with restaurants and designated charities in cities across Canada to provide meals for youth in need. For every Mealshare-branded menu item ordered at participating Vancouver restaurants, one complementary meal is donated to youth struggling with hunger through Vancouver-based charities Breakfast Club of Canada, KidSafe, and Save the Children Canada. Since its inception, Mealshare has served more than one million meals and counting to youth in need locally and globally.
www.mealshare.ca | Facebook: /MealshareTeam | Twitter: @MealshareTeam, @MealshareYVR | Instagram: @mealshare
All images photo credit: Amy Ho