Intricate narrative of intertwined lives unravels through a poetic combination of mathematical metaphor & choreographed movement
Pi Theatre presents a refreshed remount of Peter Dickinson's otherworldly and resonant Long Division, April 26 – 30, 2017 at the Annex Theatre (823 Seymour Street). Directed by Richard Wolfe, with choreography by Lesley Telford and musical score by Owen Belton, the intellectually-charged, emotionally-gripping work combines multimedia and physical theatre to explore the mathematics of human connection.
"Math is a secret language hidden in plain sight. So much of what we see in the world around us – traffic patterns, the growth of plants, our ubiquitous mobile devices – are governed by logic and patterns that can be expressed purely in numbers," says Pi Theatre Artistic Director Richard Wolfe. "In this remarkable play, Peter exploits this phenomenon and takes it a step deeper – using mathematics to chart the connection between disparate humans. It is a thrilling accomplishment whose end result wrenches your heart and sets your mind racing in equal measure."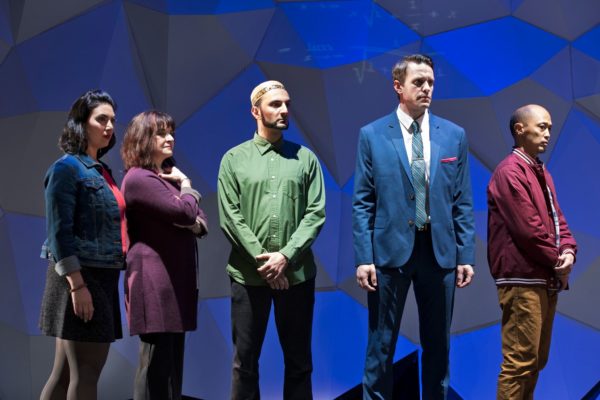 Long Division's story revolves around seven characters who are traveling to a downtown bar on the occasion of a complicated anniversary. The ensemble represents a diverse and discordant group, including a high school math teacher, a soccer-loving Imam, a lesbian bar owner, an aspiring actress, and a single-mother working in the corporate world, among others. Despite their eclectic backgrounds, the Venn Diagram of their lives overlap in a singular, unresolved traumatic event that binds their pasts together.
Through excursions into number theory, geometry, and logic, the players struggle to delineate their evocative, elusive patterns of entanglement, but find that one emotional variable consistently remains unsolved.
The acting ensemble includes some of the city's finest performers, including Anousha Alamian, Jay Clift, Nicco Lorenzo Garcia, Jennifer Lines, Melissa Oei, Linda Quibell, and Kerry Sandomirksy.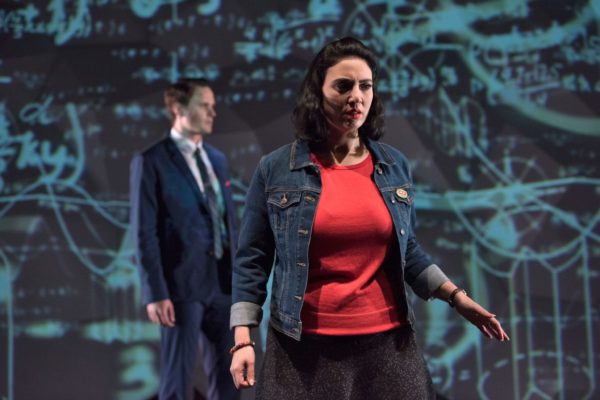 Long Division is a play about the search to discover and understand all of the profound and painful ways we are tied to one another. In life, as in math, it is often difficult to see the patterns that link us, or the connections we make until we experience them from different angles. This bold and innovative work demonstrates how the seven characters need each other, the audience, and a healthy dose of mathematical history and theory to find the answer to the question they all share.
Tickets from $25 at: pitheatre.com/tickets
About Pi Theatre (pitheatre.com)
Pi Theatre produces and presents bold and uncompromising plays that explore modern life, connecting audiences with theatre that is intellectually alive and emotionally charged. They are constant innovators whose experiments with form and format have rendered some of Vancouver's most memorable and risk-taking experiences.
The company's recent productions include The Invisible Hand (nominated for eight Jessie Richardson Theatre Awards), Blasted, Except in the Unlikely Event of War and Terminus (recipient of three Jessie Awards, including Outstanding Production – Small Theatre).
LISTING INFORMATION
Pi Theatre presents Long Division
Dates:
April 26 – 30, 2017
Preview:  April 26 at 8pm
Opening Night: April 27 at 8pm
Evening Performances:
April 27–29 at 8pm
Matinees:
April 29–30th at 2pm
Ticket prices:
$25 Matinees
$30 General Admission
Address:
823 Seymour Street, Vancouver, BC
Box Office: