Vancouver Opera, today announced that more than 15,000 people attended operas, concerts, screenings, cultural celebrations, art installations, master classes, social and free community events at its second annual Vancouver Opera Festival (VOF). An estimated 2500 additional patrons are expected to attend post-festival performances of The Overcoat – a musical tailoring this week. Audiences were treated to two featured operas Eugene Onegin and The Overcoat – a musical tailoring, a chamber musical Requiem for a Lost Girl, a concert by reigning Baroque soprano Karina Gauvin and a tribute to VO Music Director Jonathan Darlington, film screenings, discussions, cultural and circus performances, and a Russian Chamber Music series — all part of Vancouver Opera's 2017/18 Season and its Russian White Nights Vancouver Opera Festival.
From April 28 through May 6, the Russian White Nights Vancouver Opera Festival presented nearly 40 events ranging from 2 mainstage opera productions in the Queen Elizabeth Theatre and Vancouver Playhouse, a chamber music series in CBC Studio 700, a community engagement project at SFU Goldcorp Centre for the Arts, a special concert at the Chan Centre and dozens of other events. The VOF featured full-scale productions of Pyotr Ilyich Tchaikovsky's lyric opera triumph Eugene Onegin in the Queen Elizabeth Theatre, directed by Tom Diamond, and a brand-new co-production of James Rolfe's The Overcoat – a musical tailoring, adapted by director Morris Panych from his and Wendy Gorling's original landmark movement theatre production and in partnership with Toronto's Tapestry Opera and Canadian Stage Company. Vancouver Opera's Music Director, Jonathan Darlington, conducted the Vancouver Opera orchestra in Eugene Onegin, his crowning performance before becoming named Music Director Emeritus at the conclusion of a special tribute performance hosted by CBC Radio-Canada's Sylvia L'Ecuyer. Maestro Leslie Dala conducted The Overcoat – a musical tailoring. Requiem for a Lost Girl – a chamber musical co-presentation between Vancouver Opera, The Kettle Society and Cultural Partner SFU Woodward's, written and directed by Onalea Gilbertson and conducted and composed by Marcel Bergmann, brought important attention and discussion to issues of homelessness and missing and murdered women.
"The second Festival solidly confirmed our decision to move to a modified "Season and Festival" format, with operas throughout the year and a shorter festival in the spring. I am thrilled with the audiences' enthusiastic reactions to our productions this year. They demonstrate the high level of artistic quality and diversity that Vancouver Opera has to offer", said Kim Gaynor, General Director of Vancouver Opera. "From our tradition of over fifty years of enriching the lives of opera goers, we will build on what we have learned during this second festival to plan for our "Fables and Fairytales" festival taking place next spring".
The Festival was a unique opportunity to experience Russian culture and arts in Vancouver, with two Russian mainstage operas based on classic Russian stories, a Russian Chamber Music Series taking place next to the Queen Elizabeth Theatre at CBC's Studio 700, a partnered performance with Early Music Vancouver of little-known Russian Baroque arias, an evening entitled A Russian Songfest by alumni of VO's Training Programs. The Queen Elizabeth Theatre and Vancouver Playhouse were animated with a variety of cultural performances by Russian Theatre Palme, food trucks, family programming, a pop-up Happy Hour Patio Bar, pre-show lectures and discussions. This took place under the giant sails of a schooner specially constructed for the Vancouver Opera Festival by Circus West for live circus performances of the Russian story Scarlet Sails. After each evening's performances, the much-heralded Opera Bar made its return appearance in the Queen Elizabeth Theatre salons. There were also screenings of Russian-themed classic cinema including the 1929 black and white documentary Man With A Movie Camera, a sold-out screening of Doctor Zhivago with Vancouver International Film Festival, and CBC's The Overcoat (2001).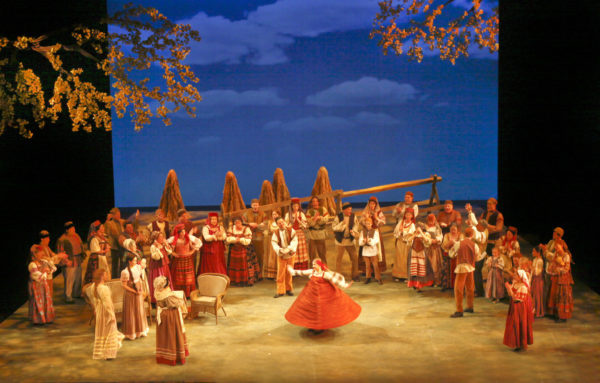 Vancouver Opera Festival achievements:
Vancouver Opera's second Festival was a condensed version of the first, lasting 9 days and attracting over 15,000 patrons who attended the festival, with an estimated 2,500 additional patrons for the Post-Festival performances of The Overcoat.
Over 300 temporary jobs were created over the course of the Festival, including artists, performers, chorus, orchestra, production contractors, stage crew, and stage managers.
Eugene Onegin featured a world-class principal cast with Bolshoi Theatre veterans baritone Konstantin Shushakov, soprano Svetlana Aksenova, tenor Alexei Dolgov, Georgian bass Goderdzi Janelidze and Canadian mezzo-soprano Carolyn Sproule.
A co-production with Calgary Opera, the sets and costumes for Eugene Onegin were constructed by the Banff Centre.
Ten performances of a groundbreaking new Canadian opera creation– The Overcoat-a musical tailoring. The result of collaboration between VO, originating in Tapestry Opera's LibLab process in Toronto, with further collaboration with Canadian Stage Company in Toronto.
A new, collaborative chamber opera, Requiem for a Lost Girl, tackled topics of addiction, abuse, murder and homelessness. It combined a range of art forms such as song, spoken word, and poetry accompanied by traditional strings and percussions orchestra, as well as performances on electric and acoustic guitar.
Arising from a 3-year community engagement project funded by VO, RFLG attracted full houses for two performances at the SFU Goldcorp Centre for the Arts.
RFLG included diverse performers, from professional opera performers to participants from The Kettle Society Choir and the Writer's Guild.
Jonathan Darlington was named Music Director Emeritus at the conclusion of an evening featuring Darlington narrating The Soldiers Tale and playing six hands on the piano.
The GOH Ballet, celebrating 40 years, were invited to participate in the Darlington Tribute evening.
Fifteen Community and Free Events, including an Opening Day embraced by the Russian community with cultural performances by Russian Theatre Palme, Russian food trucks, free outdoor film screenings, free children's theatre performances and a live Circus spectacular by Circus West, Scarlet Sails, performed multiple times on the plaza of the Queen Elizabeth theatre.
Keynote guest speakers addressed challenging topics such as the role of Arts in addressing homelessness and working with marginalized communities to create art, and the role of Women in Opera.
Five unique chamber music recitals featuring song, poetry, and the musicians of the Vancouver Opera Orchestra
An original programme of little-known Russian Baroque arias, was performed at the Chan Centre in collaboration with Early Music Vancouver.
Two Pop-up Bars – the Happy Hour Patio Bar and the Opera Bar – welcomed patrons and the public before and after performances.
New opera scenes were composed and presented by UBC and Delta Academy students
a sold-out partnered screening with VIFF of the classic film Doctor Zhivago.
The Festival embraced a multitude of partnerships with other cultural organizations including The GOH Ballet, Early Music Vancouver, Simon Fraser University, The Kettle Society, Russian Theatre Palme, CircusWest, and the Vancouver International Film Festival.
What the press said:
"[VO's] second annual festival has already outdone itself this year"
EntertainmentVancouver.com
Eugene Onegin
"a splendid Eugene Onegin…. There's more than enough spectacle on stage, with a number of big set pieces including two grand party scenes; dancers add charm; the chorus is in top form, and the orchestra has never sounded better. (Did we expect anything different from the miraculous Jonathan Darlington? What wonders he has done here as VO's music director!)"
Vancouver Sun, David Gordon Duke
"Eugene Onegin… is nothing if not a surfeit of vocal riches. …Georgian bass Goderdzi Janelidze… commanded the stage… The audience went wild. …[Svetlana Aksenova as Tatyana's] gorgeously pure soprano generated the intense white heat so essential in conveying the steely resolve her character needs to resist Onegin's persistent advances in the opera's final scene "
Opera Canada, Robert Jordan
The Overcoat – a musical tailoring
"seeing some of its original team, like Morris Panych and Wendy Gorling, bow to a standing O at the end of this sung-through reworking at the Vancouver Opera Festival opening was a blast from the past."
Georgia Straight, Janet Smith
"Gorling turns opera into a highly choreographed, fast-moving tableau… Panych's playful libretto embracing a dark mix of absurdism and allegory, with an acid-sharpened edge.  …after a long and storied history, this musical adaptation feels like fresh new threads."
Georgia Straight, Janet Smith
"Panych has now penned the libretto to an operatic adaptation of his adaptation: a completely non-conventional opera sans arias, with music by James Rolfe…. the real stars of The Overcoat: A Musical Tailoring are the design team… the show looks fabulous…. You'd be crazy to miss it."
joledingham.ca, Jo Ledingham
Requiem for a Lost Girl
"The Soul is Wrenched and Resurrected in Vancouver Opera Festival's Requiem For A Lost Girl.
If art is meant to touch the soul, this opera lurches and grabs every inch of you and refuses to let go. It is, in my opinion, the most real and meaningful theatrical ensemble performed on stage."
Vancouver Arts Review, Maira Hassan
Vancouver Opera Festival could not have taken place without a committed set of Corporate and Individual donors who continue to invest in the cultural fabric of the community.   First we thank the extraordinary individuals whose continuing support has been and is fundamental to Vancouver Opera, and in particular Martha Lou Henley, C.M., Honorary Festival Patron; all Festival Champions, Founders, Visionaries, and Leaders as well as the members of our board of Directors.
We also acknowledge and express our gratitude to the continuing support of our principal organizational funders:
Vancouver Opera Foundation
Government of Canada
Canada Council for the Arts
British Columbia Arts Council
Province of British Columbia
City of Vancouver Cultural Services
Vancouver Civic Theatres
Goldcorp – Vancouver Opera's multi-season sponsor
Finally we recognize and thank the following Corporate Festival Partners:
BMO – 2018 Festival Presenting Sponsor
Mission Hill Family Estate
RBC Foundation
The Vancouver Airport Authority
Blake, Cassels & Graydon LLP
TD
Four Seasons Hotel Vancouver
The Vancouver Opera Guild
The McGrane-Pearson Endowment Fund
Aquilini Group
RBC Wealth Management, PH&N Investment Council
Thomas Hobbs Florist
Air Canada