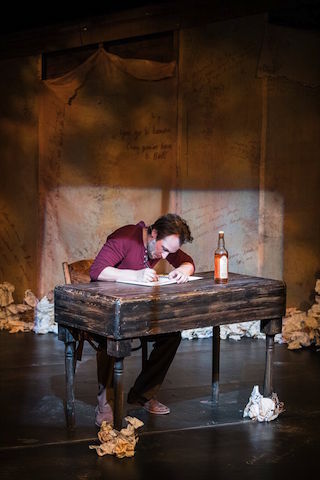 Chelsea Hotel: The Songs of Leonard Cohen
"It's written on the walls of this hotel. You go to heaven once you've been to hell."
– "Paper Thin Hotel", written by Leonard Cohen
Firehall Arts Centre's new production of "Chelsea Hotel" is a riveting testament to the complexity and genius of Canadian composer and singer Leonard Cohen. Created and directed by Tracey Power, a team of six multi-talented singers, actors and musicians weave on and off the stage, singing, playing a remarkable array of instruments and dancing to Cohen's music as the story of a man tortured by his past loves and his inability to write begins to unfold.
The five other characters are ghostlike, often floating around him as he adds more crumpled paper to the ever increasing piles of rejected lyrics on the floor, his personal hell. He laments, "How can I begin anything new when there is so much yesterday?" His story is told entirely through his songs, but many are not as he wrote them. At times, a song begins, is abandoned mid phrase for another, and then shows up again later, played with different instruments at a different tempo. A tune might begin almost as a lullaby and segue into a manic strident chorus, only to be replaced with another song's quiet, thoughtful verse. The result is spellbinding.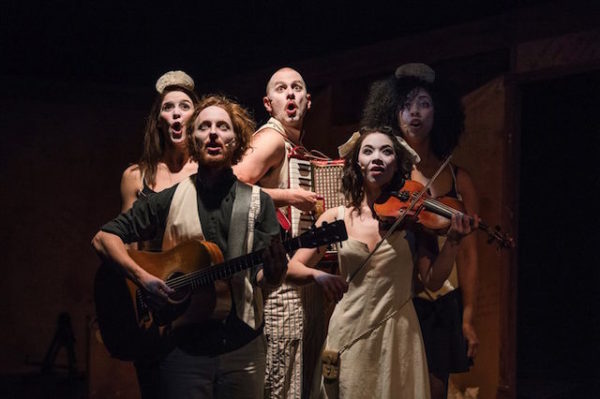 Most of Cohen's most well known songs find their way into "Chelsea Hotel". "Closing Time", "Bird on a Wire", "Suzanne", "Hallelujah", "So Long Marianne" and "First We Take Manhattan" are all included. The six performers (Steve Charles, Adrian Glynn McMorran, Marlene Ginader, Kayla Nickel, Krystle Dos Santos and Ben Elliot) accompany themselves on guitar, drum, piano, kazoo, violin, tambourine, ukulele, accordion and several other instruments. All have strong singing voices and harmonize beautifully.
The set design is simple, but very effective. The lighting follows the mood of the song, sometimes low and contemplative, while at other times a gaudy red. The sound track between acts combines a mellow jazz with police and ambulance sirens, an appropriate accompaniment to the play.
"Chelsea Hotel" is multi-dimensional tribute to a complicated artist. Fans of Leonard Cohen as well as fans of creative theatre will all enjoy this production.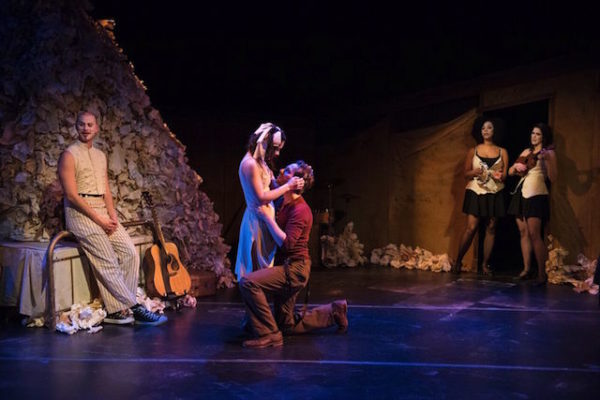 "Chelsea Hotel: The Songs of Leonard Cohen" runs from March 17th to April 21st, 2018 at the Firehall Arts Centre. For more information, contact: firehall@nullfirehallartscentre.ca
Article: Judy Robb
Photos:  Emily Cooper