A world-class theatre experience, Spirit Horse is a play about two youth who are caught between two worlds—the traditional ways of their Stoney Nation heritage and the modern ways of the city.
Angelina and Jesse's lives are changed forever when their grandfather brings them a horse that has mysteriously appeared to him.  Can this majestic animal heal a troubled single parent family? Spirit Horse – a poignant tale about family, love and courage – has a warm heart and adventurous spirit.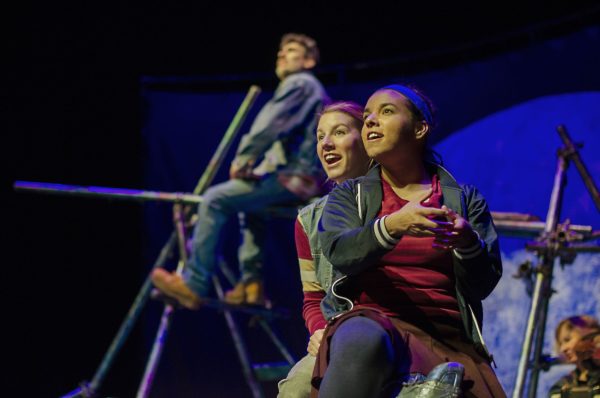 Three actors play over sixty five characters, accompanied by a live musician, in this highly theatrical and imaginative production.
Spirit Horse is an adaptation by Ojibway playwright, Drew Hayden Taylor, from the Irish play Tir Na N'Og by Greg Banks, directed by Greg Banks, costume design by Robin Fisher, set & lighting design by Glenn Davidson, and music composed by Anne Lederman. The cast features Rain Richardson, Brendan Chandler, and Lisa Nasson with on-stage musician Emilyn Stam.  A Roseneath Theatre production.
Spirit Horse is recommended for ages 8+ due to some challenging themes, intense moments and high-stakes scenes of action and adventure.
Dates:                         Run: April 21-29, 2018 – Limited engagement – 7 performances only!
Sat. April 21, 2pm & 7pm; Sun. April 22, 2pm;
Fri. April 27, 7pm   ; Sat. April 28, 2pm & 7pm; Sun. April 29, 2pm
Ticket prices:             Adults: $35
Seniors/Students: $29
Young People (Ages 1-17 years): $18
Discounted subscription rates available when booking for two or
more plays
Address:                   The Waterfront Theatre on Granville Island
1412 Cartwright St, Vancouver BC
Box Office:   tickets.carouseltheatre.ca or 604-685-6217
About Carousel Theatre for Young People
Founded in 1976, Carousel Theatre for Young People provides playful, exceptional and accessible theatrical experiences that inspire, involve and educate. Each season approximately 40 000 young people and their families benefit from CTYP's programming. At Carousel Theatre for Young People we believe that the arts play a vital role in a young person's development.  We envision a community that empowers people to be more imaginative, expressive and engaged.
Feature image: Ali Sultani