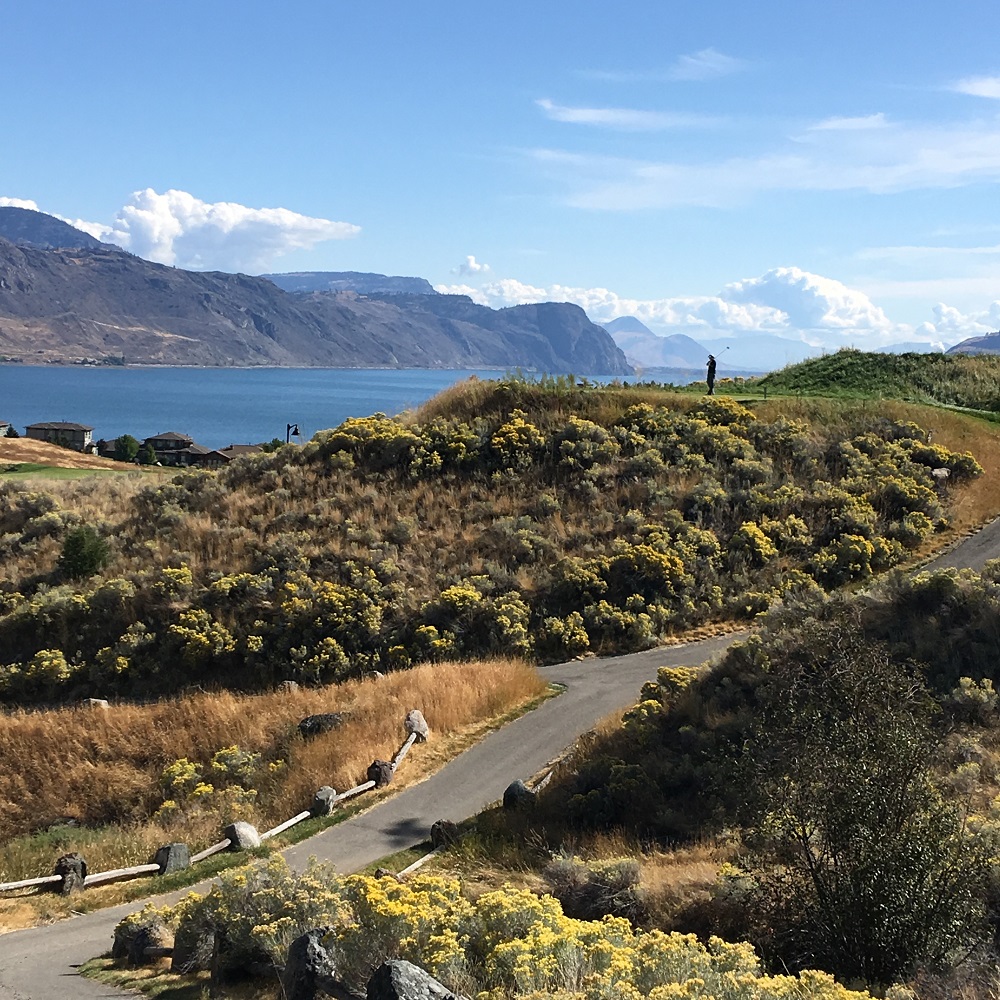 A great round of golf followed by a great round of beer is the perfect way to capture the nuances of a day well spent.
At Kamloops, it's easy to leverage that feeling into a grand getaway for a few days or weeks, depending on your schedule, beverage and culinary preferences.
A city that was once considered a pitstop on the road to somewhere else has blossomed into an exciting destination. Golf Kamloops now offers 13 diverse courses in the area, an array of accommodations and attractions to build a super customized stay and play package.
Kamloops Golf & Country Club (KGCC) is the oldest in the area. It opened in 1914 and then moved to its current location as nine holes in 1946 with another nine added in 1967. Then in 2010, that 100+ year track had an extensive redesign by course designer Ted Locke. On a trip in Fall 2017 hosted by Tourism Kamloops, our golf media group started our adventure there and I can attest it was in fine condition.
I love that KGCC remains easy to walk with established trees while offering contoured fairways, bent grass greens and a few bunkers and water hazards to keep it interesting. There's a pro shop, and lovely practice area with putting greens, sand trap and driving range.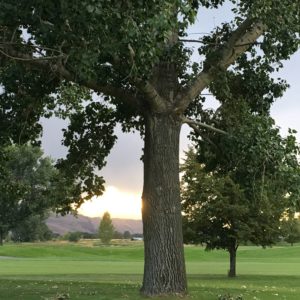 We were appreciative of the clubhouse's fine menu because after our journeys to Kamloops we need some fortification to power our round.
After golfing Kamloops oldest course, it was fitting to have dinner at The Noble Pig Brewhouse, Kamloops' first microbrewery. Here, in fun loving décor and convivial environment, unique fusion pub-style fare highlights the house made craft beer.
The Best Western Plus Kamloops Hotel was a relaxing option as home base during our golf adventures. When you're out there giving it all on the course, those comfortable beds are particularly appreciated as are room amenities like a fridge and microwave. It has guest laundry, pool, hot tub and fitness facilities and offers walking or running trails in the vicinity. Plus, the expanded complimentary breakfast buffet got our mornings off to a sound start.
Day Two, we took the 20-minute drive to Tobiano Golf and got a firsthand look at why it consistently receives accolades as one of the most acclaimed public golf courses in Canada. The award-winning Thomas McBroom design is perched along bluffs above Kamloops Lake with immaculately manicured rolling fairways accented by golden fescue-lined bunkers, hoodoo formations, and expansive views.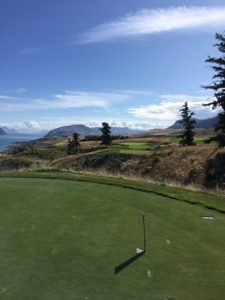 We were privileged to have Shannon McGeady, CPGA Head Golf Professional, join us to offer us insight into some of the trickier elements.
Just as the course maintenance is second to none so, too, are the practice facilities and the picturesque clubhouse that houses the pro shop, bar and restaurant facilities. After our round we paused over lunch to etch that scene into our memories. Truly, the jaw-dropping vistas are worth experiencing even if you're not a golfer.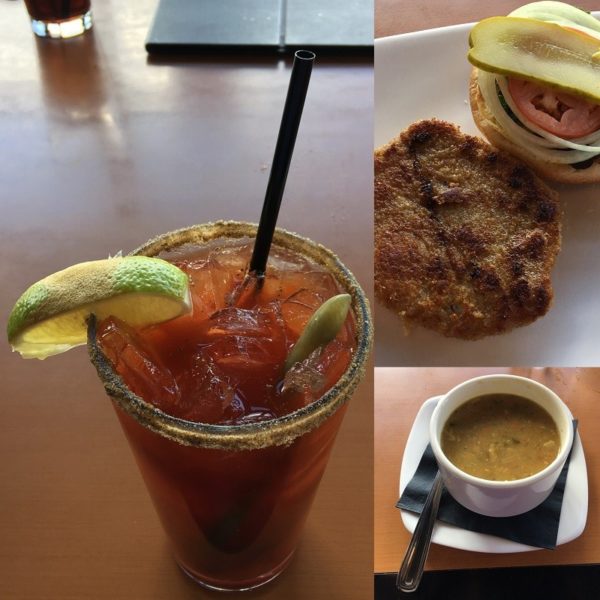 That evening our focus homed in on Kamloops vibrant craft beer scene as we did a Brewtour featuring Iron Road Brewing, Red Beard Cafe, and Red Collar Brewing Co.
Red Collar, so named after the family's black lab dog, Goosey, who always wears a red collar, has an 80-seat tasting room in downtown Kamloops. David and Annamarie Beardsell and family after years abroad learning the beer craft opened their own brewery in Kamloops because it has the key elements of a transportation hub, university, good trails, running track, and great water. India Pale Ale, Blonde, Dubbel, and Tripel are always available, and there's an everchanging selection of seasonals with a taproom menu to complement those brews.
Iron Road is the newest craft brewery in the area and is cleverly located blocks away from Thompson Rivers University. Richard Phillips and Jared Tarswell, both geologists who dig great beer, teamed up with award-winning brew master Aaron MacInnis. The taproom menu is almost as popular as the beer.
A neighbourhood go-to, Red Beard is open morning to night offering some 13 rotating taps of craft beer and cider as well as house-roasted Third Wave Coffee and an eclectic menu of food made from scratch in-house.
In addition to its craft beer scene, Kamloops is developing into a mecca for wine enthusiasts. After a blustery round, perusal of the pro shop and delightful lunch at Rivershore Estates & Golf Links, we set our sights on a few local wineries.
A Robert Trent Jones signature design, Rivershore and its implied riverside landscape on a windy day was unkind to me. It lived up to its reputation as a design for national and provincial championships and I was ready for some wine touring to Harper's Trail Winery and Monte Creek Ranch Winery.
I had visited Harper's Trail years before as it was just building its own facility amid recently planted vines. At the time, the wines were made through the incubator program at Okanagan Crush Pad in Summerland. How far it has flourished from the vision Ed and Vicki Collett had in pioneering Kamloops' evolution to a BC wine territory!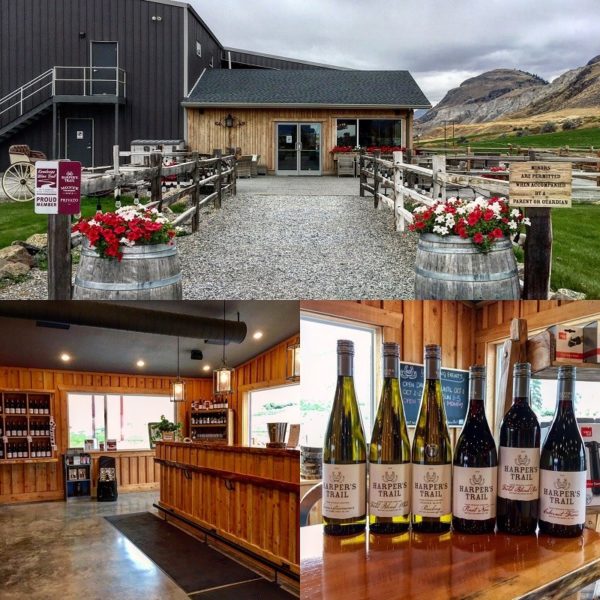 While I had tasted wines from Monte Creek previously, I was delighted to finally see the lovely setting – the fourth jewel in the Kamloops region's wine crown. It pays homage to the pioneering past and folk icons like train robber Billy Miner. Gurjit Sidhu, owner, has spared no expense in researching and planting grapes such as Minnesota hybrids to thrive in the climate plus a modern winemaking facility that also showcases it along with local products and cuisine.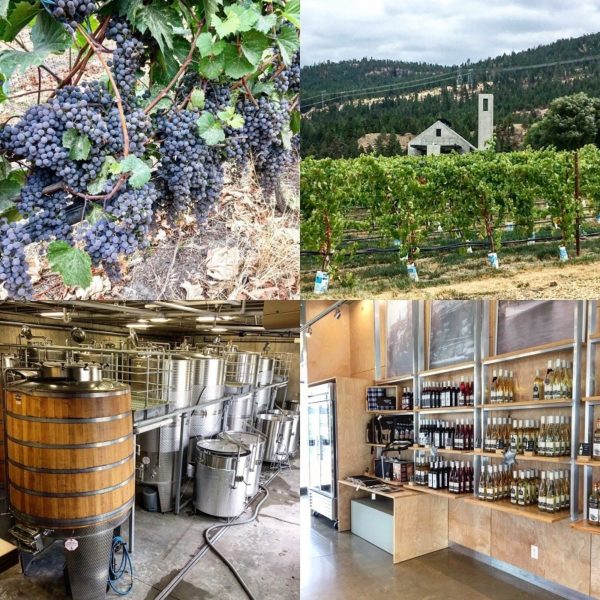 A new chapter in our golf getaway, we checked into Quaaout Lodge at Chase, BC, home to Talking Rock Golf Course. Located on the south shore of Little Shuswap Lake, the Lodge and golf course are the pride of the Little Shuswap Indian Band. Conveniently contained in the Lodge are all the amenities such as pool, hot tub and fitness facilities plus a gift shop and the golf pro shop. Throughout the building, grounds and 70 guest rooms and suites, the native motif pays homage to the culture.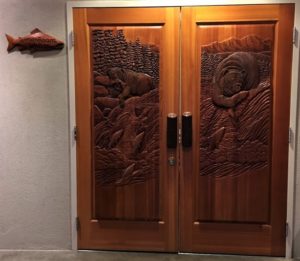 Frank Antoine, Cultural Coordinator and accomplished golfer, joined us for the round. He provided context for the aboriginal cultural experience as well as entertainment with his trick golf shots displaying ambidextrous skills.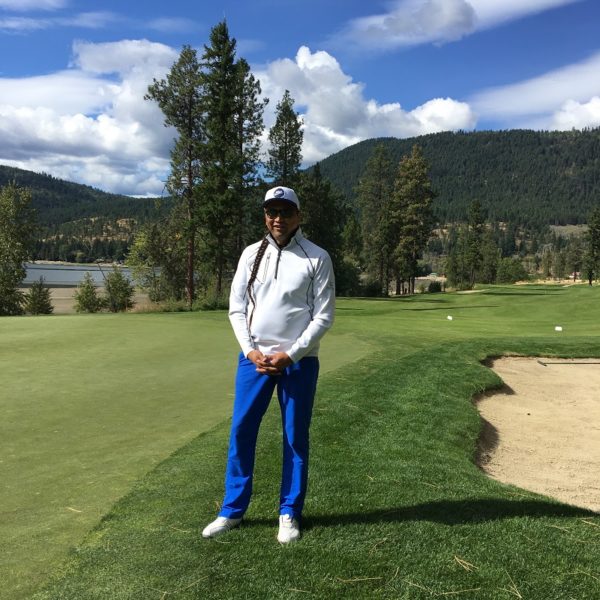 Views here are stunning, too, as the course is carved through a mature forest with mountains framing shots and ends with a strong 18th along the shoreline. We enjoyed a hearty lunch in the onsite Jack Sam's Restaurant, and an aboriginal cultural tour led by Tanner Francois.
Following that, the allure of the Talking Rock golf course was irresistible, so I headed out for another nine holes with another media colleague.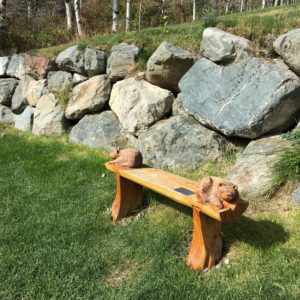 I'd probably have played again the next morning if TasteFull Excursions wasn't waiting to spirit us back to Kamloops for our trips home. TasteFull Excursions is the first premium transportation operating in the Kamloops area that specializes in guided wine tours plus area attractions and activities. It also offers a Sun Peaks pick up option – particularly popular in the ski season.
Now that Spring has arrived, I'm anxious to return. Other Par 72s also on my list in Kamloops or within a 70-km trip include Big Horn Golf & Country Club, The Dunes at Kamloops, Pineridge, Eaglepoint, Sun Peaks Golf, and Canoe Creek at Salmon Arm.
For a shorter round to enable hiking, biking, watersports and other activities in your itinerary, there's nine-hole Mount Paul or Chinook Cove at Barrière. (The future of 10-hole McArthur Island Golf Course is under discussion by the City of Kamloops at publication time.)
The beauty of golfing Kamloops is that there is so many choices no matter from which direction you start. No wonder Kamloops is hash tagged #boldlyunscripted