The Chan Centre presents Australia's One-of-a-Kind Circa
 in Astonishing Vancouver Premiere of Opus
Renowned Circus Company pairs Impeccable Choreography with
Evocative Shostakovich Quartets
The Chan Centre for the Performing Arts at the University of British Columbia (UBC) presents Australia's bold contemporary circus company, Circa, with their exhilarating performance Opus on April 28, 2018 at 8pm in the Chan Shun Concert Hall. Since forming in Brisbane, Australia in 2004, Circa has become an international sensation, being called to perform in more than 35 countries. In Opus, 14 acrobats—some of whom will be suspended from the Chan Centre ceiling—will perform gravity-defying feats as they interact with the four musicians of France's esteemed Debussy String Quartet. This genre-defying work pushes the boundaries of 'nouveau cirque' to the stirring music of Dmitri Shostakovich.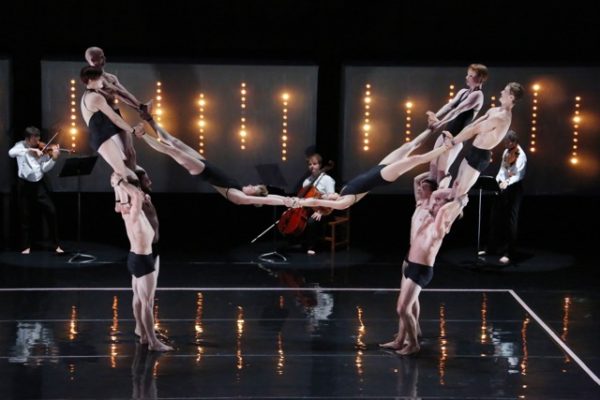 "Circa's Opus is a breathtaking and extremely moving work," says Joyce Hinton, Co-Managing Director of the Chan Centre. "It is also an entirely new—and wonderfully unusual—way to experience a live performance of the Shostakovich quartets, which are beautifully played by the Debussy Quartet."
Described by The Guardian as "truly virtuosic," Circa is led by Australia-based contemporary circus visionary Yaron Lifschitz. Featuring an ensemble of exceptional, multi-skilled performing artists from Australia and beyond, Circa's award-winning works have been praised by critics for stretching the perceptions of traditional circus. The recipients of six Helpmann Awards and the Australia Council Theatre Award, Circa forgoes conventional elements such as clowns, juggling, and elaborate sets. Instead, performers use the strength of their own bodies to redefine classic "Big Top" showmanship, executing exquisitely choreographed acts and heart-stopping physical feats with grace and precision.In Opus, aerialists and performers will mix on stage alongside the Debussy String Quartet – with the string players themselves at times taking part in acts to combine movement with live music. Russian pianist and composer Dmitri Shostakovich (1906-1975) is widely regarded as one of the 20thcentury's most influential composers, and the sounds of his stunning string quartets run the gamut, from hushed intensity, to thundering virtuosity. Described by The Telegraph as 'sexy, fierce and astonishing,' Opus explores the capabilities of the human body and the complex relationship between the tragic and the comic.
Based in Lyon, the Debussy String Quartet is recognized for its devotion to French composers such as Debussy, Fauré and Ravel. Since they began in 1990, the ensemble has released 25 albums. Winners of the prestigious Bordeaux International String Quartet Competition (previously the Evian International String Quartet Competition), Debussy String Quartet are regular guests at distinguished concert halls across the world including the National Gallery of Art in Washington, D.C; the Tokyo Bunka Kaikan; Auditorio Nacional de Música in Madrid; and many other venues. Members include violinists Christophe Collette and Marc Vieillefon, violist Vincent Deprecq and cellist Cédric Conchon.
Audiences won't want to miss this opportunity to take in circus like they have never seen before – up close and intimate on the Chan Centre stage.
Chan Centre Connects Events (
chancentre.com/connects
)
A series of ancillary events programmed in conjunction with Chan Centre performances, exploring the role of arts and artists in society.
Post-Show Talk with Members of Circa and the Debussy String Quartet –

Saturday, April 28, 2018

, following performance @ Chan Shun Concert Hall. Join members of Circa alongside  violinist Christophe Collette for a conversation about their stunning collaboration, and what it takes to bring 14 acrobats and a string quartet on the road. Moderated by Head of the Department of Theatre and Film at UBC. Free for ticket holders.
About The Chan Centre for Performing Arts at UBC (
chancentre.com
)
Since 1997, the Chan Centre for the Performing Arts in UBC's Arts & Culture District has earned an international reputation for its striking design, stellar acoustics, and exceptional programming. Artists, critics, and patrons alike are unanimous in their praise of the facility, winning it a place among North America's pre­­­­mier performing arts venues. The Chan Centre boasts three unique venues: the superb Chan Shun Concert Hall, the dramatic Telus Studio Theatre, and the intimate Royal Bank Cinema. From classical, jazz, theatre, and opera to world music, the Chan Centre is a vital part of UBC campus life where artistic and academic disciplines merge to inspire new perspectives on life and culture. Past performers and guest speakers include: Wynton Marsalis, His Holiness the Dalai Lama, Renée Fleming, Dan Savage, Yo-Yo Ma, Buena Vista Social Club, Sigur Rós, Mavis Staples, Anoushka Shankar, Trombone Shorty, Chick Corea and Herbie Hancock. This season the Chan Centre is celebrating two decades of world class performance. Visit their 20
th
anniversary archives at 
chancentre.com
for memorable stories and never-before-seen photos from the past twenty years.
LISTING INFORMATION

Chan Centre presents
Circa: Opus 

Date:

Saturday, April 28, 2018 at 8pm

Ticket prices:

From $46

Address:

Chan Centre for the Performing Arts

University of

British Columbia

6265 Crescent Road, Vancouver, BC V6T 1Z1

Box Office:

604-822-2697 / chancentre.com

In person at the Chan Centre ticket office
Open Tue-Sat, 12pm-5pm