The 12th Annual Dine Out Vancouver Festival kicks off on January 17, 2014 and runs to February 2, 2014.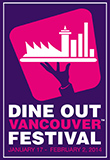 A list of participating restaurants, their menus and open reservations begin on January 6, 2014 but American Express Card holders can register to be eligible for advanced reservations on January 3, 2014.
Restaurants will offer three or more course dinners at $18, $28 or $38
Enhance your Dine Out Vancouver Festival experience with a hotel stay. http://www.dineoutvancouver.com/hotels/
Look for very special events running throughout Dine Out Vancouver http://www.dineoutvancouver.com/events/ with tickets on sale starting December 2, 2013.
Remember to plan ahead for your trip home.
translink.ca
tripplanning.translink.ca/
Chefs Photo at Granville Island. Photo Credit: Tourism Vancouver / Coast Mountain Photography