No matter how busy we are these two weeks, checking out a few of the 263 restaurants on the Dine Out Vancouver Festival 2014 list is a must!
I'm quite sure many of you have already started the Dine Out fanatic and probably sharing tips and reviews amongst friends. Well, here's mine.
Restaurants: 3 of the Glowbal Group of restaurants.
Tip: Who says you cannot share the 3-course Dine Out dishes? Just order different items!
Italian Kitchen $28, wine-pairing $20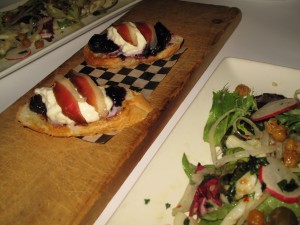 The $28 menu is indeed a fabulous sampling of Italian fares, presented the Glowbal way. Portions are generous, ingredients thoughtfully assembled. Not too often do I see duck prosciutto done so attractively – who does not love wood board presentation? The House Cured Duck Prosciutto scores high in my palate and in my check list.
As a Calamari fan, especially the pan-fried style, I'm delighted to see a Marinated Calamari Salad offered in the menu. Tender, juicy and matching nicely with the other ingredients on the plate – love the chickpeas!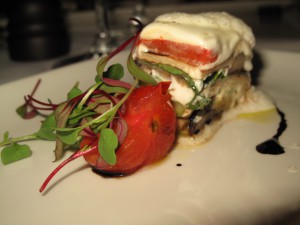 For the main, the Classic Eggplant Parmesan with Mista Salad easily steals any vegetarian's heart. I would not mine becoming a vegan if the vegetarian dishes are all this good! Dessert is the Maple Roasted Apply Panna Cotta with Vanilla Anglaise, need I say more?
Black & Blue $38, wine pairing $20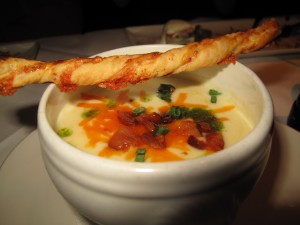 The debate around the table is about the 'Loaded Baked Potato Soup' – aromatic, thick and according to a lady friend, "Sexy"! The bowl of soup is likely too much for some; being the first course of dinner, also because it's so delicious, it hard to stop half way.
As a result, either half bowl of the soup or a portion of the main course, even dessert may have to be doggy-bagged home.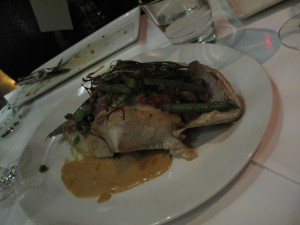 Since I adore pan-fried or roasted fish, the perfectly roasted Whole Roasted Trout with lobster bisque and sauté beans, so enticingly plated, my stomach naturally yearns for more.
And indeed, I have to give up the Carrot Cake but pop the whole coconut & ginger macaroon in a jiffy.
Coast Restaurant $38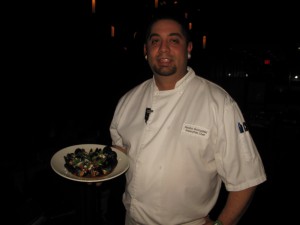 Mussels are usually not my cup of tea, but Chef Pedro fires these big and juicy ones Spanish style with chorizo, feta cheese and san marzano tomatoes so this particular plate of mussels falls into a different category.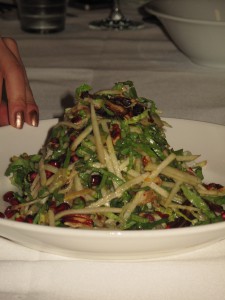 The Winter Chopped Salad is a colourful heap of fuji apples, medjool dates, pomegranates and candied pecans, a sure candidate for sharing; is a meal on its own.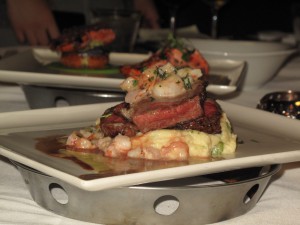 For the main, the Grilled Alberta Beef "Oscar Style" with whipped potatoes and prawn hollandaise almost melt in my mouth…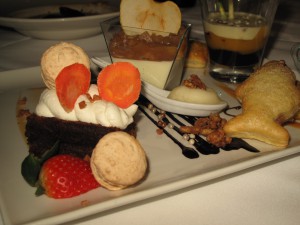 but I have to pace myself and leave room for dessert:Sugar Coated Taiyaki which reminds me so much of stuffed Asian pastries, it even shapes like a fish!