National Cupcake Day to support the BC SPCA will be just another reason to visit Hawksworth's BEL CAFE this month.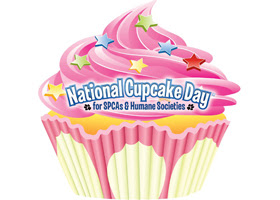 A percentage of proceeds from Bel Cafe's special cupcake will go towards the animal charity. Cupcakes cost $4.50 and feature a delicate vanilla chiffon, citrus creme, buttercream and bright yellow chocolate décor. On sale February 16 to 24.
For the DIY'er out there you can still plan your own cupcake sale.
By registering, baking and fundraising for National Cupcake Day for SPCAs & Humane Societies, you will be part of an exceptional group of supporters across Canada who understand the importance of animals in our lives. Your cupcakes will help give a surrendered puppy a home, rescue a neglected pony, provide emergency surgery to an injured kitten and save thousands of lives.
You can be as creative as you want!  Hold a virtual Cupcake Day party where your donors will each get a virtual National Cupcake Day e-card, deliver cupcakes to your supporters or hold a decorating or best tasting contest with fun prizes. There are lots of ideas to make your Cupcake Day party irresistible.
To host a National Cupcake Day Party:    Register for FREE here.