What's better than a Bel Café "confetti like" macaron? How about a $25. gift certificate you can use at Bel Café. You can use the gift certificate for any of their yummy gourmet bites and tastes or use the gift certificate to buy more macarons! On March 20th Bel Café celebrates the great French macaron. Bel Café whips up nine unique flavours daily. Come and celebrate by having one or a box of macarons
Vote for the next Bel Cafe macaron! Choose from the five flavours below and you'll see it in the cafe soon. Everyone who enters will be eligible to win a $25 gift card to Bel.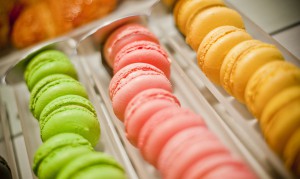 Right now on the Bel Café Facebook page you will be directed to a macaron flavour poll. Vote for your favourite macaron flavour and the winning flavour will soon be the next macaron that Bel Café makes.
There are five new flavours for you to vote on. The competing flavours are Apple Pie, Malted Milk Chocolate, Black Sesame Yuku, Hazelnut Gianduja, and my personal favourite, Salted Caramel. Right now Apple Pie is edging out Salted Caramel by a slim margin. So what are you waiting for? Get yourself to the Bel Café Facebook page and start voting for your favourite flavour.
Maybe you'll be the lucky one to win that $25. gift certificate from Bel Café.
Bel Café located on Georgia Street at Howe in the Rosewood Hotel Georgia is the perfect downtown spot to sit and savour or if you're in a rush you can take away. With a great menu featuring an array of fabulous pastries, cakes, tarts and macarons plus a number of savoury items like freshly made sandwiches and hearty soups there is just the right menu item to satisfy every appetite.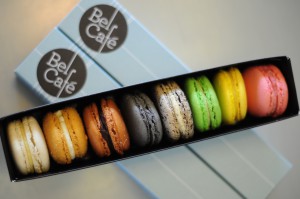 Here are some of their current flavours of delicious macarons often available at Bel Café.
• Cassis
• Cookies & Cream
• Dark Chocolate
• Key Lime Pie
• Carrot Cake
• Passion Fruit
• PB & J
• Strawberry & Lemon
• Vanilla Bean
Pre-order for office boardroom catering contact: 604 605 3325 Ext. 1
To place an order for pick-up contact: 604 673 7000 Ext. 1
Direct link to the Bel Café poll