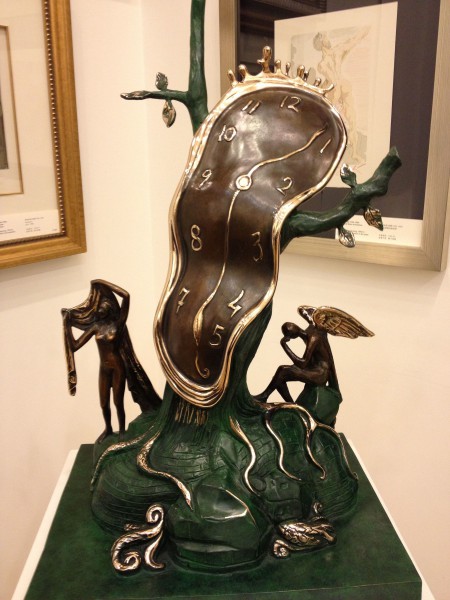 Wanting to escape the dreary Vancouver rain, I sought refuge in an unassuming boutique gallery on South Granville.  As soon as I stepped through the doorway, I was transported at once to a warm and sunny place, surrounded by a twirling dancer, an elephant with stilted legs, a snail with wings, musical angels, an oversized thumb, a piano with can-can legs and dripping clocks hanging on trees.  I found myself amidst the new "Definitely Dali" exhibit at the Chali Rosso Art Gallery and the largest private gallery collection of bronze sculptures by Salvador Dali in Canada.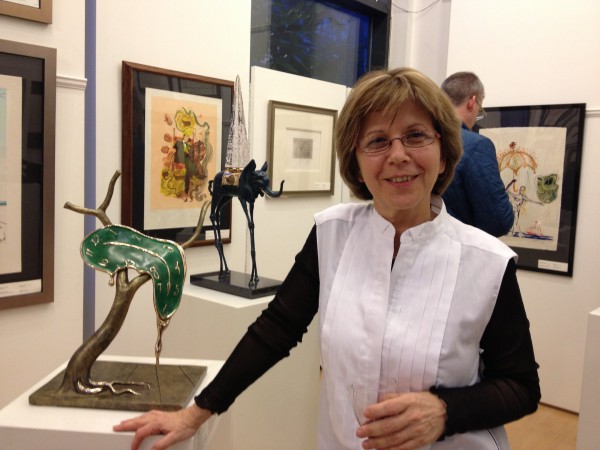 Based on my limited experience, I have always associated Salvador Dali with his surrealist paintings of melting clocks, dreamlike barren landscapes or disconnected body parts in usual scenes, but I was blown away by his beautiful sculptures, each echoing common themes and symbols from his famous paintings, yet having a gracefulness and sophistication about them.  Owner, Susanna Strem, is very honoured to have the opportunity to showcasing these pieces here in Canada.  Of the 29 sculptures in the Dali Sculpture Collection, Chali Rosso Art Gallery has 10 of them.  Susanna noted, these sculptures are all originals of very limited editions and much sought after by collectors around the world.  Once the last edition of the sculpture is created, the cast is broken and never reproduced again.  "We know their provenance; we have documents and certificates of authenticity for each piece we represent".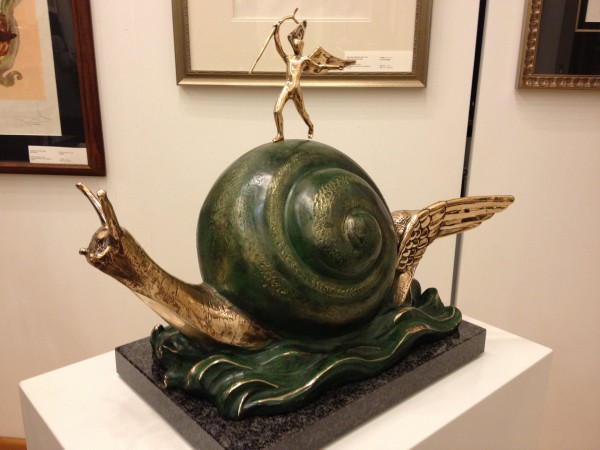 My two favourite pieces were a winged snail with an angel warrior on its back "Snail and the Angel" – I loved how Dali was able to express movement and lightness for such a slow and dense creature as the snail.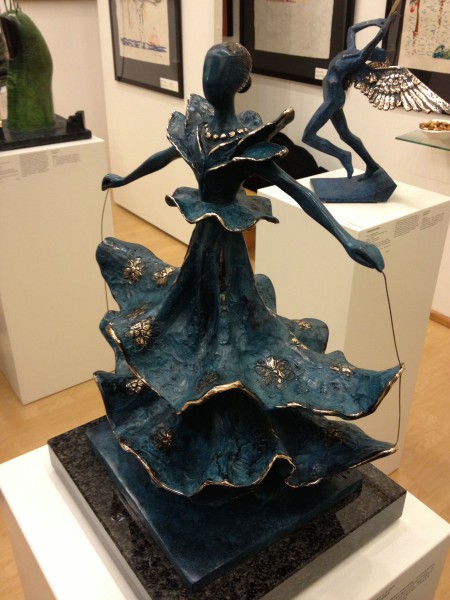 The other piece was the beautiful "Dalinian Dancer" with the layers of her dress floating up as she twirls, I could almost hear the music when I looked at her!
Opened in May of 2005, Chali Rosso Art Gallery is the largest private gallery in Canada specializing in original graphic works such as lithographs, etchings, linocuts and woodcuts by modern European masters: Picasso, Chagall, Dali, Matisse, Miro, just to name a few.
After enjoying Dali's whimsical yet elegant sculptures, I stepped out the Gallery into the drizzling rain, with a renewed sense of perspective, even the rain felt ever more refreshing and delightful.
Definitely Dali exhibit ends May 12, 2014 at Chali Rosso Art Gallery
2250 Granville Street, Vancouver, BC   Tel: 604.733.3594  www.chalirosso.com