While most middle school students across the province are already looking forward to summer vacation, Robbie, Brandon, and Dawson Hodge are getting their small business ready for another busy season of community events, birthday parties, weddings, and carnivals. Together, the three brothers form the "Cotton Candy Kids," Coquitlam's newest—and youngest—specialty vendor of cotton candy, popcorn, slushees, and snow cones.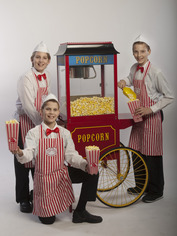 In November 2012, the three brothers from Coquitlam got connected with a family friend who had a cotton candy business he wanted to sell. The three brothers decided to pool the money they had saved from their paper routes, secure a loan (with the help of their parents) and purchase the business. That's when the Cotton Candy Kids business was born.It didn't take long for word to spread and soon the Cotton Candy Kids were booked for events and functions across the Lower Mainland. By the end of their first year, the Cotton Candy Kids had repaid their loan, purchased a second cotton candy machine, new equipment to expand their list of offerings, and even started employing their friend and classmates to cope with the demand–up to eight kids on a busy night!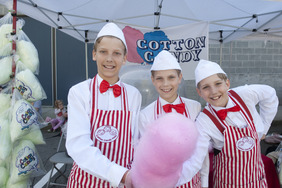 In 2013, the Kids became the youngest members to ever join the Tri-Cities Chamber of Commerce and in May the brothers will be the guest speakers at the Annual General Meeting for the British Columbia Chamber of Commerce. The future also looks bright for the three brothers who have recently applied for a federal trademark and will soon be selling products under their own branded packaging, a remarkable achievement for the three "Cotton Candy Kids" who have been enjoying a recent string of success.As their business has grown, the brothers have remained committed to their local community and have continued to donate a portion of their proceeds and time to local school Parent Advisory Committees and charities, including the I Am Someone Walk to End Bullying and the Peace Arch Hospital Auxiliary.
Outside of their business, the boys are active in soccer and ball hockey, as well as the Me to We club at their school. All three brothers are working towards their Chief Scout Award, the highest award in Canadian Scouting.
To learn more about the Cotton Candy Kids please visit their website at www.cottoncandykids.ca or email them at cottoncandykids@nullhotmail.com.