OSSO BUCO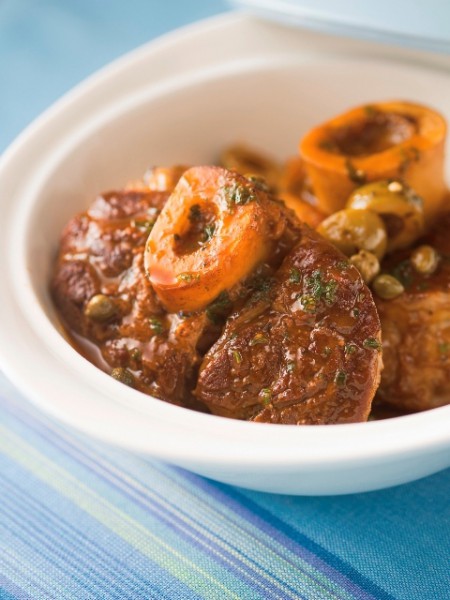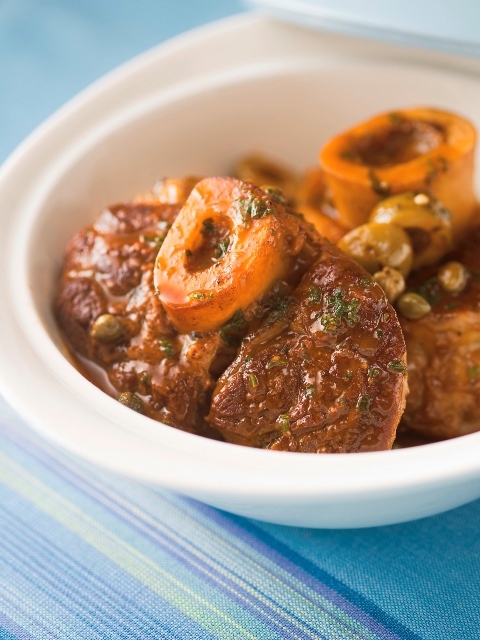 Ingredients:
6 pieces veal shanks (2" thick)
6 tbsp vegetable oil
1 onion, peeled and finely diced
2 carrots, peeled and finely diced
2 celery stalks, thinly sliced
2 cups red wine
6 cups veal stock
2 garlic cloves, peeled and finely chopped
5 roma tomatoes, crushed
1 lemon, zest only
2 bay leaves
1 sprig rosemary
5 sprig thyme
Ingredients – Sauce:
2 cups reduced braising liquid
1 tbsp capers, rinsed
½ cup brine-cured green olives, pitted and rinsed
¼ cup chopped parsley and chives
Method – Osso Buco:
Preheat oven to 325°F.
Tie each shank with kitchen string (like a package) to keep meat on the bone.
Pat each shank dry with paper towel and season with salt and pepper.
Heat oil over medium high heat in a large fry pan and sear veal on both sides until dark brown; transfer shanks to a large roasting pan or a Dutch oven.
Return pan to heat and add onion, carrot, and celery.  Cook until golden brown and soft.  Add wine and cook for a further 3 minutes, then pour the vegetable-wine mixture over the shanks.
To the roasting pan add: stock, garlic, tomatoes, lemon zest, bay leaves and herbs.
Cover and place in oven for about 3 ½ hours or until tender (turn shanks occasionally and top up liquid if not covering).
When cooked, remove meat from pan and strain braising liquid through a fine mesh strainer.
Place liquid in a saucepot and skim off fat and reduce by about ½.  Set aside until ready to use.
Method – Sauce:
In a small saucepot add reduced braising liquid and bring to a boil.  Add capers and pitted chopped olives and simmer for 5 minutes over medium heat.
Add the freshly chopped herbs just before serving.
For Service:
Cut off the string and discard, and if required, reheat the shanks using either oven or microwave.  Divide the osso buco evenly among dinner plates (or place on one large platter), pour the sauce over top and serve.  Enjoy!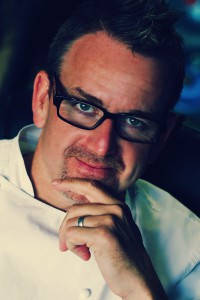 Chef Rob Feenie, Executive Chef, Cactus Restaurants Ltd.  
The driving culinary force behind Cactus Restaurants Ltd., the award-winning collection of 26 casual fine dining restaurants in BC, Alberta and Saskatoon, Rob Feenie is also one of Canada's most recognized and celebrated chefs.
At Cactus Restaurants Ltd., Chef Feenie leads the culinary team, blending his talent for creating elegant, globally-inspired cuisine with his passion for simple dishes using fresh, sustainable ingredients.  Chef Feenie's innovative approach to cooking has continued to drive the evolution of Cactus Club Cafe's menu selections and its commitment to sourcing the best fresh, local and sustainable products wherever possible.  
Growing up in Burnaby, BC, Chef Feenie first developed a curiosity for international cuisine over countless traditional family dinners at his Japanese neighbours' home. This early experience was followed by a high school exchange program where he was first introduced to European chefs and techniques.  At 20, Chef Feenie attended the Dubrulle Culinary Institute in Vancouver and upon graduating, became a Sous-chef in some of Western Canada's top restaurants, notably Le Crocodile and Cherry Stone Cove in Vancouver and The Rim Rock Café in Whistler. 
While at Le Crocodile he began a series of work and educational trips, or stages, throughout Europe and North America, starting in Alsace with Chef Emile Jung at Au Crocodile and Chef Antoine Westermann at Le Buerehiesel, both Michelin three-star rated restaurants. In North America he worked with Chef Charlie Trotter, at Trotter's Restaurant in Chicago, and Chef Jean-Georges Vongerichten at Jean-Georges in New York.
In 1995 Chef Feenie opened the internationally celebrated Lumière Restaurant in Vancouver, followed by Lumière Tasting Bar and then Feenie's, a more casual Canadian Bistro, next door to Lumière, in 2003.  Throughout his career, Chef Feenie has secured international culinary recognition, including the coveted Relais Gourmand and Traditions et Qualitè designations, in addition to the Mobil Travel Guide four-stars designation and the AAA Five Diamond Award.  In 2009 and 2011, Chef Feenie won the Vancouver Gold Medal Plates competition.
Chef Feenie has published four cookbooks: Rob Feenie's Casual Classics, Rob Feenie Cooks at Lumière, Lumière Light and Feenie's. He also starred on New Classics with Chef Rob Feenie on Food Network Canada for five seasons.  In 2005 Feenie became the first Canadian to win on the popular television show Iron Chef America by defeating Chef Masaharu Morimoto.