Wow Critical Mass has been around for over 20 years.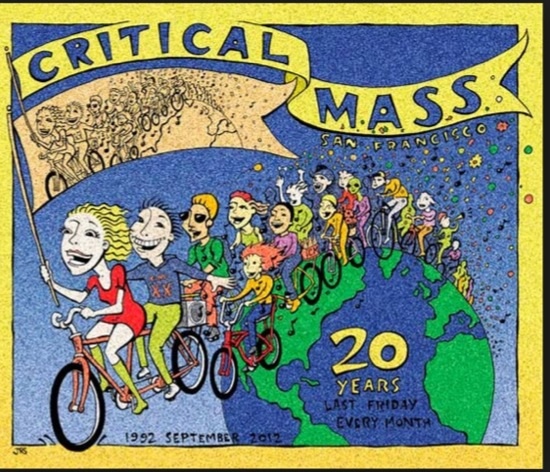 What is Critical Mass? Critical Mass is a monthly mass bicycle ride that takes place on the last Friday of each month in cities around the world. It was started here in San Francisco in 1992 by cyclists and activists who wanted to increase the visibility of bicyclists and reclaim public space by making social use of the streets on a regular basis. From San Francisco Critical Mass
I do a couple of rides a year. It's fun, you will see loads of different people. families, young elderly, single riders and more, with many types of cool human powered transport too.
Costumes and music are encouraged, I always have flowers, streamers or a discreet sign that promotes bicycling on my bike.
Going down Broadway with hundreds of people on bicycles has such an influence on the population, It's such a visual celebration of the need for better safer separated bicycle infrastructure.
Everything is safe they have a tactic called "corking" volunteers block the side roads to make it safe for the riders to pass through.  I always thank the corkers as I ride pass and ring my bell.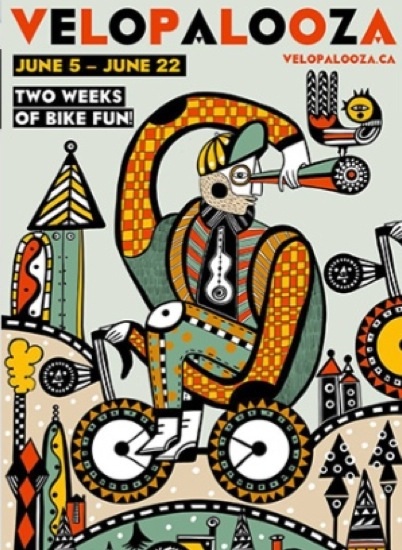 Critical Mass Friday May 30 2014 Last Friday of Every Month Meet between 5 – 5:30 at the Vancouver Art Gallery starts 6 pm
VELOPALOOZA is a great resource to check for bicycle fun. Keep checking their calendar it's always updating with new events being added.
Are you a velorutionary? I am