The BCHF Presents Sommelier Scholarships at Van Mag Awards, Supports Bartender of the Year Prize
On Tuesday, April 22 at the  Vancouver Magazine Restaurant Awards, held at the Sheraton Wall Centre, the BC Hospitality Foundation (BCHF), with the sponsorship and support of Okanagan Crush Pad (OCP), presented its annual sommelier scholarships to five talented professionals currently serving in the hospitality industry. Each scholarship was in the amount of $1000 and will help offset expenses as each winner continues to advance their wine education through certified schools. Former BCHF Chair Bing Smith was on-hand to present the awards.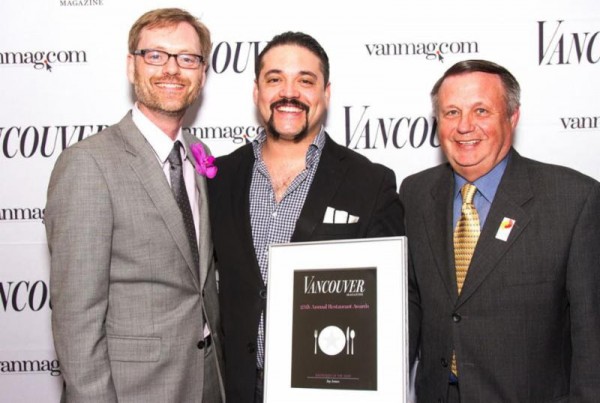 The winners of this year's sommelier scholarships are: Samantha Casuga (Veneto Tapa Lounge at the Rialto Hotel, Victoria), Jen Kinna (Little Jumbo Restaurant, Victoria), Carmen Parry (Hotel Grand Pacific, Victoria), Shiva Reddy (Pacific Institute of Culinary Arts, Vancouver) and Chris Turyk (Unsworth Vineyards, Cowichan Valley). The judges were: Kurtis Kolt (Independent Wine Consultant), Owen Knowlton (Sommelier, West Restaurant), Terry Threlfall (Award-winning Sommelier), Neil Wyles (owner, Hamilton Street Grill), Tim Pawsey (Food and Wine journalist, The Hired Belly), Kasey Wilson (Food & Travel Writer and Broadcaster) and Dawn Donahue (BCHF Scholarship Chair).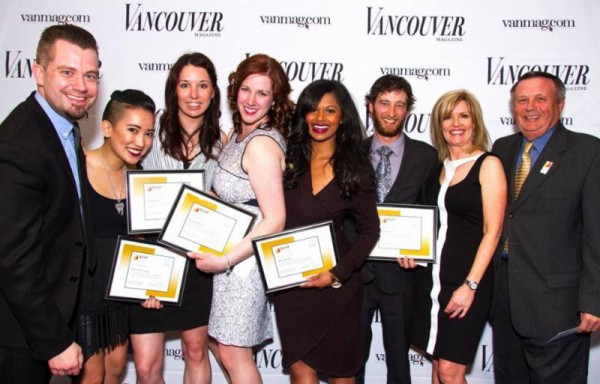 In 2011 Okanagan Crush Pad started a sommelier mentorship program, called the Okanagan Wine Campus, which provides the funding for the sommelier scholarships. You can read more about OCP's Okanagan Wine Campus here.
The BC Hospitality Foundation also presented the Bartender of the Year award to acclaimed bartender, Jay Jones. Jay has already been recognized as the best bartender in Canada and is respected internationally as a leading mixologist, businessman and brand ambassador. Jay is currently the executive bartender for Vancouver's Donnelly Group.
Quotes:
Lori Chalmers, publisher, Vancouver Magazine: "The BC Hospitality Foundation plays a very crucial role within the hospitality industry. Vancouver Magazine is proud to support the BCHF and in particular its scholarship program. As we help a new generation build skills, we are investing in the future of a vibrant industry and training the award-winning chefs, sommeliers and bartenders of tomorrow!"
Jay Jones, winner, Bartender of the Year: "After 18 years of Bartending in BC, I continue to be overwhelmed by the support of our incredible hospitality community. The response to my selection as Bartender of the Year has been humbling. I am truly grateful to continue to do what I love as a career and happy to know I'm seen as a contributor to our quality of beverage service in Vancouver. It's an extraordinary emotion to feel you are held in high regard by your patrons and peers."
Who Do You Know That We Can Help?
The BC Hospitality Foundation is the industry's charity of choice, providing support for individuals within the hospitality community who are coping with a financial crisis arising from a health or medical condition.
The Foundation's mission is to offer assistance, beyond traditional medical benefits and insurances, to individuals within the hospitality community in their times of financial need. As well, it is committed to supporting the industry's next generation by providing scholarships to selected students enrolled in hospitality, culinary and wine programmes in BC.
For more information, visit bchospitalityfoundation.com or follow the conversation on Facebook and Twitter.