When we attended our first ever summer solstice celebration at Summerhill Pyramid Winery in June we really had no idea what to expect. The first part wasn't much of a surprise—yoga-based talk and movement in the cool, subtly lit pyramid. Next up was a potluck supper that we passed on, because being five hours from home we weren't in a position to prepare anything and didn't want to show up empty-handed. So we dined in the Sunset Organic Bistro, then headed down to the kekuli, a pit house constructed with the help of local First Nations people.
Deceptively spacious inside, the kekuli is a dome-shaped construction of logs that is covered with soil that provides the base for a now thick covering of indigenous plants. A blanket-covered entrance gives way to a circular meeting space and a roaring fire in the centre of the room vented through a hole in the ceiling.
We took our seats and were soon caught up in the beat of dozen or so drums of all sorts, the rhythmic pounding feeling very organic and pleasurable. Suddenly our attention was drawn toward the fire, where two men were crouched, reaching toward the flames. I stood and shifted my position to get a better look and it became evident that they were inverting empty one-litre sealer jars to capture smoke from the fire. Lids were quickly screwed on while the jars were held upside-down and then the men returned to a table near the building's sidewall. Again I moved to improve my vantage point and witnessed each jar of smoke being quickly and carefully filled with a clear liquid before being resealed. Welcome to the world of modern mixology, Gerry Jobe style.
Eventually, I learned that Jobe was creating a mixed drinks program for the Bistro, Summerhill recently having been granted a full liquor license.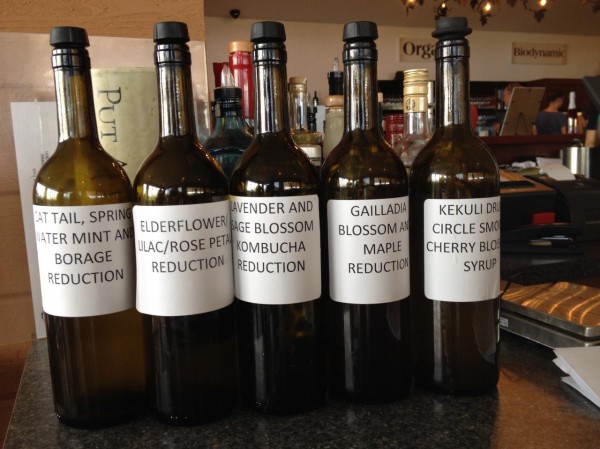 Back to the smoke-filled jars. The liquid poured into them was a simple syrup (water-sugar mixture) that was infused with chokecherry blossoms from the Summerhill property. The filled jars were placed in a semi-circle around the fire and then a Reiki practitioner used her hands to energize the jars while Jobe held a crystal wand over them.
"In my life, I've had a big change and am suddenly surrounded by energy workers, philosophers, alternative spirituality," Jobe says. "I realized that it's time for me to learn that language and immerse myself in the study and practice of energy, and integrate this healing and knowledge into my life. I've been exposed to all these new ingredients and the effect they have on the body and on mood. Story has always been a big part of my cocktails, but now energy and spirituality are part of that story. Summerhill is a playground, allowing me to deepen my art. We are using ingredients like wild-crafted medicinal herbs and organic wines, and techniques like aging syrups in the pyramid, Tibetan singing bowls, intentionality and biodynamic rhythms. I don't want to be a 'mad scientist' anymore. I want to be a warlock, working with nature and energy."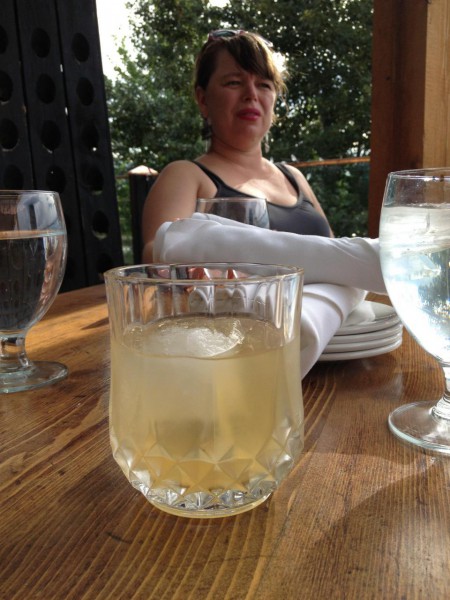 On a recent return visit to Summerhill I ordered a cocktail, Lithia's Rhythm, before dinner. Jobe's description: "Foraged chokecherry blossoms were reduced in a simple syrup then smoked over the fire during the summer solstice drum circle in the kekuli. Placed around the kekuli fire, vessels of this reduction were influenced by the rhythm of drumming and dancing, and treated with energy work and quartz. We combine this reduction with our organic Pinot Gris, lemon and Woodford Reserve Bourbon to offer you this experience of the summer solstice in a refreshing cocktail. Named after Lithia, the goddess of the summer solstice."
It was exactly as advertised. Refreshing. But I was surprised to truly enjoy the combination that included wine and bourbon. Nothing about it seemed forced or meant to show off. Subtle and satisfying is how I would describe it.
Several  other original cocktails are joined on the new menu by Jobe's reinterpretations of classic cocktails like the Old Fashioned (Soul Fashioned), Negroni (Merloni) and Boulevardier (Hillavardier).
When I set foot on the property at Summerhill Pyramid Winery I am never disappointed, and most often surprised. The new drinks menu continues that trend. The last word goes to Jobe: "This is the start of a journey. I want to celebrate the land and the history and create something beautiful."