Backyard Vineyards
Changes in ownership and the resulting name changes are not uncommon in the BC wine industry.  Backyard Vineyards, located at 3033 232nd Street in Langley, opened up in 2002 under the name Glenugie.  Gary Tayler, the original owner named it after his wife's family's farm in Scotland.  Unfortunately, Gary's wife Christina died in 2006 and Gary followed a year later.  The surviving family ran the property until they sold it in 2008 to Gary Strachan, who was the vineyard manager of one of their properties.  Later, it changed hands to Ewen Stewart and Trent Blackwell, both property developers.  The name was changed to Neck of the Woods winery and some roadside signs still show that name. In the spring of 2013 the name was changed to Backyard Vineyards.   Trent is the current president of Backyard.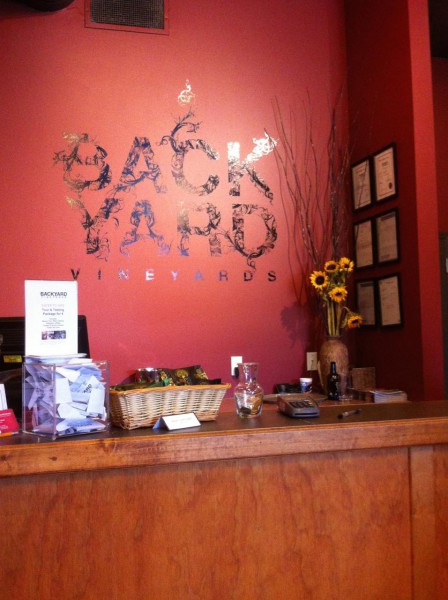 Pinot Noir is grown on their site and they have another thirty acres under vine in Abbotsford.  They also buy grapes from vineyards in Okanagan Falls and the Oliver / Osoyoos area.  Currently, they offer five white wines, a rosé, five reds and a sparkling wine.
Backyard Vineyards has a current production of about 10 500 cases per year.  Their barrel inventory is made up of sixty percent French oak and forty percent American oak.  They replace ten to twenty percent of their barrel inventory each year.  I was surprised to see that they have their own bottling line as many wineries contract mobile bottlers to come and bottle their wines.
Winemaker James Cambridge, who looks like a young Bruce Willis, is a recent addition to Backyard.  James comes with an impressive background.  He began his career fifteen years ago with course work in Oenology and Viticulture in Ontario.  Since then he has worked with wineries in Ontario and BC including: Henry of Pelham, Creekside Estate, Summerhill, Le Vieux Pin, La Stella and Fort Berens.  His first Backyard vintages (2012) will be released later this year. I was impressed to see how James tops his barrels.  Instead of moving the barrels with a forklift, James uses a small, pressurized tank with a hose and moves barrel to barrel.
Among the wines I tasted were:
2012 Sauvignon Blanc $16.99
Grassy, herbal aromas with some melon flavours on the palate.
2013 Pinot Gris $15.99
A delicate nose, soft balance and flavours of pear, apple, melon and citrus.  A medium short finish.
2013 Nosey Neighbour White Blend $14.99
Citrus, tropical fruit and a hint of honey on the nose with some pleasing fruit on the palate.  The slight residual sugar makes this is a suitable patio / social wine.
2013 Rosé $15.99
This is a blend of Merlot and Gamay.  A delicate, inviting cherry nose.  Dry with a medium body.  Pleasing red fruit flavours on the palate.
2013 Riesling $18.99
A social style of Riesling with apple, mineral and citrus on the nose.  The aromas carry through to the palate.  Round in the mouth with a medium finish.
2013 Gewürztraminer $17.99
A varietal nose with perfume, lychee, rose petals and stone fruit.  Good body and mouthwatering fruit on the palate with a medium-long finish.  Best wine in the flight.
Then it was on to the red flight.
2011 Merlot $16.99
This bottle may have been opened a little too long as there were some unpleasant odors on the nose (though not everyone may notice).  Some underlying aromas on the nose include – plum, chocolate and spice.  A medium-short finish.
2011 Syrah $21.99
Lifted blackberry aromas on the nose, medium body.  The fruit carries on to the palate with a hint of chocolate on the finish.
2012 Nosey Neighbour (Red blend) $14.99
This wine is a blend of Syrah, Cabernet Sauvignon, Cabernet Franc and Merlot.  This is an entry-level crowd pleasing red with some pleasant fruit on the nose and the palate.  Medium body.
2011 Meritage $19.99
Similar to the Merlot, the fruit on the nose is subdued.  Again, this bottle may have been opened too long or may have been an 'off' bottle.
2010 Cabernet Sauvignon $19.95
Cassis and mint on the nose with medium body and finish.
NVBlanc de Noir Brut $22.99
An estate grown traditional style sparkling wine made from 100% Pinot Noir.  An attractive 'eye-of-swan' colour with long lasting fine bubbles.  Classic nose with a hint of toast and bread yeast.  Well balanced and crisp.  Pleasing tree fruit on the palate with a medium-long finish.  An impressive BC bubbly.
Backyard offers a series of special events through the summer including Wine Flight Fridays, Sangria Sundays, House Wine Band evenings, A Campbell Valley Summer Wine Fest, Painting Parties (learn to paint) as well as a Wine Academy with John Gerum, of West Coast Wine Education.  See the wineries web site for dates and further details.