Backyard Vineyards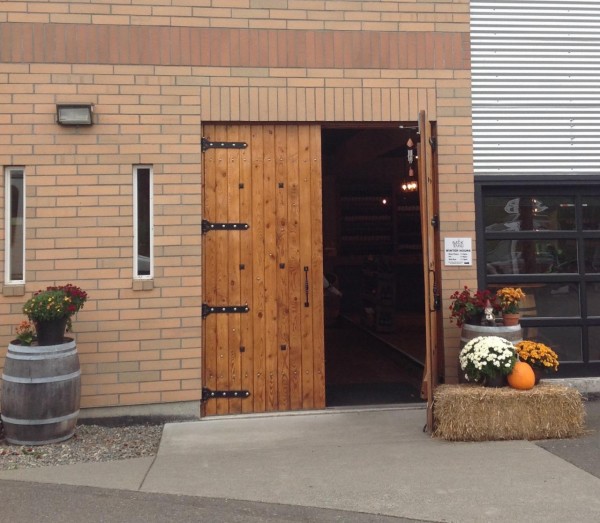 Winemaker James Cambridge took us on a tour of Backyard Vineyards. He greeted us with a glass of Blanc de Noir – a refreshing Pinot Noir sparkling wine – very nice with delicate fruit on the nose and palate and good mousse. This winery, which opened as Glenugie, has been around since 2002 and has seen a number of changes, the latest, being their new winemaker and a complete makeover of their tasting room.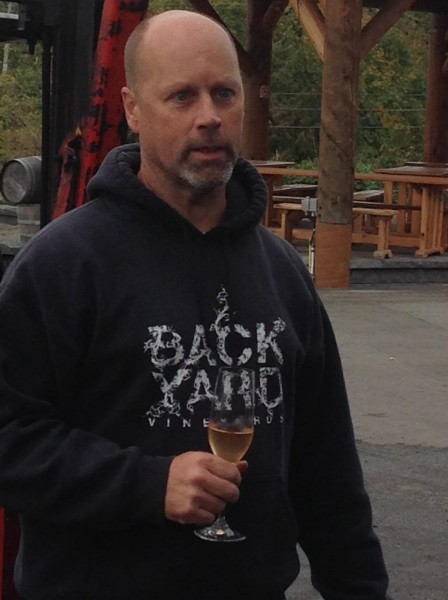 James Cambridge's previous employment, in Ontario and BC, included working at Henry of Pelham, Creekside Estate Winery, Summerhill Estate Winery, Le Vieux Pin, LaStella Estate Winery, and Fort Berens. Things have changed quite dramatically since James arrived in 2012. All varietals are now made from free run juice, which helps to explain their quality. Pressed wine and any unused free run goes into the entry-level Nosey Neighbour wines.
Backyard wines are labeled as BC wine as they use fruit from their Langley sites – Pinot Noir, Pinot Gris and Merlot (used in a rosé) as well as from sources in the Okanagan.
Outside, we saw one of their vineyards, the gazebo and an impressive crusher-destemmer.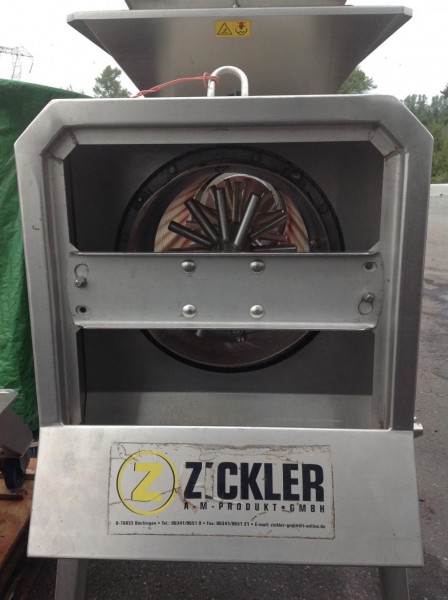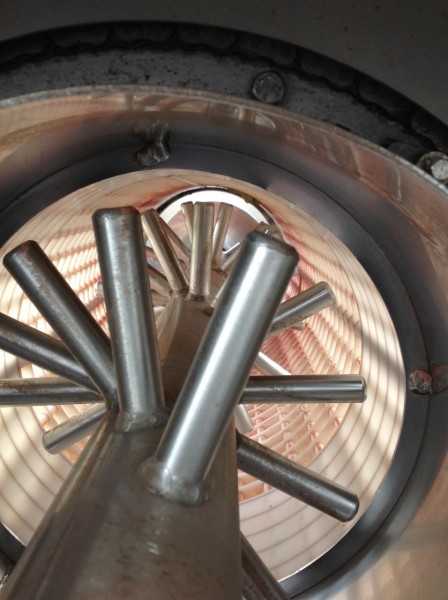 Inside the winery, merlot grapes were fermenting in open vats and pails of inoculated yeast were bubbling away, waiting to be added to white wine juice that had settled and cleared.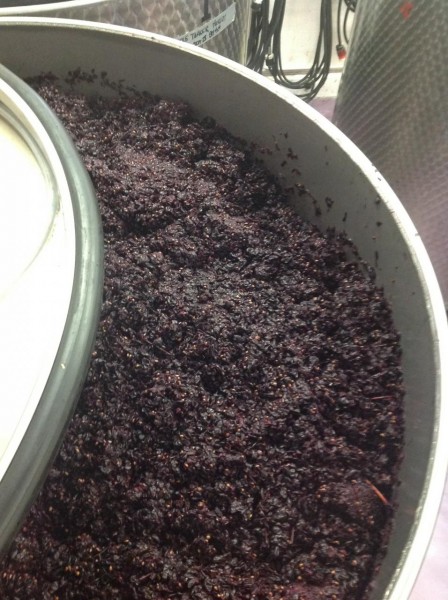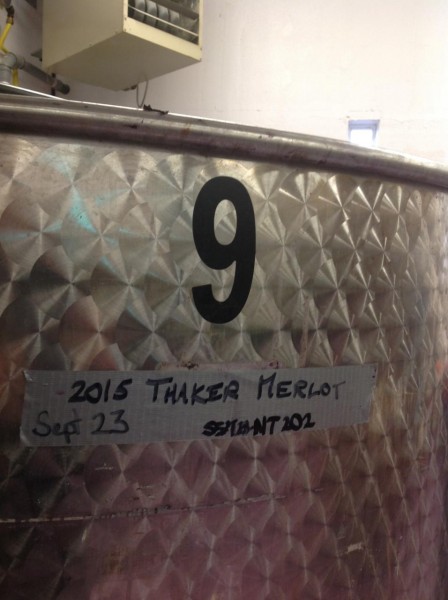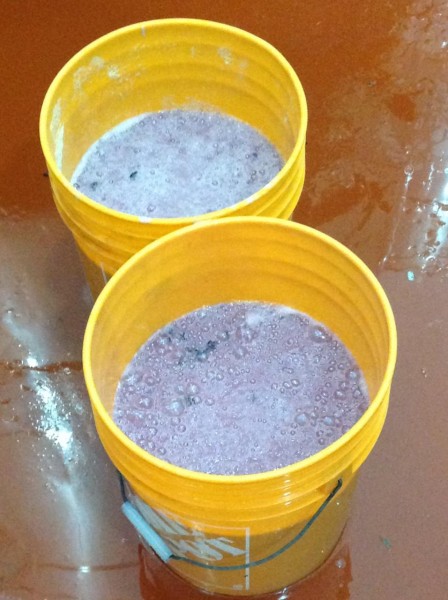 James took us over to some frost covered temperature controlled tanks and we tasted a Pinot Gris tank sample, which for the uninitiated, is akin to tasting a cake mix before it is put into the oven. It was a little tart from the dissolved carbon dioxide, as the wine was still fermenting, but delicious with pink grapefruit aromas and flavour. I will definitely be looking for this 2015 vintage when it is released next year.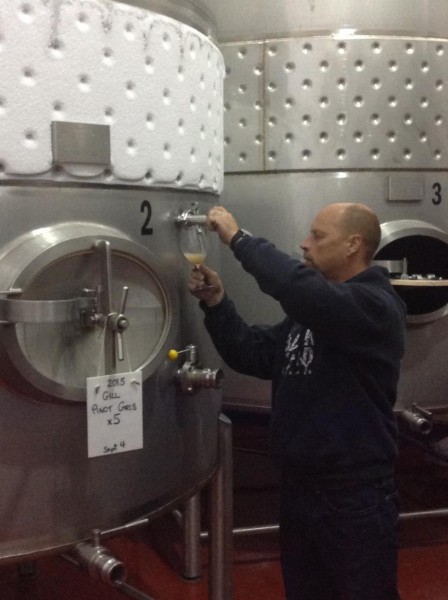 Then it was into the tasting room to sample some bottled wines. I enjoyed the Gewürztraminer – classic varietal nose with lychee, stone fruit and rose petal aromas.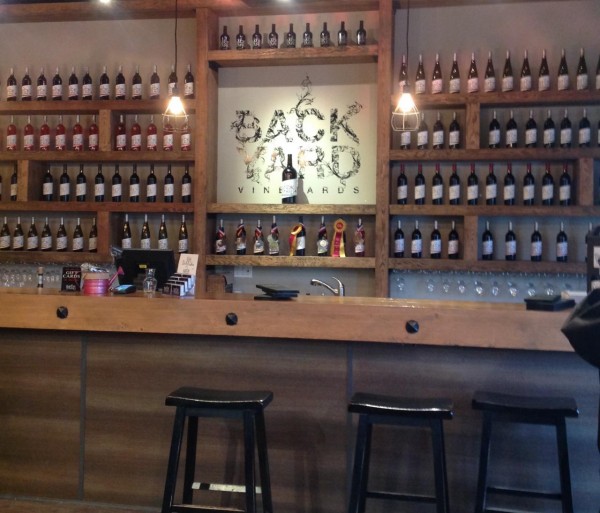 The Cabernet Franc was good, but it will also benefit from further cellar aging. It is packed with good fruit flavour, but the tannins are a little grippy right now. Decant it for 30 – 60 minutes minimum if you open the current vintage.
Gossip is a Bordeaux styled wine with 25 % Syrah. The Syrah smooths it out and makes it drinkable without the need for further aging – good Bordeaux style quality.
2013 Reserve Syrah. Delicious, great flavours and body.
Backyard Vineyards is home to many special events and offers places to gather both inside and outside. Their log-beamed gazebo, complete with picnic tables can seat 50 people. It's a great venue for birthdays, family reunions and tasting parties. The large farm bell is great for getting people's attention if necessary. For more formal, business type meetings, a fully equipped boardroom is a great place for smaller groups to meet. Food service is also available.