BRINGS INTERNATIONAL FLAVOUR TO DINE OUT VANCOUVER FESTIVAL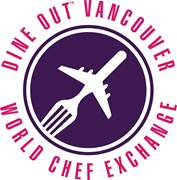 Dine Out Vancouver Festival's brand-new event is already generating international buzz: a series of five exclusive dinners starring award-winning chefs from Sydney, New York, Copenhagen, Los Angeles and Puerto Vallarta.
During each one-night-only event, an international and local chef will join forces to produce a powerhouse feast in the Vancouver chef's restaurant, taking inspiration from their respective restaurants' most popular dishes, their own favourite fare and seasonal ingredients. Mark your calendars for December 1 when event tickets go on sale – seats are limited, and these collaborations are simply too marvelous to miss.
Curious about the restaurant that whets appetites across Copenhagen? Keen to try French cuisine with an Australian twist? Ready to pop your palate with Southeast Asian cuisine fresh out of L.A.? We've got you covered – no passport required.
Dine Out Vancouver Festival 2016 World Chef Exchange
Sydney's Chef Mark Best and Vancouver's Chef Quang Dang at West Restaurant
Date: January 17
Details: Chef Best's Marque Restaurant has been named among the world's best restaurants (Traveller World, Gourmet Traveller), dishing up contemporary Australian cuisine amplified by out-of-the-box techniques. The New York Times says it best: "You will not eat food like this, encounter such ideas on the plate, elsewhere."
Puerto Vallarta's Chefs Nacho and Poncho Cadena and Vancouver's Chef Ricardo Valverde at Ancora Waterfront Dining + Patio
Date: January 20
Details: The chefs behind LA LECHE are a father-son duo whose restaurant is not only lauded as one of the best in Mexico, but is also credited with changing the face of the country's restaurant market. The focus – regional ingredients and an inventive menu – makes for a perfect pairing to combine Chef Valverde's Latin influence with LA LECHE's spicy flair.
Los Angeles' Chef Sang Yoon and Vancouver's Chef David Hawksworth at Hawksworth Restaurant
Date: January 21
Details: Chef Yoon's Father's Office pairs craft beer with finessed pub fare, taking inspiration from Europe's rich bar culture and in-season ingredients. His second restaurant, Lukshon, plates exquisite Southeast Asian cuisine with contemporary perspective, focusing on flavourful ingredients.
New York's Chef Daniel Burns and Vancouver's Chef Pekka Tavela at Wildebeest  
Date: January 25
Details: Chef Burns' Michelin-starred Luksus is situated in the back room of Brooklyn beer bar Tørst, yet it offers one of the city's most elegant and honest menus. The concept is earthy, simple food – seasonal and interesting ingredients combined and presented in unexpected and adventurous ways, enticing even the most wary palates to dine adventurously.
Copenhagen's Chef Rasmus Leck Fischer and Vancouver's Chef David Gunawan at Royal Dinette
Date: January 30
Details: Chef Fischer, the brains behind Gastronomisk Innovation, has worked at triple-star Michelin restaurants and develops recipes for notable culinary magazines. His focus is reinterpreting old techniques, like cooking over open fire. Chef's words: "Food can be insanely tasty if it has a rustic expression and hasn't been served with tweezers."
More details, including ticket prices, coming soon – check DineOutVancouver.com for updates!
About Dine Out Vancouver Festival:
Produced by Tourism Vancouver, Dine Out Vancouver Festival is Canada's largest annual celebration of food and drink. Attracting more than 100,000 locals and visitors, the festival takes over the city with 17 days of culinary events, prix fixe menus at 240-plus restaurants (at $20, $30 or $40 price points), as well as "Dine and Stay" packages and special hotel rates. The festival promotes local and regional ingredients, the wines of British Columbia, and the city's exceptional culinary talent. New for 2016 is the Dine Out Vancouver World Chef Exchange. Dine Out Vancouver Festival 2016 runs from January 15 to 31.
dineoutvancouver.com @DineOutVanFest #dovf
Tourism Vancouver's focus is on building exceptional customer relationships with meeting planners, travel influencers, travel media and independent tourists.  The organization's brand essence is about "exceeding expectations".