Chef Castro Boateng's Cauliflower & Almond Soup recipe for #TasteofThursday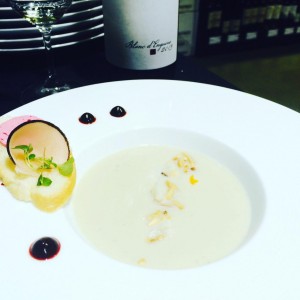 1/4 cup vegetable oil
2 onions (roughly dice)
2 heads of cauliflower (roughly dice)
6 heads of confit garlic or 3 raw garlic
Sprigs of thyme
Salt and pepper to taste
2 cups white wine
5 cups almond milk
1 cup toasted chopped almonds
Sauté onions in vegetable oil for 4 minutes. Add cauliflower, garlic, thyme, s/p. Keep cooking for additional 4 minutes. Deglaze the pan with white wine then add 4 cups of almond milk and allow the soup to simmer for 20 minutes.
While the soup is cooking the almond milk will separate. Don't worry once the soup is finish cooking, purée the soup with the remaining milk using a high tech blender(blendtec) and the soup should be velvet smooth.
Check the season, add more salt and pepper if needed. Serve the soup with the toasted chopped almonds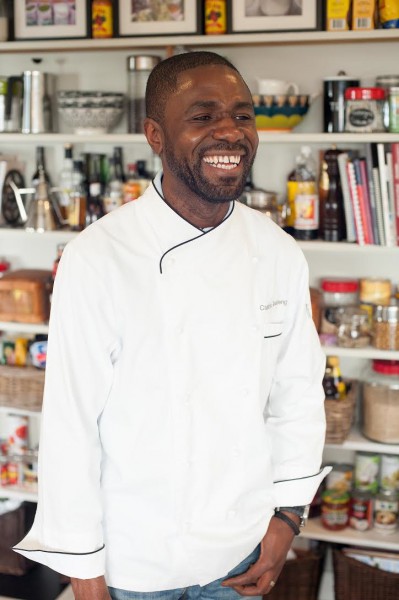 Castro Boateng, Fine Catering & Private Chef, was born in the West African country Ghana, the land of the gold coast. Immigrating to Toronto when he was nine years old, he and his younger brother were raised by his father who taught respect, family values and a good work ethic – encouraging them to strive for their dreams and goals. At a young age Castro had to overcome many obstacles but he was determined and become an Executive Chef before he was 30. After graduating from culinary school in Toronto, Boateng worked under European Master Chefs Stewart Cameron and Colin Watson at the prestigious Turnberry Resort, Scotland. He then worked at The Fairmont Southampton Princess in Bermuda where the successful New Port dining room became the first Caribbean restaurant to receive the five diamond award. Returning to Canada, Castro has been Chef de Cuisine of Eden, the five diamond restaurant at the Rimrock Resort Hotel in Banff Alberta, and Executive Chef at the Aerie Resort in Victoria B.C. Castro now lives in Victoria with his wife Charlotte and two young sons Kaeden & Noah.
Chef Boateng is pleased to share his passion for food & wine through Castro Boateng Fine Catering & Private Chef Services.
Fine Catering & Private Chef
Facebook Castro Boateng Fine Catering & Private Chef
250-588-9398