An event designed for people who want to enjoy an evening of live entertainment, support local artisans & craftsman, get healing in an alcohol/drug free environment.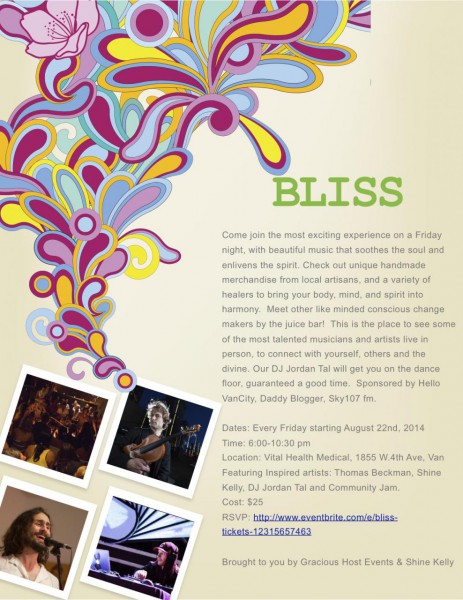 Event: BLISS
Time: 6:00-10:30pm
Location: Vital Health & Wellness Clinic, 1855 W.4th Street, Vancouver
Cost: $25
Musician:
Thomas Beckman, Violinist: www.thomastheviolist.com.
Shine Kelly, Singer & acoustic guitar: www.shineinsong.com.
DJ Elementalryhthm, AKA Jordan Tal: www.elementalrhythm.com
Vendors:
Richard's Woody Products: hand crafted wooden bowls, canisters, and candlesticks.
Chains4change: jewellery and chains made from pop can tabs. chains4change.storenvy.com
Crystal Matchmaker: activated crystals. www.crystalmatchmaker.com
Vedic Academy of Science & Arts: Vedic deities, scarves, Jeffrey Armstrong books. www.jeffreyarmstrong.com
Healers:
Adrian Armstrong: massage therapist, alignment, quantum touch, and psych-k. www.adrianarmstrong.com
Ashara: energy healing
Jacob Lamour: medical qigong
About BLISS:
Once a month event series designed for the conscious community as a platform for the flowering of arts and culture and expression of beauty.  Also as a great place for social engagement, connection and relaxation.
About Organizers:
The idea for BLISS came from Shine Kelly, a constant musician and organizer of musical events.  BLISS is a co-creation between Shine Kelly and Alice Zhou of Gracious Host Events & PR.  Shine acts as the musical director while Alice is in charge of logistics and business aspect of the event.