The Mount Pleasant Neighbourhood House has partnered with Western Front, Broadway Youth Resource Centre, Vancouver Native Housing, and the Broadway East Art Walk to once again bring you its annual community festival, MetamorFest! Proudly sponsored by CiTR radio, Eastside Fitness, and QM/FM, this year's festival is a celebration that you do not want to miss! As the school year is just beginning and everybody's lives are getting busier, we want to celebrate the final days of summer with the Mount Pleasant community. The festival is an important way to find out about what we do here in Mount Pleasant. Through the Revitalization of Broadway East project, Liveable Laneways, and the benches and planters volunteers, the community has been continually endeavoring to make this neighbourhood a better place to live. Although many people do not realize that Mount Pleasant is such a great place, this festival will showcase the very best aspects of the neighbourhood.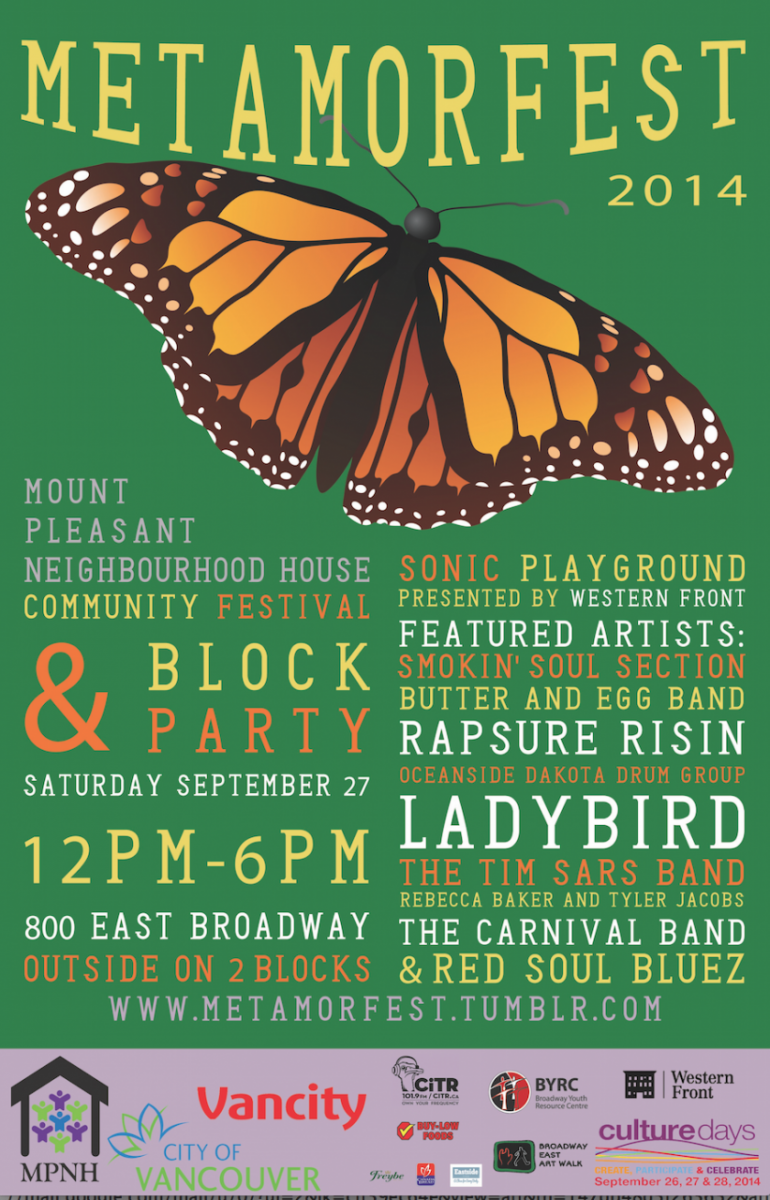 On September 27th from 12 pm – 6 pm, MetamorFest will hit the streets of Mount Pleasant. The festival is located on two blocks: one north of East Broadway on Fraser Street and one south of East Broadway on Prince Albert Street. The Mount Pleasant Neighbourhood House will also be hosting activities inside our building on the corner of Broadway and Prince Albert Street. Likewise, the Broadway Youth Resource Centre and Vancouver Native Housing will do so in their brand new building on the corner of Broadway and Fraser. With 3 stages this year, we are hoping to see everyone up and dancing to great local artists and bands! Our music and performances vary from hip hop to jazz and from dancing to drumming. In celebration of the Indigenous population in Mount Pleasant, we have more Indigenous organizations and performers involved this year than ever before. Stay tuned for a full schedule.
The day includes live music, an interactive art walk, and many activities and booths for children, seniors, and everyone in between. The Broadway East Art Walk will bring you art installations that will serve as a cultural connection between the festival's two blocks. The art walk will continue for two weeks after the festival so the community members can continue to enjoy the art installations. They also hope to have workshops beforehand to generate art and decorations. Some of our featured activities include Zumba, Laughter Yoga, and the Sonic Playground presented by Western Front, a fantastic piece that encourages you to get creative through music and sound.
The Mount Pleasant Neighbourhood House will also be hosting a Silent Auction so we can ensure that this festival is around for years to come. We are excited to give our guests the opportunity to bid on all of the wonderful donations that we have received from businesses all over Vancouver! Be sure to make the highest bid on your favourite item so you can take it home with you! Check out our Twitter page to get updates everyday on donations for the silent auction @MetamorFestMPNH.
About the Mount Pleasant Neighbourhood House:
As a not-for-profit society and a registered charity, Mount Pleasant Neighbourhood House serves a highly diverse demographic. People from all parts of the world and all walks of life participate in programs and activities that benefit them and build community. We serve immigrant and Aboriginal families, youth, differently-abled people, young parents, children, and seniors, as well as individuals who face challenges, such as mental health issues and poverty or language and cultural barriers. The House has been a centre of support since 1976, while belonging to the Association of Neighbourhood Houses BC since 1894. Our programs and services cover a wide variety of topics including education, healthy living, community kitchens and hunger prevention, initiatives with the Farmer's market and community gardens, as well as programs for young parents, children, youth, and seniors. MetamorFest aims to make the neighbourhood aware of these programs and services so that we can continue enhancing their lives. Come visit us anytime to find out more about what we do!
For more information, please visit www.mpnh.org andwww.metamorfest.tumblr.com.