Back to school, back to school! It's a busy time for kids and parents alike, and that's without worrying about mealtime. While it can be tempting to dip into last year's repertoire, why not try fuelling the family with some fresh new dishes?
Chef Paul Mon-Kau of The District Restaurant Group isn't just a whiz in the kitchen at his three North Vancouver restaurants – he's also a dad and a bonafied home-chef. He's shared his favourite easy recipes to make weeknight dinners stress-free and satisfying:
RANCH STYLE BEANS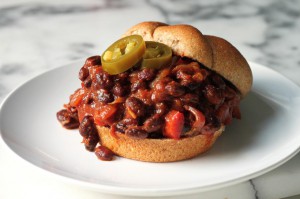 Ingredients
1 pound ground lean beef
2 cups chopped red onion
2 can beans in tomato sauce
1 (16 ounce) can kidney beans
½ cup ketchup
1/4 cup brown sugar
2 tablespoons mustard
1 tablespoon white vinegar
1 teaspoon salt
Preparation
1.Preheat oven to 350 degrees F (175 degrees C). Spray a casserole dish with cooking spray.
2.Cook and stir ground and onion in a skillet over medium heat until beef is browned and onions are translucent, 10 to 15 minutes. Drain well.
3.Mix the beans, ketchup, brown sugar, mustard, vinegar, and salt in a large bowl. Stir ground mixture into bean mixture. Pour mixture into prepared casserole dish.
4.Bake in the preheated oven until bubbling, about 45 minutes.
Paul's Tip: You can swap the beef for ground turkey to be even leaner, or use Ground Round to make the dish vegan! You can also put it on buns and make Sloppy Joes!
GLUTEN FREE CORN BREAD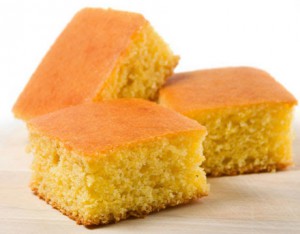 Ingredients
1 cup butter
1 ¼ cup white sugar
4 eggs
2 cups buttermilk
1 teaspoon baking soda
2 cups cornmeal
2 cup gluten free flour
1 teaspoon salt
1 teaspoon xantham gum
Preparation
1.Preheat oven to 375 degrees F (175 degrees C). Grease a loaf pan.
2.Melt butter in large skillet. Remove from heat and stir in sugar.
3.Quickly add eggs and beat until well blended.
4.Combine buttermilk with baking soda and stir into mixture in pan.
5.Stir in cornmeal, flour, and salt until well blended and few lumps remain.
6.Pour batter into the prepared pan.
7.Bake in the preheated oven for 30 to 40 minutes, or until a toothpick inserted in
8.the center comes out clean.
Paul's Tip: This recipe can be made with regular flour too – just omit the xantham gum!
CROQUE MONSIEUR OR MADAME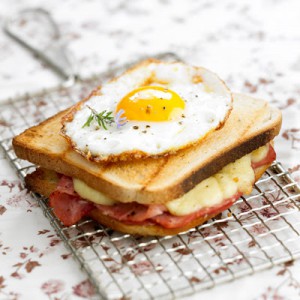 Ingredients
2 pieces of white bread
2 ounces of your favorite cheese
2 slices of ham
2 ounces of Bechamel or Mornay sauce
Egg mixture for dipping
Sliced green onion
Preparation
1.Place cheese and ham in between slices of bread and dip in egg mixture.
2.Fry in sauté pan until golden brown and slightly crispy.
3.Finish in 375 degree oven for 4-6 minutes or until cheese is melted.
4.Top with 1-2 oz Mornay sauce and garnish with green onion slices.
Egg Mixture
Combine 6 eggs and 1/8 cup milk or cream. Whisk it like you mean it.
BECHAMEL or MORNAY SAUCE
Ingredients
1L milk
¼ white onion
1 bay leaf
¼ cup butter
¼ cup flour
Salt and pepper
Preparation
1.Steep the milk with a piece of onion or garlic and a bay leaf for 15 minutes. Melt the butter in a saucepan. Slowly whisk in the flour and cook for a minute.
2.Gradually whisk in the milk. Cook, stirring constantly until thick. Season with salt and pepper. Voila: classic Bechamel.
3.Now put in a ½ cup or more (how cheesy do you like it?) to make it a Mornay!
COBB SALAD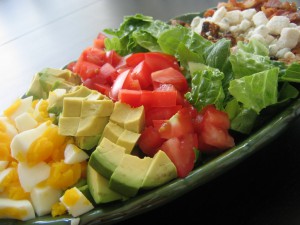 Ingredients
½ head of Romaine lettuce
½ Avocado
1 ½ ounces Blue cheese
½ Roma Tomato diced
2 ounces Bacon Chopped
1 hard boiled egg
Ranch dressing
Preparation
1.Place romaine on a large plate and add avocado, tomato, blue cheese, bacon and egg.
2.Drizzle it with ranch dressing and make a new friend!
Paul's Tip: This is stolen from my mother-in-law: keep left over avocado in a sealed container with some cut up red onion and it doesn't brown!