Saddled with veggie duty for an upcoming holiday gathering? Everyone knows greens are never the main event: gravy, mashed potatoes, stuffing – the good stuff isn't exactly South Beach-friendly. But vegetable dishes don't have to be dull. Chef Paul Mon-Kau of The District Restaurant Group shares three delicious recipes that are packed with vitamins and just a little bit of guilt:
PAN ROASTED BRUSSEL SPROUTS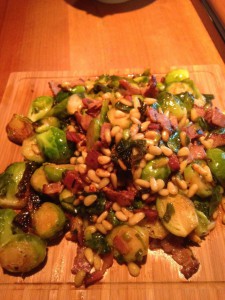 INGREDIENTS:
1/2 pound sliced bacon
1/4 cup butter
2/3 cup pine nuts
2 pounds brussel sprouts bottoms cut off & halved
3 green onions, minced
1/2 teaspoon seasoning salt
Pepper to taste
Splash of white wine
PREPARATION:
1. Place bacon in a large, deep skillet. Cook over medium-high heat until crisp. Drain, reserving 2 tablespoons grease, crumble and set aside.
2. In the same skillet, melt butter in with reserved bacon grease over medium heat. Add pine nuts, and cook, stirring until browned. Add Brussels sprouts and green onions to the pan, and season with seasoning salt and pepper. Cook over medium heat until sprouts are wilted and tender, 10 to 15 minutes. Stir in crumbled bacon just before serving.
GLAZED ASPARAGUS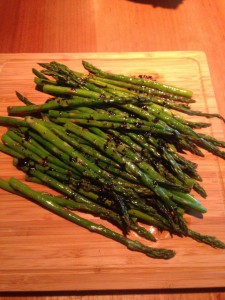 INGREDIENTS:
1 bunch fresh asparagus, trimmed
Cooking spray
Salt and pepper to taste
2 tablespoons butter
1 teaspoon balsamic reduction
PREPARATION:
1. Preheat oven to 400 degrees F (200 degrees C).
2. Arrange the asparagus on a baking sheet. Coat with cooking spray and season with salt and pepper.
3. Bake asparagus 12 minutes in the preheated oven, or until tender.
4. Melt the butter in a saucepan over medium heat. Remove from heat, and drizzle over asparagus. Finish with balsamic reduction.
CHEESY ROASTED CAULIFLOWER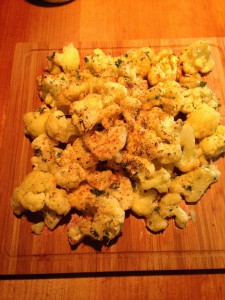 INGREDIENTS:
2 tablespoons minced garlic
3 tablespoons olive oil
1 large head cauliflower separated into florets
1/3 cup grated Parmesan cheese
Salt and black pepper to taste
1 tablespoon chopped fresh parsley
PREPARATION:
1. Preheat the oven to 450 degrees F (220 degrees C). Grease a large casserole dish.
2. Place the cauliflower, olive oil and garlic in a large bowl. Mix thoroughly. Pour into the prepared casserole dish, and season with salt and pepper to taste.
3. Bake for 25 minutes, stirring halfway through. Top with Parmesan cheese and parsley, and broil for 3 to 5 minutes or until golden brown.