They say the early bird catches the worm – we'd rather a delicious three-course dinner at the The District Restaurant!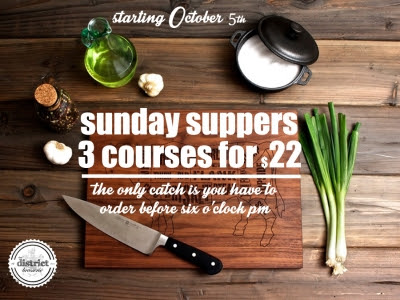 Starting October 5th, The District will be launching its Sunday Suppers, offering three tasty courses for just $22 + tax before 6 PM. Chef Paul Mon-Kau has created a series of mouth-watering menus that change weekly, featuring his much-lauded Dutch-Belgian fare. (*)
In the unlikely event that more convincing is needed, feast your eyes (pun intended) on the lineup below:
 October 5th
Fresh Salad
Artisanal greens with a pesto dressing
Mussels
1 pound of Gulf Island Mussels with leek, white wine & cream broth
Crème Brulee Cheesecake
A dreamy combination, cheesecake that tastes like crème brulee
October 12th
Pea Soup with Pea Pesto
Traditional Dutch split pea soup with pea pesto on top
Tri-tip Steak with Frites
Grilled tri-tip sirloin with herb butter and Dutch fried potatoes
Dark Chocolate Cake
A dark, rich chocolatey treat
October 19th
Onion Soup
Our version of the classic, made with beef & chicken stock & topped with Gruyere
Kilted Chicken
Chicken breast stuffed with spinach & provolone & wrapped in capicola
Bread Pudding
Comforting & exotic all at once
October 26th
Seafood Chowder
Chef's version of the classic, full of cod, scallops, mussels & bacon
Crab Cake with Risotto
Our signature crab & shrimp cake finished with a lovely risotto
Lemon Sorbetto
The perfect light finish to a seafood dinner
November 2nd
Crab Fritters
A new favourite, lightly fried to perfection
The Number 13 Burger
Tenderloin & sirloin, The District tapenade & caramelized onion mayonnaise
Chocolate-Dipped Waffles
Belgian waffles half-dipped in chocolate ganache
November 9th
Beet Salad
Red & gold beets, sautéed red onions & spinach topped with breaded goat cheese & candied walnuts
Short Rib with Dehydrated Apple
Seared then braised for 8 hours, for real meat lovers
Poached Pear with Vanilla Ice Cream
Poached in a wine & cardamom syrup & served a la mode
(*) Please note: menus may be subject to change.