Just a few steps from the rustic timber and brick of central Yaletown I discovered one of Vancouver's little gems. The Provence Marinaside location combines the upbeat and trendy feel of one of our cities more popular dining locales with ever-popular waterfront views. Having the opportunity to sample the seriously delicious dishes from the ongoing Tomato Festival Menu, I found myself wondering how it was that I had not yet checked this place out.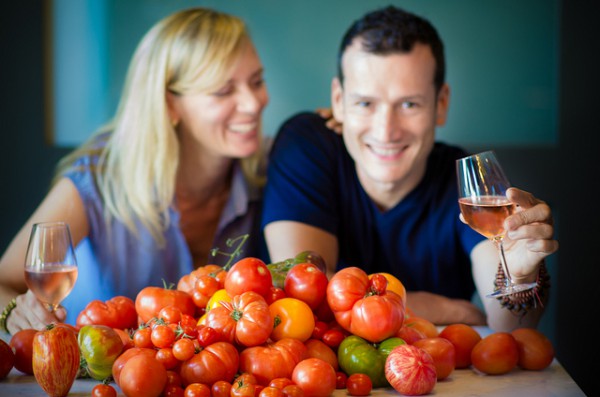 After a brief chat with chefs/owners Alessandra & Jean-Francis about the motivation behind the Tomato Festival Menu and the selections for the wine pairings, I began to feel like there was something more going on here.. There was a terrific sense of what I can only call family pride to go along with all that dedicated work. I spoke with the sommelier, Rachelle, who expressed not only her enthusiasm for her work managing the beverage program, but for the people she was working with.
Jean-Francis was born in Provence, France and both he and Alessandra have made great efforts to provide a warm and friendly environment for their patrons, essentially making the restaurant and extension of their family, adding a touch of the South of France. I have experienced (both as a patron, employee and proprietor) the 'family' business side of things and know first hand how challenging it can be to maintain consistency and direction. Family dynamics can often make or break businesses, so it was exciting to see that the former was the case here. In fact, after a little more research I found that Alessandra & Jean-Francis have an unusually large number of long term staff, something you don't see in hospitality these days. When asked about that dynamic, Alessandra elaborated on their vision. "Since day one Provence has been nothing less than an extension of our immediate family. We work alongside our staff, always giving them opportunities to grow in their field of expertise. We believe that if they feel they are a part of the process and able to express their creativity freely they will feel more accomplished and appreciated. All around we have a great group of people that share our passion and vision so as long as they are with us we will nourish that."
There is a certain magic that can happen when a restaurant has the right vision, direction and a little of that family synergy, and it just keeps you wanting to come back for more. In our fast paced lives we often confuse social media connectivity for the real thing. Having places where we can go with loved ones, friends, whoever that offers great food and friendly service in a welcoming and relaxed environment is essential. And.. I think I have found one of those places, because you can't really top a night out that is a comfortable as a night in.
Chefs Tomato Menu consists of a three-course menu featuring fresh seasonal seafood options (Dungeness Crab, Halibut or Sockeye Salmon) and of course local heirloom tomatoes, with the option to add wine pairings. This special feature will be running until September 22nd
.