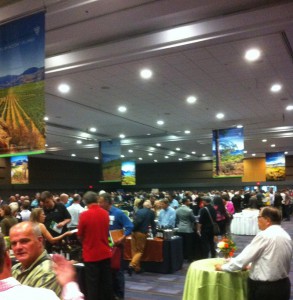 Every fall, winemakers from BC travel to the Vancouver Convention Centre at Canada Place to pour their latest wines.  From 2:00 until 5:00 people who work in the industry, in wine stores, liquor stores, restaurants, hotels and pubs come to sample wine and find out about the new offerings.  This year marked the event's 10th release.  Over 75 wineries were in attendance with over 300 wines being poured.  It was a great opportunity to talk to winery owners and wine makers.  I was happy to see Leeann Froese and Sujinder Juneja from Town Hall Brands in attendance.  They were busy supporting their clients, which include Mount Boucherie, the Okanagan Crush Pad, Summerhill Wines and Spierhead, among others.
While "Colour BC" is strictly a trade and media event, an evening consumer tasting titled "Chef Meets Grape" follows it.  From 7:00 until 9:30, 14 delicious locally inspired plates are paired with BC wines.  Chefs from some of the top restaurants are invited to create dishes to pair up with a specific BC wine. This is the largest consumer tasting of BC wines in the province.  Funds raised help support the Arts Club of Vancouver.
The event allows BC wineries to showcase their line up, as well their new vintage.  This is an invaluable event to attend, as there are over 60 different varieties of wine grapes grown in BC and few people have tried them all.  Most people are familiar with, or at least have heard of, the top ten – chardonnay, gewürztraminer, pinot gris, riesling, sauvignon blanc, cabernet sauvignon, merlot, pinot noir, syrah and zinfandel.  But what about auxerois, bacchus, baco noir, ehrenfelzer, gamay, kerner, maréchal foch, marsanne, roussanne, siegerrebe, tannat, or zwiegelt?  How many of those have you tried?  No other wine region in the world offers so much.  In addition, almost every style of wine is made here – social style patio wines, fruity blends, dry red and white table wines, rosés, sparkling wines, late harvest and dessert wines as well as our world famous ice wines.  With so much to offer, it's impossible to get bored with BC wines.
Next year, make sure you get your tickets to Chef Meets Grape.  For wine lovers, it is an event not to be missed.