The Rotary Club of Steveston's 14th Annual Fundraiser is almost here!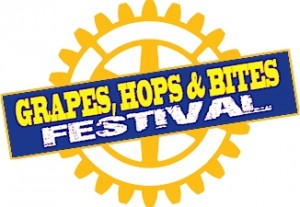 From humble beginnings in 2001, the annual charity wine festival run by the Rotary Club of Steveston has blossomed into a fabulous event not to be missed by exhibitors or the public. Held this year on Friday, May 8th, at the historic Gulf of Georgia Cannery, the event will feature a variety of delicious cuisine from local restaurants and over 125 different wines and craft beers from some of the Pacific northwest's finest brewers and wineries. Featuring locals Cedar Creek, Moon Curser, Liquidity, Haywire and Bartier Brothers wine wise along with Driftwood Brewery, Persephone, Red Truck and Fuggles & Warlock for beer just to name a few, the lineup is sure to excite! Exhibitor pairings and tasting education seminars by qualified industry professionals will also be an innovative addition to the experience.
The Grapes, Hops & Bites Festival, as the event is now named, has become a showcase for exhibitors, but also for local businesses, who generously donate their products and services for the charity auction and prizes. The premium auction item this year is a luxury vacation package at the Sonora Resort valued at over $5000. Plus a trip for two anywhere in the Pacific Coastal Airlines network.
To date, the event has raised over $500,000 for Rotary's community-based initiatives, such as the Dental Mission Project, Steveston Interact Club and the Write-to-Read Program.
Tickets are $60 and available online at: grapeshopsandbites.ca