This is our first Fish and Chips Challenge featuring 7 restaurants in Vancouver, Langley and North Vancouver, that runs from September 4-26, 2014. The interpretation of fish and chips takes on different meanings in many cultures and you will find several variations in the fish and chip creations the chefs have entered into this challenge.
Participating restaurants are showcasing Fish and Chips creations that were created just for this challenge and all will be offered in all of these restaurants during the challenge period .
For our Challenges, we have 2 sets of winners. The People's Choice winners will be selected by the public who are invited to visit any of the participating restaurants and order the Fish and Chips creations and then decide on which ones they think are worthy of winning the challenge by casting their votes.
For this challenge we have 3 media judges and they are:
Jennifer Thomson
Traffic reporter on CKNW and AM730
Twitter: @jtradiogal
Karl Kliparchuk
Wine, Food & Travel Writer for his own http://mywinepal.com/
Twitter: @MyWinePal
Louisa Chan
Writer and Editor of L for Life
Twitter: @L4Louisa
These are just some of the unique Fish and Chips creations in this challenge
U & I Thai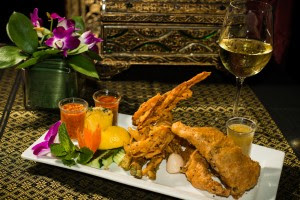 'U and I Thai Northeast Fish & Chips
Price: $10.95
Description: Crispy on the outside, tender and delicious on the inside. Cold-water Halibut fish fillets, hand-dipped in a light batter and golden fried. Served with vegetable fries, Fresh fruits and three Thai style sauces.
Created by: Chef A-guan Phutyeam
Offered: All the time
U & I Thai
3364 Cambie St, Vancouver
Tel: (604) 875-6999
Twitter: @uratomjit
Morocco West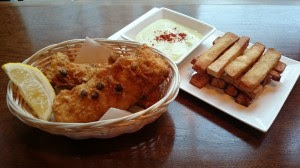 Moroccan style Fish and Chips
Price: $21
Description: Green Pea Beer-battered Chermoula Halibut with Homemade Taro Chips and Wasabi Mayonnaise
Created by: Chef Nourdine Majdoubi
Offered: All the time
Morocco West
795 Jervis Street, Vancouver
Tel: 604-563-8466
Web: http://moroccowest.com/menus/
Twitter:  @MoroccoWest
Las Tortas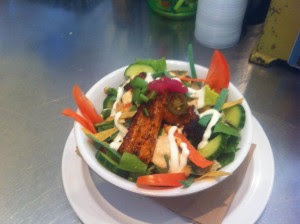 El Dorado Taco Salad
Price: $7.95
Description: El dorado grilled Fish, ensalada verde with Tortilla Chips in a creamy chipotle salsa dressing
Created by: Chef Moises Toyber
Offered: All the time
Las Tortas
3353 Cambie Street, Vancouver
Tel: 604-569-1402
Twitter: @LASTORTAS
The full list of participating restaurants can be found here
http://vancouverfoodster.com/2014/09/04/vancouver-fish-and-chips-challenge/
Voting: The public is invited to order these Fish and Chips creations ,at the participating restaurants keeping in mind this criteria – originality, creativity, uniqueness,  traditional, non-traditional, price, value and most importantly taste. People can vote the same day after trying the Fish and Chips creation and they can vote once a day throughout the promotion. People will be encouraged to Vote for their favourites from September 4-26, 2014
http://vancouverfoodster.com/fish-and-chips-challenge/
With a smartphone, customers will be able to vote from their table in the restaurant right after they have eaten the Fish and Chips creation.
We will announce the winning restaurants and their Fish and Chips creations on September 27, 2014.
About Vancouver Foodster
Founded in 2009 by Richard Wolak, Vancouver Foodster is Vancouver's premier online "Essential Food & Drink Intelligence" guide. The site offers expert advice on the hottest restaurants, parties, and openings this city has to offer, as well as the most interesting dining trends and newest cuisines and food around the region. Vancouver Foodster also runs a series of food challenges with restaurants and chefs throughout the year!