"You should come to this tasting," my son said. "You can get your bottle of 40-year-old signed."
The bottle in reference is a single malt from a distillery on the tiny island of Islay, in northwest Scotland. The maker was Bruichaddich and its distiller, the redoubtable Jim McEwan was due to arrive in Calgary a few weeks after our conversation. On his schedule were two evenings of tastings and tale-telling at Willow Park Wines and Spirits, Western Canada's largest retail liquor store and host of a dazzling array of events throughout the year. It is also, since last spring, my son Evan's place of employment.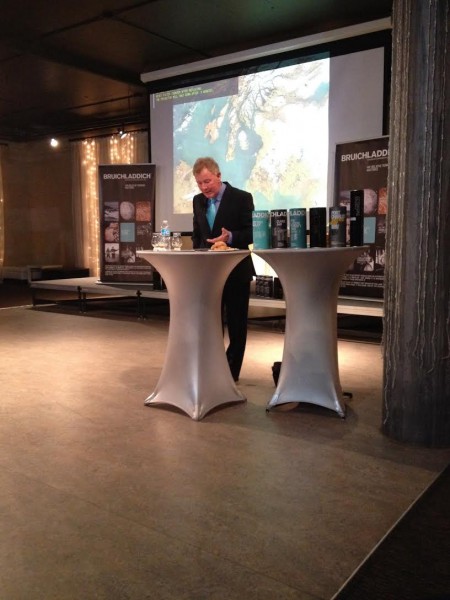 I have been a fan of Bruichladdich (brook-laddie) whisky since my first sip. The distillery was built in 1881 and had a succession of owners until it was deemed surplus to the needs its ownership and shut down 1991. In 2001 it was sold and reopened under the management of McEwen, who for years worked in Japan for Suntory.
Whisky takes years of aging before it is ready for market, so what does a new owner do for cash flow in the meantime? In Bruichladdich's case, they were lucky. When the distillery was mothballed it had a large inventory of whisky in barrels in storage. Hence, my bottle of 40-year-old, which was released for sale about a decade ago. Only a small quantity was produced and it was, when we purchased it at a fundraising auction, retailing for about $2,400 at the time. (My wife bought it for me, and didn't pay nearly that much!)
So there I was a couple of weeks ago, on a Friday evening, seated at a front row table with my sons Evan and Ryan at my side. In front of each of us were six glasses, each containing a sample of Bruichladdich single malt. They were poured from bottles that sell for $70-$330 each. A plate of cheese, nuts and smoked salmon on crackers was also on our table, as were bottles of water.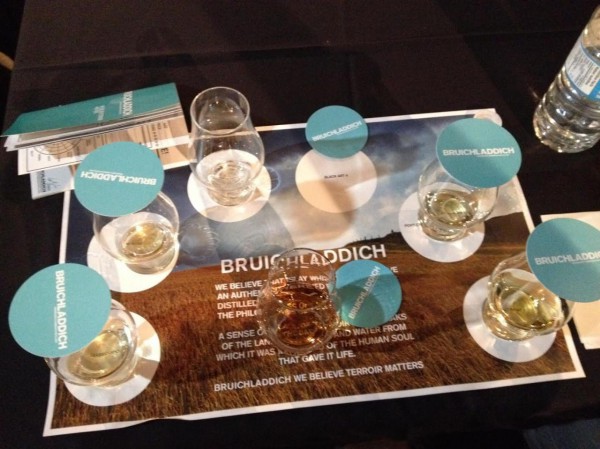 As the 7 a.m. start time arrived, 125 people in the room hushed as the stage lights flashed on and the sound system began pumping out The Proclaimers' hit song 500 Miles. McEwan boogied his way into the spotlight, then grabbed Willow Parks' scotch department manager David Michiels for an impromptu reel, working the room like the whisky world rock star he has become. At 62, McEwan is slender, handsome, energetic and captivating. There are few who match his reputation as an ambassador for single malt whisky, and he travels the world to promote his passion.
As the music died down he launched into what would become a spell-binding 90-minute presentation, filled with solid information, Bruichladdich history and practices, endless promotion of Islay and an impassioned plug for Scottish independence. Had McEwan been a standup comic I would have happily paid to see the show.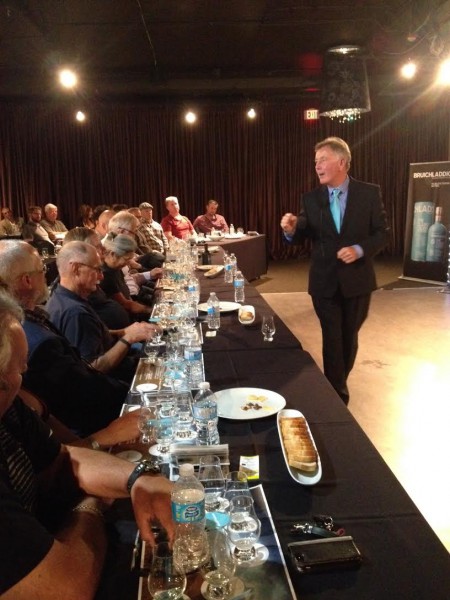 Bruichladdich is a bit of a modern world anomaly. There are 57 employees making whisky the old-fashioned way—copper stills that operate at lower than usual tempers, malted barley dried by the heat of burning peat dug from the island's bogs, no chill filtering and no colouring added.
"At Bruichladdich, we believe the whisky industry has been stifled by industrialization and self-interest – huge organizations have developed that require a stable status quo to ensure that their industrial processes can run to maximum efficiency, producing the maximum 'product' with the minimum input and variation, all to the lowest unit price," McEwen says. "We reject this."
Evan informs me that there are distilleries that produce 10 times what Bruichladdich does, with only 2 employees. If I wasn't already a big Bruichladdich fan I would become one, with that piece of information alone.
The master distiller led us through the tastings, each one distinct and reminiscent of a Hebridean island's sea air. My favourite was Octomore, which also happens to be the world's most heavily peated single malt. Even so, it was delightfully fresh and fruity, with smoke and peat less overwhelming than others I have tried.
Later, I lined up to get my 40-year-old bottle signed. McEwen broke into a grin when he saw what I had just handed him and asked why it was unopened. I said I was waiting for the right occasion and would know it when the time comes.
"Would you email me and let me know when it does?" he asked.
The evening was one of my favourites of the many, many events I have attended as a media guest at Willow Park Wines and Spirits. With each one I have been impressed by the commitment the business has to customer education. It is a sure way to build a loyal clientele and a wonderful resource for people with a genuine interest about the products.