A colourful new public artwork has been unveiled at the end of the Canada Line guideway near Brighouse Station on No. 3 Road, bringing new vibrancy to a previously non-descript concrete structure.
Cluster by Vancouver-based artist Carlyn Yandle seemingly transforms the end of the Canada Line guideway into a massive electrical conduit, presented as a round cluster of 25 brightly painted aluminum cylinders that extend out of the end of the guideway. The bold colours were selected based on the coded colours commonly used in fiber-optic wiring.
The new art work was installed today (Friday, September 19). The Art Plinth at Brighouse Station will be the site of two temporary public artworks over the next two years. Cluster will be in place for approximately one year and then will be replaced by another artwork designed by artist Nathan Lee.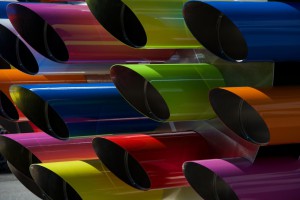 The end of the guideway, which rests partially on the final support pillar, appeared unfinished and aesthetically unappealing as constructed. The public artworks are aimed at transforming the "unfinished" terminus into a vibrant public space and demonstrate a commitment to excellence in public works.
While the artwork may serve as a place marker, it can also inspire residents and visitors to consider future uses of the site and transformation of the city centre. Future developments around this location provide an opportunity to establish an urban public plaza as an extension of the Brighouse Station. The City of Richmond acknowledges the support of InTransit BC and TransLink in allowing access to the Canada Line guideway to install the Art Plinth projects.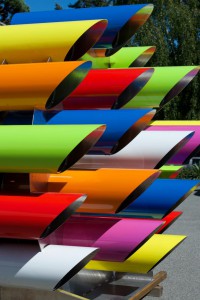 The City is actively seeking public comments on the new artwork. Responses can be sent to publicart@nullrichmond.ca or you can comment online at www.LetsTalkRichmond.ca. Or Tweet your comments to @Richmond_BC using one or more of the hashtags #artplinth #cluster or #richmondpublicart. All respondents will be eligible to win monthly transit passes or iTunes gift cards.
About the artist
Artist Carlyn Yandle draws on 17 years as an award-winning reporter, editor and columnist for various daily and weekly Canadian newspapers, including the Richmond Review newspaper from 1993 to 1997. Her career began while living and working as a magazine feature writer and photographer in Kyoto, Japan. She left her position as managing editor at a Vancouver newspaper in 2005 to earn her Bachelors of Fine Arts degree at Emily Carr University of Art + Design in 2010, with an emphasis on painting and sculpture.
Carlyn is a fourth-generation Vancouver resident whose art practice is devoted to the shifting nature and value of various modes of work. Her paintings and sculptures have been exhibited in both public and private galleries, in the YVR International Departure Lounge and in several private collections. She also designed the public artwork embedded in the intersection of No.1 Road and Moncton Street as part of the City of Richmond's Steveston Scramble crosswalk project.
About Richmond Public Art
Richmond's Public Art Program creates opportunities for artists to enhance public spaces across the city though a commitment to strong urban design, investment in public art and place-making. The Richmond City Centre Public Art Plan revealed a desire by Richmond residents to see art that is big, bold, interactive and urban. The Art Plinth is an opportunity to present large scale signature works in the City Centre, which can serve as landmarks, meeting places and a reminder that public art can enhance and bring to life public spaces in order to define and create a special sense of place. It is truly one of the many ways we show we care for our city.
The Richmond City Centre Public Art Plan identifies a wide range of opportunities for the City Centre over the coming years. Through extensive workshops and focus groups, it was revealed that Richmond's unique past is important to current residents. Richmond: Yesterday, Today and Tomorrow is the thematic framework within which artists have designed their work.