Celebrating Thanksgiving weekend with family this year included a trip to Coastal Black Winery for Pumpkin Fest. I hadn't been to Coastal Black since the inaugural Flavours event in September, 2012 so I was quite taken by how much work has been done at the farm. Good thing too because with the number of people attending Pumpkin Fest the many parking areas were definitely needed.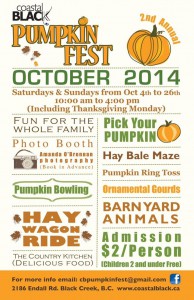 From the time you drive in past the big sign adorned with fall decor and numerous pumpkins you know it's going to be a good time. Definitely a "must visit" for young families and the kiddies (of all ages). The farm has been totally transformed into a Thanksgiving/Halloween/Pumpkin family themed adventure.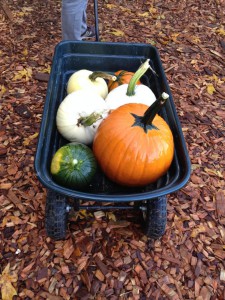 There are pumpkins everywhere, including strategically used as barriers, path markers as well as decor. I don't think I've ever seen so many pumpkins, big, small, white, yellow, green and of course traditional orange ones.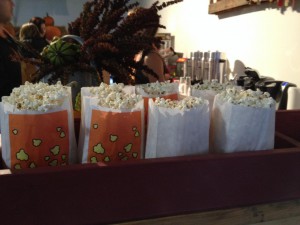 Besides their usual wood fired pizza oven serving hot and tasty fresh pizza there is a Country Kitchen with two kinds of yummy popcorn, hot dogs, hot chocolate and delicious pumpkin pie. In the former cow barn there were games like pumpkin ring toss and a hay bale maze. Book in advance photo opportunities with a professional photographer.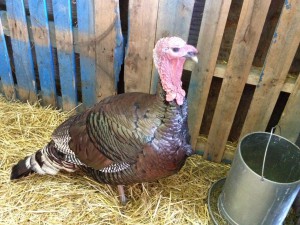 Kids will delight in the stalls housing baby animals and two colourful turkeys.
Stroll out to the actual pumpkin patch where you can select your own pumpkin and if you get carried away and pick several pumpkins they kindly provide wagons so you can conveniently trek back to the checkout. While down in the pumpkin patch you're welcome to join in the fun of a hay wagon ride. Or for those less adventurous pumpkins in assorted types and sizes are available at the farm stand.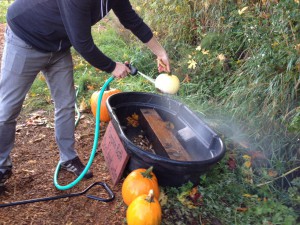 Wine samples are available in the tasting room for grownups.
Admission is $2./person, babies under 2 are free.
Snacks are reasonably priced at $2. for popcorn, $2.50 for a hot dog, $2. hot chocolate, $3.50 for a large slice of pumpkin pie and $4.50 for your choice of fresh oven baked pizza slice.
Our family had a great time and deemed Coastal Black Winery Pumpkin Fest a hit!
Open every Saturday and Sunday in October and Thanksgiving Monday from 10am-4pm!
Feature pic from Facebook page