As the New Year approaches, it's time to start thinking ahead to what's trending in the next age of interior décor. Helping to distinguish between lasting and passé trends is Karin Bohne, the creative mastermind behind Moeski Design Agency.
According to Karin, interior design and decorating for 2015 will be marked by subdued simplicity and bold details – think classic pieces with an unexpectedly demure edge. The goal should be to create a standout space that is open to personal touches, while still maintaining a cozy approachability.
Handpicked by the design maven herself, here are Karin's top trends to look for in the upcoming year and her picks to get the look without breaking the bank from MOE'S Home Collection.
Straight Edge
Keep your home on the cutting-edge of design well into the New Year with crisp angular lines and clean contours. Whether new focal points or complements to an existing room, these pieces will sharpen any space for a distinctively modern, polished and updated look.
1. Large Verge Vase in Silver, $79.00
2. Brooklyn Bar Stool, $129.00
3. Column Stool in Silver, $119.00
4. Elephant Sculpture in Silver, $89.95
5. Tocca Glass Coffee Table, $459.00
Au Naturel
Embrace the natural with supple leather, cozy furs and chunky knits that impart an undeniably homey touch to even the starkest of rooms. Combine the textures in one space to add depth and interest, or stick to one for a clean design palette.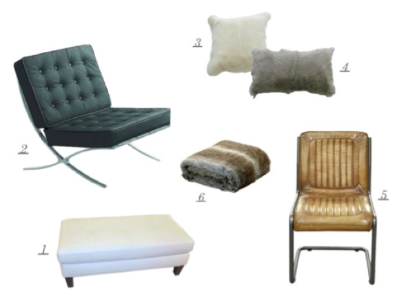 1. Frankie Ottoman in White, $499.00
2. Ibiza Leather Chair in Black, $849.00
3. Goat Fur Pillow in Natural, $65.00
4. Goat Fur Bolster in Light Grey, $59.00
5. Carl Leather Side Chair, $695.00
6. Aspen Deluxe Faux Fur/Velboa Throw in Sierra Fox, $119.00
To the North
The chic simplicity and practicality of Scandinavian décor has made it a staple amongst both American and European design sets. This year, take a cue from the masters of minimalism and opt for modest pieces in form-pressed wood, plastic and steel that never fail to perform boldly in style and function.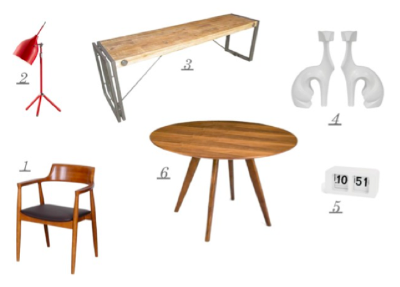 1. Adriano Arm Chair in Brown, $399.00
2. Snapshot Desk Lamp in Red, $135.00
3. Small Brooklyn Bench, $265.00
4. Set of 2 Large Dogs, $319.00
5. Retro Flip Clock in White, $35.00
6. Large Dover Dining Table in Walnut, $575.00