As we head into the Fall season our friends at Earls are hard at work testing dishes that are sure to delight. Just the other night I attended a media preview of what is to come and believe me you won't be disappointed.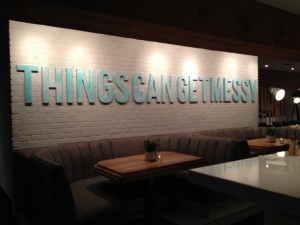 We met for a meet and greet in the Earls Yaletown LOFT their newly renovated second floor. The space is spacious and yet cozy with banquette seating lining one wall and plush comfy sofa near the oversized bar. They have done a wonderful job of turning a dark space into a most welcoming area. Mostly white complimented by huge original wooden beams. Adjoining the main area is a dining room designed for private functions like the one that evening.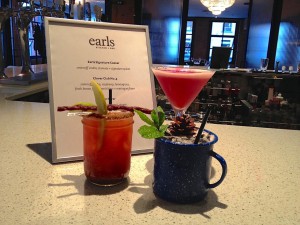 With an array of new cocktails that looked as good as they tasted. From an Earls Signature Caesar to a refreshing "Bees Knees" concoction make with gin, bitters, fresh lemon juice and honey served in a bear glass.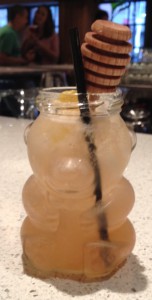 Meanwhile enjoying a Sushi cone and Tuna Tostada.
Once we were seated in the dining room the food just kept coming. We started with a delicious Salmon Salad, followed by the Spatchcock style chicken which was succulent and tender.
Platters tender sliced Spring Creek Ranch beef accompanied by green asparagus topped with fresh parmesan cheese were delicious.
For those who were not eating meat there was a grilled Sablefish with vegetables. During our dining experience the Chefs circulated about the room with two very large feature burgers, one vegetarian, the other a 7 oz beef burger with house made cheese. Can't wait for the opportunity to order these on my next visit to my local Earls. Dessert was a delectable Hazelnut chocolate bar with a scoop of vanilla ice cream.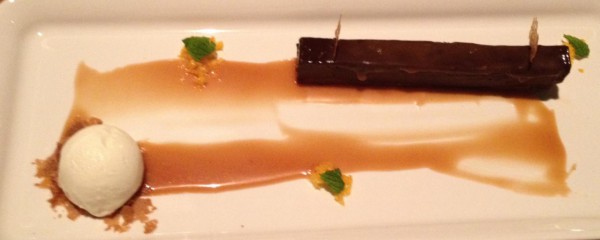 I think it's best to let the photographs tell the story of these welcome new additions to the Earls menu. #EarlsFallMenu
#EarlsFallMenu @EarlsRestaurant @LOFTatEarls
Feature pic provided by Earls Press.
About Earls:
Earls Kitchen + Bar is one of North America's most successful independent restaurant groups, currently  with 65 restaurants – 59 of those in Canada and 5 in the United States  (Denver, Colorado; Bellevue, Washington; Miami, Florida; Boston, Mass.).  On September 10th Earls opened their first location in Boston, Massachusetts (Assembly Row, Somerville) and in 2015 open in both Washington, DC and Chicago, Illinois.
Earls Restaurants Ltd. and the Fuller Group is a family owned operation started by Montana native Leroy Earl (Bus) Fuller in 1982 with their first restaurant in Edmonton, Alberta.  Bus and his sons own Earls Kitchen + Bar (Earls is not a franchise), operated by eldest son Stan Earl Fuller (there explains the lack of an apostrophe in the restaurant name) as well as other restaurants throughout Canada & US.
Earls Kitchen + Bar is a unique restaurant concept.  "Upscale Casual" – full table service in beautifully designed casual environments.  Dining rooms sit side-by-side with lively lounges and bars with the dining area offering a relaxed, casual culinary experience while atmosphere is ramped up in the lounge and bar.
Earls does not operate in any traditional "chain" style. Fresh, made from scratch, often local ingredient driven interesting menus offer irresistible food. Although menus include popular dishes they are known for, Earls actually offers over 50 different menus across their 65 locations allowing for dishes created for regional and demographic tastes, as well as local products and suppliers. Earls offers a global menu with modern versions of ethnic cuisine staples of the core menu.
Perfect for a before the game meal or date night, Earls menus range from great appetizer selections, hand chopped certified angus burgers, triple A steaks, fresh vegetables that are seasonally grown and fresh daily baked breads. Full entrees such as roasted free range chicken,  Asian dishes, sustainable west coast salmon and even pizzas are cooked to order and paired with dressings and sauces  made daily in their restaurants. Desserts are both created and baked in house.
Earls' cocktail program is run by Beverage Director Cameron Bogue, a Portland, Oregon native who joined them from the Daniel Boulud group in New York. With a commitment to using only 100% fresh squeezed in-house juices and handmade syrups, Cam works with all the Earls across Canada and the U.S. creating craft cocktails for the menus as well as developing Earls' local and regional craft beer selections and an outstanding, value and selection packed wine list.
The family business also includes an award-winning restaurant design company, e+ design & construction. No cookie cutter designs here either, each restaurant is designed uniquely for the location and region it's located in.  In fact, Earls doesn't just cook locally, each restaurant is contracted and constructed by a local on-the-ground team; regional and local suppliers are worked with and staff are recruited locally.
Earls design their restaurants with sustainability in mind, winning awards for both energy efficient buildings and their custom LED lighting. They often use reclaimed and repurposed materials to ensure their carbon footprint is kept to a minimum.
Earls head office is located in Vancouver, British Columbia, Canada. Awarded as a "Top 50 Employer", Earls Kitchen + Bar employs about 7,000 employees.
facebook.com/earlsrestaurants
twitter @earlsrestaurant
Instagram @ earlsrestaurant