– The Most Anticipated Opening Changes the Sports and Entertainment Game –
Get ready for a game-changing opener, Vancouver! Starting today, sports and entertainment fans are at the center of the action with the official opening of The Sportsbar LIVE! at Rogers Arena. The upscale 14,000 square foot venue is the first-of-its-kind in North America to fuse an exceptional sports and dining experience with the energy and excitement of the bowl – guests are so close they can feel it.
"This new venue provides unique, immersive experiences that engage our guests in a space that offers something for everyone – whether it's at the bar, in the lounge, or seated for dinner to watch a game on one of the 100+ 4K-HD TV screens," says Michael Doyle, President of Aquilini Restaurant Group. "Our group is delighted to bring this innovative concept to the city and provide fans of both sports and entertainment with unrivalled restaurant offerings in one dynamic space."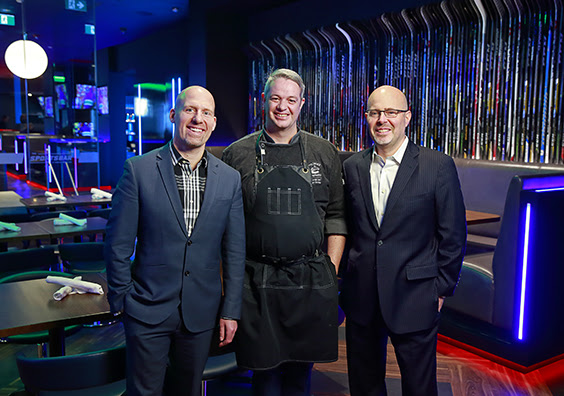 L – R: Director Dave Whitworth, Executive Chef Robert Bartley, and President Michael Doyle
With a 524-person capacity, The Sportsbar LIVE! at Rogers Arena has 104 new in-arena seats offering a restaurant atmosphere, in-seat dining privileges, and an unobstructed view of the ice. These coveted in-arena seats are available as season ticket memberships starting at $119 per game. For full details, visit thesportsbar.ca/seasontickets.
Executive Chef Robert Bartley heads up the elevated food and beverage program that is unlike any other sports bar venue. His extensive, premium menus include the best of classic fan favourites with added delicious twists like:
Whipped Ricotta
Local BC Sheep's Milk Ricotta / Grilled Artisan Sour Dough Bread
Grilled Farmer's Sausage
Balsamic Onions / Triple Crunch Mustard / Shishito Peppers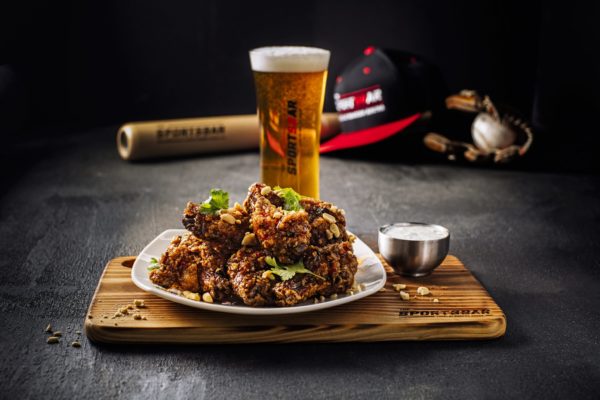 The Biggest, Baddest Sportsbar Wings
Crisp Crudites / Ranch / Choice of Sauce
Sauces: BBQ / Hot / Honey Garlic / Thai Sweet Chili / Salt and Pepper / Dry Cajun /
All Dressed / Maureen's Jamaican Jerk / Hot & Cheesy / Cranberry Lime
Trainer's Salad
Quinoa / Kale / Arugula / Green Apples / Dried Cherries / Roasted Sweet Potato /
Spiced Pumpkin Seeds / Toasted Almonds / Champagne Vinaigrette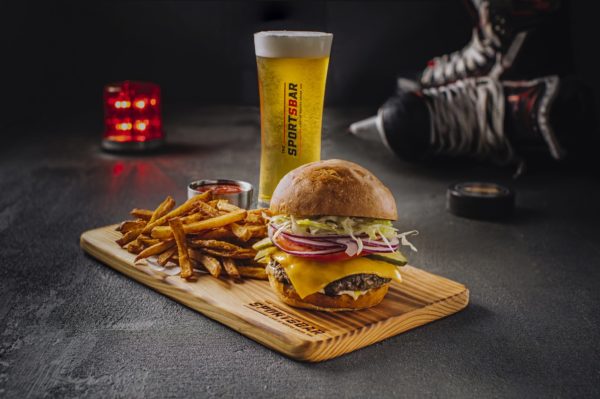 The Sportsbar Cheeseburger
Canadian AAA Ground Chuck / American Cheddar / Shredded Lettuce /
Tomato / Red Onion / Pickle / Sportsbar Sauce
Foot Long Grilled Cheese
Nathan's All Beef Foot Long Hot Dog / Canadian Cheddar / Fried Onions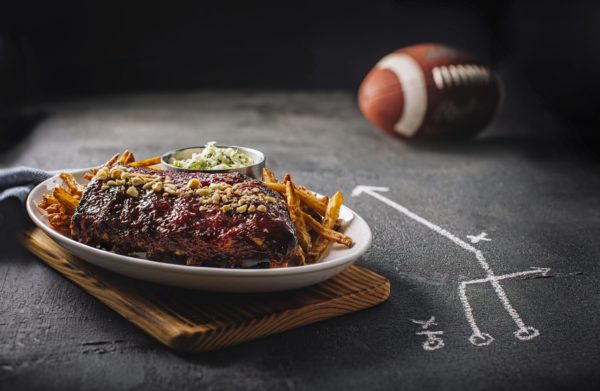 BBQ Pork Back Ribs
½ Rack or Full Rack
BBQ Sauce / Creamy Coleslaw / Fries / Crushed Peanuts
Carrot Cake
Coconut Ice Cream / Carrot Puree / Candied Carrots
You'll find 35+ beers on tap, a terrific wine list, and crafted cocktails including:
The Sportsbar Caesar
Spirit of Choice / Clamato / Spice Mix / Salted Rim
The Negroni
Gin / Cinzano / Campari / Orange Peel
The Chocolate Old Fashioned
Whiskey / Aromatic and Orange Chocolate Bitters / Orange Peel
At the front-of-the-house, Director Dave Whitworth oversees a team of 100+ staff to ensure that every guest enjoys the sights and sounds while savouring Chef Bartley's menu. The centerpiece is the "cracked ice" bar running the entire length of a NHL blue line – the city's longest bar. And if you're at the bar for a Canucks' home game, be prepared for a show within a show when the goal horn sounds. During breaks, the city's leading spinner DJ Barron S pumps out the beats and amps up the party. Fan engagement is heightened by spirited, sports-savvy servers who bring guests together for the love of the game.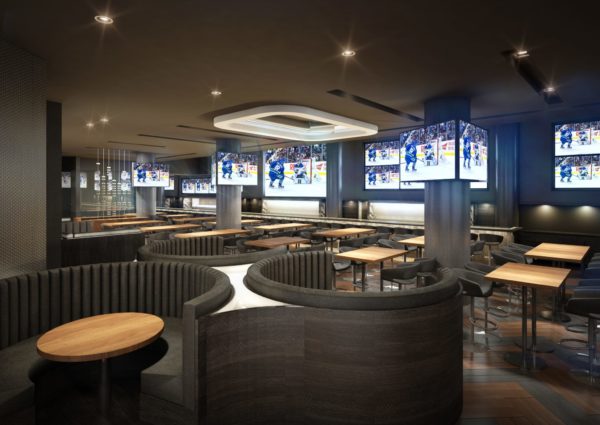 The Sportsbar's multi-purposed design speaks to the vast draw of the room that ranges from young professionals to die-hard sports and entertainment fans. The stunningly designed Trophy Room features leather booths with their own private TV screens, and there's a VIP Player's Lounge area for relaxed entertaining amidst semi-private booths. The 90-foot long "cracked ice" bar anchors the room where a massive 16 ½-foot projection TV keeps guests in on the action. A private Party Room featuring fully-equipped, exclusive bar and service stations along with premium in-arena seating is available for corporate and group events.
Alongside the extensive marble, walnut, and natural stone accents throughout the space, a nod to the country's passion for hockey lore is displayed with 120 hockey sticks owned by iconic greats like Gretzky, Crosby, Ovechkin and Linden. Overhead, dynamic lighting is programmed to highlight the not-to-be-missed moments during live sporting events that are also captured on the 4K HD-TV screens anchored throughout the space.
Located at 99 West Georgia Street, The Sportsbar LIVE! at Rogers Arena is open for every Canucks home game, major sporting events, and live entertainment shows (access via the Georgia Street viaduct or Section 301 off the arena's concourse). For a full schedule, please click here.
ABOUT AQUILINI RESTAURANT GROUP:
The Aquilini Restaurant Group is an upscale collection of distinct and destination-driven restaurants that provides the preeminent sports and entertainment experience.
ABOUT THE SPORTSBAR LIVE! AT ROGERS ARENA:
The Sportsbar LIVE! at Rogers Arena is Vancouver's preeminent entertainment venue that's a first-of-its-kind sports and dining experience. Right in the center of the action, enjoy fresh takes on classic sports bar favourites paired with crafted cocktails in a luxe, multi-purpose designed room. Home of the Vancouver Canucks, be entertained at the city's longest "cracked ice" bar, relax in the clubby Player's Lounge, or watch from a personal TV in the iconic Trophy Room – The Sportsbar LIVE! at Rogers Arena is the one and only place to be. Visit thesportsbar.ca for more information.
SOCIAL:
Facebook: @TheSportsbarRA
Twitter: @thesportsbar_ra
Instagram: @thesportsbar_ra
#TheSportsbarLIVE