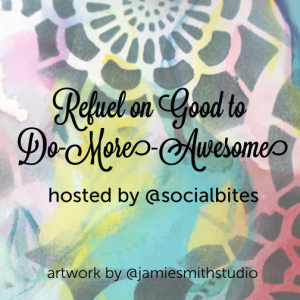 Over the past months, Cressey Development Group has connected the community of Southeast False Creek through Revolving Door, a series of events ranging from art shows, food centric social ventures to educational technology endeavours. Empowering event organizers to contribute to the changing community,
Revolving Door has raised over $2,000 for local causes and now, in its finale event, is setting out to "refuel" the community so they can do the same.
The final event "Refuel on Good to Do-More-Awesome" on Friday, November 21 (5-7pm) is hosted by Revolving Door curator Annika Reinhardt of Social Bites. She will treat guests to an after-work soiree aimed at rejuvenating, regenerating and relaxing the body and soul, all while enjoying a signature drink, snack bar, and mini spa, among other perks.
With work-life balance a constant struggle in the workplace, Reinhardt believes individuals must be given the opportunity to "reset" in order to give back to the communities they live and work in, and therefore sees the event as the perfect opportunity for individuals and small business or teams that need a recharge.
"Being a small business owner myself, I know that taking care of yourself is often the last thing you think about with all the hustle and bustle of the daily grind," says Reinhardt. "This event will offer a great and affordable way to refuel to ensure we can all give our best to the world."
With over 40 years experience of quality construction across BC, Cressey recognizes the importance of building community along with great homes. Between August and November 2014, Cressey has opened up the doors of their new presentation center at Meccanica, located on the corner of East First Street and Quebec Street in Southeast False Creek, to host a series of seven intimate events, curated by local 'residents' – artists, entertainers and connectors within the community – who have transformed the space to help tell their unique stories while raising funds for local organizations.
For more information or to reserve your spot for free, visit the event page.
About Cressey Development Group
Cressey is a privately owned, fully integrated project development, construction, marketing and property management company with over 40 years of experience. With over 200 projects to date, Cressey has earned a reputation for constructing landmark developments of unparalleled quality, making them one of the regions most recognized and celebrated builders. The CresseyKitchen™, a prime example of Cressey's forward thinking design is renowned for its functional walk-through layout, ample storage space, and sleek, seamless design.