Don't Miss This Fantastic Christmas Shopping Opportunity!
The 7th Annual West Coast Christmas Show
Buy Your Tickets Online NOW & SAVE! Click here.
at TRADEX, Abbotsford
DATES:
Friday, November 21
Saturday, November 22
Sunday, November 23
HOURS:
Friday, Noon – 9pm
Saturday, 10am – 6pm
Sunday, 10am – 5pm
TICKETS At Door:
General Admission (17+): $6
Seniors (65+): $5
Youth & Children 16 years and younger are FREE when acconpanied by an adult
and
Save $1per ticket
Online tix:
Adult: $5
Senior: $4
FREE RE-ENTRY
Any ticket purchase entitles you to free unlimited readmission any day of the show. (Offer is non-transferable and applies to ticket purchaser only.)
Find us online:
Visit our website for all the details about the West Coast Christmas Show
"Like" us on Facebook, follow us on Twitter, to stay up to date on the latest info and to hear about contests.
One of the best things about the West Coast Christmas Show is it is a great group activity.
COME CREATE MEMORIES WITH YOUR FAMILY AND SHOP AT SOME OF THE MOST UNIQUE BOOTHS FROM AROUND THE COUNTRY!  
YOU WILL NOT FIND MANY OF THESE ITEMS IN MALLS, OR RETAIL OUTLETS. 
OVER 200 EXHIBITS INCLUDES 
85+ ARTISANS!!!
LIVE ON THE HOME FOR THE HOLIDAYS STAGE
Holiday entertaining and home decorating ideas are presented on the Home for the Holidays Stage by chefs, book authors and home stylists. Leading the presenters is Gwendolyn Richards. the author of best selling cook book Pucker, Gwendolyn will demonstrate and offer tips on holiday cooking, baking & entertaining.
SOUNDS OF THE HOLIDAYS STAGE
Hear the sounds of the holidays with live performances by local musicians and choirs. Performances all weekend.
KIDS! Make your own FREE model plane & check out the huge Model Train display
The Fraser Valley Model Club will have model plane kits for kids 8 and older to assemble and take home, FREE!  Also check out the huge model train set up for the Empress Line Railway created by by Fraser Valley Model Train Enthusiasts, a West Coast Christmas tradition.
MORE FREE FUN FOR KIDS!!!
Decorate your very own Christmas cookie with help from one of Santa's elves.  Create your own Sand Art and write your very own letter to Santa and put it in Santa's Mailbox in Santa's Workshop!!!
FESTIVAL OF TREES
Walk amongst these beautifully decorated trees that local charitable organizations have decorated to compete for a grand prize. Visitors can also win a prize package by voting for their favourite tree!
A VERY SPECIAL ATTRACTION: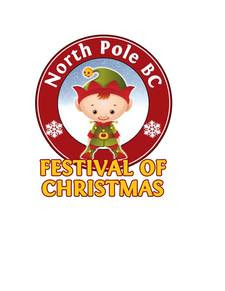 NORTH POLE BC 
While visiting the West Coast Christmas Show, take a sneak peek as the Elves prepare the magical North Pole Village scenes and activities for their November 28th opening. Meet some of the jolly Christmas characters featured this year, then grab your friends and enjoy your FREE CHRISTMAS PHOTO courtesy of Giggle Booth Photos!