Singletree Winery Warms up your Holiday Season
Taste their Fraser Valley wine and get cozy at seasonal community events
Wine lovers have a chance to taste local wine and stock up for gifting and entertaining this holiday season, at three upcoming events.
Singletree Winery, the newest, small, family-owned and operated agri-business in Abbotsford, is pouring their acclaimed wines at the West Coast Christmas Show this weekend, and at two events in their winery and tasting room at 5782 Mt. Lehman Road in Abbotsford.
Information follows, but for more details, please contact the winery at 604-381-1788 or info@nullsingletreewinery.com.
West Coast Christmas Show
November 20-22, 2015 (various times)
TradEx, 1190 Cornell Street, Abbotsford
Singletree will pour the latest vintages of their small lot wines in the popular 'Sips of the Season' area, with an opportunity to purchase wines onsite. Stock up your wine cellar for holiday gift-giving and get-togethers.
Tickets: On sale now at westcoastchristmasshow.com.
Painting Party at Singletree Winery
Friday, December 4, 2015, 7pm
Singletree Winery, 5782 Mt. Lehman Road, Abbotsford
Freda from Zealous Art will take you step-by-step to create your own holiday masterpiece, while you enjoy a glass of Singletree wine and your choice of delicious appetizers.
Tickets: $50.00 per person, limited to just 20 spaces. RSVP with payment at 604-302-3795 or via email at info@nullsingletreewinery.com.
Singletree's First Winter Warmup
Saturday, December 5, noon to 5:30 pm
Singletree Winery,  5782 Mt. Lehman Road, Abbotsford
Enjoy a unique winter experience at a family-farmed winery, perfect fun for all-ages. Make a wreath with hardened grape vines, roast some marshmallows and enjoy mulled wine with family and friends. Bring the kids and your rubber boots for a rustic day in the vineyard. Wine sale proceeds will be donated to the Abbotsford fire fighters burn fund.
Tickets: FREE! RSVP with the winery at 604-302-3795 or at info@nullsingletreewinery.com.
About Singletree:
Visit Singletree Winery, a small, family-operated vineyard located in Mt. Lehman, in British Columbia's Fraser Valley. With extensive farming experience, the Etsell family has developed a strong work ethic, sense of responsibility, and appreciation for our agriculture, that they aim to express with Singletree.
With careful attention to their land, they are committed to showing the world what the Fraser Valley is capable of. It is their intention to offer aromatic, crisp, and juicy flavours their unique terroir brings. They are proud of their focused portfolio of wines, which currently includes Sauvignon Blanc, Pinot Gris, Siegerrebe, Pinot Noir and a white blend called Farmhand White. More wines will be introduced as the vines continue to mature, including a a Bordeaux-style red blend, a sparkling wine, and a Grüner Veltliner. The wines are crafted by their second generation family member Andrew Etsell, made in Summerland under the guidance of winemaker Matt Dumayne.
The winery is now open daily for visitors, Friday through Sunday from 12 noon to 5:30pm.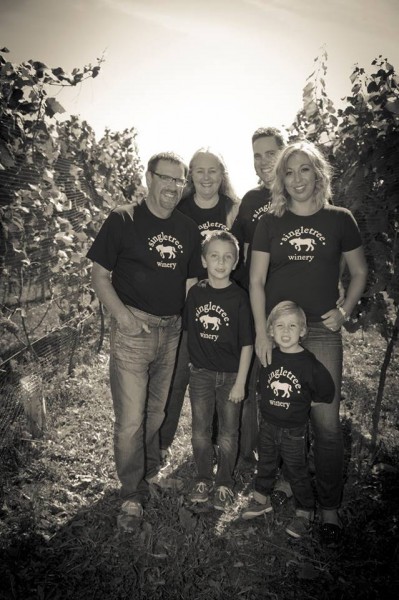 Learn more www.singletreewinery.com and get social with Singletree on Facebook, Twitter and Instagram.
This project is supported by the BC Government's Buy Local program: delivered by the Investment Agriculture Foundation of BC with funding from the BC Ministry of Agriculture.