Brentwood ushers in the true spirit of Christmas with 24 Days of Giving
Daily prizes, #selfieswithsanta contest and random acts of kindness lined up for December 1-24, 2014
It's the most wonderful (and charitable) time of the year! Starting today, Brentwood is getting in the festive spirit with 24 Days of Giving, a social media campaign featuring prizes from a host of participating retailers, plus unexpected perks for the luckiest of guests. With a full roster of festive entertainment, not to mention community goodwill and best-in-class guest services, this holiday season is slated to be the merriest yet.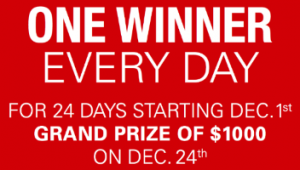 During the 24 Days of Giving, one lucky guest will receive a $50 gift card from a different retailer daily from December 1-23. The campaign ends with a bang on Christmas Eve, thanks to a $1,000 grand prize gift card, redeemable at any store in Brentwood.
"Christmas is always a fun and exciting time of year," explained Samia Massoud, marketing director for Brentwood. "We want to surprise and delight our guests, and bring a little bit of magic to their holiday season with the surprises we've lined up from now through Christmas Eve."
Taking true holiday spirit to even greater heights, Brentwood is also hosting the first-ever #selfieswithsanta contest, where guests can share a selfie with Santa on Twitter with @brentwoodinfo using #selfieswithsanta for a chance to win a $500 gift card, redeemable at any of the centre's retailers. Plus, the Let Brentwood Drive You Home initiative will give guests spending more than $100 (and leaving their cars at home) a ride home, with all their holiday shopping, in a free private towncar. Starting December 4, the program will run every Thursday, (excluding December 25) from 4PM to 8PM, and will be valid for trips within five kilometres of the centre.
"Giving back to the community is always important to us, especially around the holidays," added Massoud. "Our goal is to capture the true spirit of the season by focusing on community goodwill and our signature gold-standard service."
Holiday hours at Brentwood run from December 1-20, with retailers open from 10AM to 9PM Monday to Friday, 9:30AM to 9PM on Saturdays and 11AM to 6PM on Sundays. For more details and a full calendar of holiday programming, including complete Santa hours and photo pricing, please visit www.brentwoodtowncentre.com.
About Brentwood: Brentwood is home to over 90 stores and services including Sears and London Drugs. Located at the transit-friendly intersection of Lougheed and Willingdon, Brentwood is currently undergoing a major transformation with an amazing masterplan: 28 acres and over 1 million sq. ft. of new shops, services and restaurants. Stay up to date on news and special promotions offered to valued guests at www.brentwoodtowncentre.com.