BOULEVARD KITCHEN & OYSTER BAR LAUNCHES NEW WEEKEND BRUNCH MENU SATURDAY, DECEMBER 6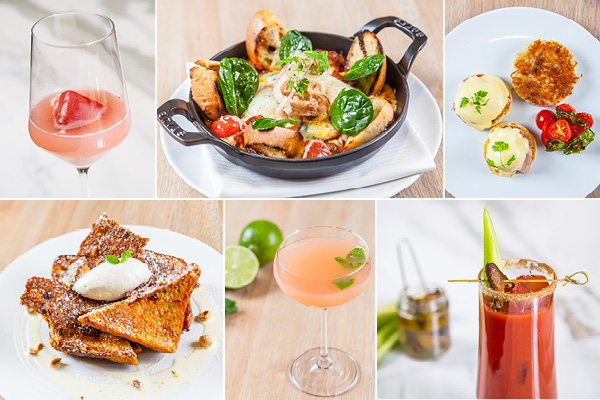 Boulevard Kitchen & Oyster Bar is adding a delicious twist to its fall and winter offerings, rolling out a new weekend brunch menu on Saturdays and Sundays from 11 a.m. to 3 p.m. beginning Saturday, December 6th.
Since opening its doors at the iconic Sutton Place Hotel in July, the expansive, European bistro-inspired Boulevard has quickly carved out a reputation as one of Vancouver's must-try new restaurants thanks in large part to the celebrated cuisine of Executive Chef Alex Chen.
"I'm proud to introduce a new brunch component to our ever-expanding menu," says Chen. "I've designed a number of exciting dishes that feature unique spins on traditional favourites as well as some unexpected offerings that prove there are no 'usual suspects' when it comes to the Boulevard brunch lineup."
Chen's menu includes such toothsome standouts as Nutella-stuffed French Toast (brioche, toasted hazelnut, vanilla crème Chantilly), $18; Eggs Benedict (choice of smoked salmon, roasted mushroom or back bacon, Hollandaise), $18; and Oeuf en Cocotte (D.O.P. San Marzano tomato, chorizo, torn bread, 63° egg), $19.
The Boulevard brunch menu also boasts a number of distinctive seasonal highlights such as Boulevard Wild Salmon Chowder (fennel pollen, dill, Cherry Lane Farm potato), $12; Korean Rice Bowl (Snake River Farm Wagyu Galbi sausage, kimchi, sunny side up egg, sesame dressing), $25; and Oyama Truffle Duck Sausage Pizza (free-range egg, carbonara, parmesan, kale), $22.
Chen's brunch dishes are complemented by Boulevard Bar Manager Justin Taylor's daytime cocktail features such as the Hemingway Daiquiri (Havana Añejo 3 Años Rum, maraschino liqueur, fresh lime, fresh grapefruit, cane sugar syrup), $13; Boulevard Signature Bellini (Beefeater gin, white peach purée, peach liqueur, Bittered Sling Clingstone Peach bitters, sparkling wine, violette ice cube), $14; and Boulevard Signature Caesar (Absolut vodka, Walter all-natural craft caesar mix, house spices, grated horseradish, smoked salt rim, smoked oyster), $12.
To view Boulevard's full weekend brunch menu launching Dec. 6, please visit:
boulevardvancouver.ca/menu/weekend-brunch.
For reservations at Boulevard Kitchen & Oyster Bar, call (604) 642-2900 or go to: boulevardvancouver.ca/reservations.
About Boulevard Kitchen & Oyster Bar
Located in the iconic Sutton Place Hotel in the heart of downtown Vancouver, Boulevard Kitchen & Oyster Bar provides a unique showcase for the culinary vision of Executive Chef Alex Chen. With an innovative approach that blends a respect for the past with a celebration of the present, Chen's seafood-focused menu is grounded in classical technique and training, while artfully infusing casual West Coast flair and creative hints of his international influences. Paired with exceptional service, a wide-ranging selection of wine and cocktails and true European ambiance in a traditional-yet-modern setting, Boulevard offers breakfast (6:30 to 11 a.m.), lunch (11 a.m. to 2 p.m.), dinner (5 to 11 p.m.) and late night service until 1 a.m. seven days a week, as well as weekend brunch from 11 a.m. to 3 p.m. beginning Dec. 6.
845 Burrard Street, Vancouver, B.C. V6Z 2K6 | (604) 642-2900
www.boulevardvancouver.ca | Twitter: @blvdyvr | Facebook: /blvdyvr