A Musical Night To Remember!
When:  Saturday Dec. 13th at 7:30 pm  (Sunday Dec. 14th SOLD OUT)
Where: Canadian Memorial Church – 1825 W 16th Ave, Vancouver
Tickets: $25 adults, $22.00 seniors and students
$15 children under 12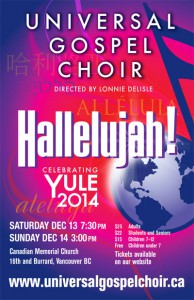 The Universal Gospel Choir is back once again to wow the audiences with their upbeat singing and out-of-the box creativity, for the sole of purpose of spreading the holiday spirit and uplifting humanity with their melodious words and sounds. The UGC will be celebrating Yule 2014 – Hallelujah!  at the Canadian Memorial Church on December 13 and 14. Featuring traditional Gospel favourites in combination with Christmas and pop classics, as well as spiritual tunes from all around the world. Get ready to be moved!
This multi-faith and multi-cultural group is a community-based choir that is passionate about healing individuals entirely through their soul touching music and dance. Every year through their standing-room-only concerts, the choir manages to fill the arena with exuberant sense of fun, laughter and joy. So be prepared to get your groove on as the heart -warming sounds reach the inner spirit and inspire you.
The UGC embraces music from all walks of life as they range from civil rights anthems and traditional songs to upbeat pop tunes thereby, celebrating music and its importance to humankind. The audience will find themselves unable to sit in their seats as the rich and soul-lifting sounds of the choir engage and establish a powerful connection with the crowd. The choir will be lead by the trained choral conductor and music director Lonnie Delisle. Understanding the powerful impact generated by the rhymes and rhythms of the group, Lonnie mentions "There's no instrument that compares to the human voice, especially when many voices join together with powerful synergy. It's magic!"
The sheer excellence and authenticity of UGC is sure to inspire a soul- searching journey as they lighten to enlighten the audience with their voices and music. Expect a completely non-traditional musical night with a highly talented and intensely trained group of artists aimed to heal and uplift humanity. Every year the choir produces two major self-produced concerts in December and June in an intimate setting where the crowd is encouraged to become a part of the performance while, a mystic and thrilling atmosphere is created that leaves everyone spirited and rejuvenated.
About Universal Gospel Choir
The Choir is committed to raise funds for many non-profit societies and their communities by organizing events and concerts each year. As part of the Community Outreach Series, they have performed on the behalf of groups such as the Unitarian Refugee Committee, the Squamish Drug Rehabilitation Centre, Canuck Place, the Vancouver Food Bank, Habitat for Humanity, and several Vancouver Downtown East Side initiatives. The choir performs two major self-produced concerts in December and June of each year.