Odd Society Spirits Deliver Both the Sweet and the Bitter
With a grain-to-glass philosophy and a craft distillery designation, all spirits served at the Odd Society Spirits Cocktail Lounge are legally required to be created onsite. In order to expand their portfolio of spirits and liqueurs while elevating their already strong cocktail program, Odd Society Spirits obtained a winery license and has developed their own vermouth. Odd Society Spirits Bittersweet Vermouth will be available to purchase  for $22 in 375ml bottles at the distillery starting Thursday, December 18, 2014. Select British Columbia restaurants, bars and private liquor stores (prices may vary) will also be carrying this essential classic cocktail ingredient.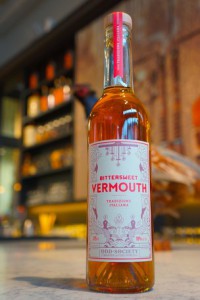 A bittersweet fortified wine, Odd Society's vermouth is developed from a classic Italian recipe, made with local Viognier grapes and sweetened with caramelized sugar. It is aromatized with a mix of twenty-five different local and international herbs and botanicals including citrus, rhubarb root, and bittering agents like wormwood, cinchona bark and centaury. The taste is rich, deep and intense. Like a life well-lived, it delivers both the sweet and the bitter to add a subtle complexity to mixed drinks.
Wanting to set this vermouth apart, distiller Gordon Glanz chose one flavour component that would truly express the terroir of the Pacific Northwest — harvested Arbutus bark from Mayne Island gives this vermouth distinctive west coast character. "We want to create spirits that represent where we live," says Odd Society Spirits co-owner and distiller, Gordon Glanz. "Everything we craft from the Bittersweet Vermouth to the Wallflower Gin is intended to evoke a sense of time and place."
About Odd Society Spirits:
Odd Society Spirits is a small-batch B.C. Craft-Certified distillery located in the heart of East Vancouver. Dedicated to combining old-world distilling traditions with new-world ingredients and ingenuity, Odd Society Spirits has created a family of spirits that entice and intrigue. Open Thursday through Sunday, Odd Society Spirits distillery and cocktail lounge is located at 1725 Powell St.