Five Favourite Features: 
BC Home + Garden Show announces shortlist of can't-miss experts, events and exhibits 
Top exhibition of all things landscaping and home improvement to hit
BC Place Stadium, February 18-22, 2015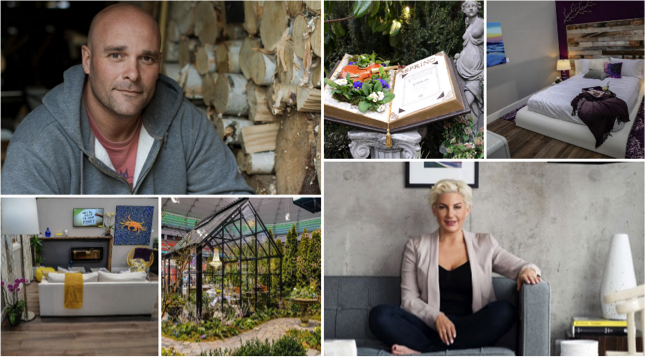 Enhance your home, inside and out! The 42nd annual BC Home + Garden Show will up the home improvement ante from February 18-22, 2015 at BC Place Stadium, with the industry's best known names, including HGTV's Bryan Baeumler and lifestyle expert Janette Ewen, seminars and live demos from Vancouver's horticulture and landscaping pros, plus more than 425 local exhibitors. With innovation, inspiration and expert advice all under one roof, satisfaction is guaranteed – or the cost of admission is on us.
MAIN STAGE
Seeking sweet relief on a home improvement project? Look no further than the all-star lineup of Canada's most talented designers, real estate insiders and home improvement specialists on the Main Stage. Celebrity presenters including HGTV's hunkiest contractor Bryan Baeumler and designing diva Janette Ewen, as well as local favourites Jamie Banfield, Megan Baker, Karin Bohne and the Friendly Decorator herself, Christine Friend, will deliver doses of expert advice, insight and innovative solutions to soothe any home design distress.
FEATURE GARDENS: THE CLASSICS
History will outdo itself in living colour with six glorious garden plots inspired by cultural classics in film, music and design. Explore more than 5,000 square feet of lush oases complete with fabulous floral arrangements, fashion-forward patio furniture and the industry's top water features. Eden, eat your heart out.
Power Smart Cardinal Cabin presented by BC Hydro
Looking for a stylish, environmentally friendly pad to call your home away from home? Meet the Cardinal Cabin, custom designed by award-winning Jamie Banfield Design and crafted by locally-based Linwood Homes. Eco-chic is no longer an oxymoron thanks to the envy-inducing sustainable décor and Energy Star appliances. It's truly possible to create a vacation dwelling with cutting-edge design and Power Smart advancements – it's what we call an "energy efficient" light bulb moment.
THE VANCOUVER SUN GARDENING SCHOOL
Growing apart from your garden plot? Develop a deep-rooted love for all things leafy with daily seminars from the Vancouver Sun gardening editor Steve Whysall and his team of gardening gurus. Experts including GardenWorks' Chris Janko and Leanne Johnson and Phoenix Perennials' Hellebore expert Gary Lewis will guide budding horticulturists through the nitty-gritty of plant cultivation, with topics ranging from urban gardens to edibles and everything in between. Dig in!
MANSCAPES
The BC Home + Garden Show's first ever dude-focused dual exhibit will feature the ultimate urban garage and a decked out patio area, making it the perfect spot to park the hubby, pick out a toolkit or kick back with the whole crew.
 – The Urban Garage
Man, meet your match. Tasked with reimagining the ultimate garage area for today's style-savvy urbanite, local designer Dexter Dolores will create an on-trend space with all the environmentally friendly essentials, a serious dose of organizational prowess and a try-before-you-buy tool section. Hands-on guys, consider yourselves hooked.
 – Gemstone Beer Garden
Cheers to beers! Join the crew from Just Here for the Beer to sample suds from the newest and best local microbreweries while kicking back in a stylish patio setup designed by Gemstone Masonry and Landscape Supply. It's official – the best way to wind down from shopping the home show is to get loose in the lap of luxury.
About the BC Home + Garden Show: The BC Home + Garden Show has been a staple in consumers' calendars since 1971, attracting more than 56,000 qualified visitors every spring. Produced by Marketplace Events, the show features high-interest exhibits, high-profile industry personalities and the latest home and lifestyle trends. Marketplace Events produces 38 home shows in 21 markets that collectively attract 1.5 million attendees and another 1.7 million unique web visitors annually.