Almond-Roasted Apple Brûlée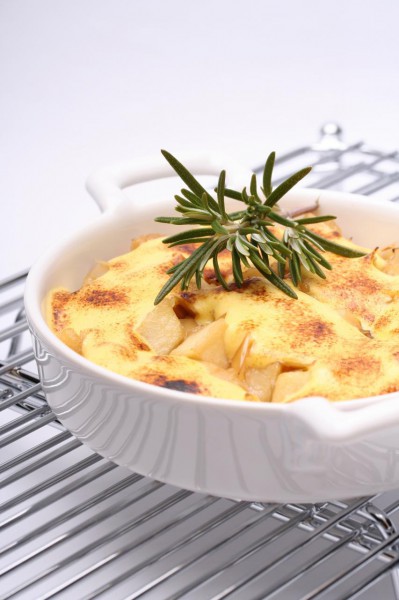 Almond-Roasted Apples
2 large Granny Smith apples
1/4 cup (50 g) packed brown sugar
1/3 cup (40 g) sliced almonds, toasted
1 tsp (5 mL) finely chopped rosemary
Custard
6 large egg yolks
2 Tbsp (30 g) granulated sugar
2 Tbsp (30 mL) apple juice
1 Tbsp (15 mL) Calvados or brandy (optional)
Preheat the oven to 325°F (160°C).
Peel and core apples, and cut into 1/2-inch (1 cm) cubes. Toss together apple, brown sugar, almonds, and rosemary in a large bowl until well combined.
Transfer to a baking sheet lined with a silicone mat or parchment paper and bake for 15 to 20 minutes or until just tender. Remove from the oven and keep warm.
For the custard, whisk together egg yolks, sugar, apple juice, and Calvados in a medium heatproof bowl until well combined. Place the bowl over a saucepan of hot (not boiling) water, and cook, whisking constantly until mixture is hot, thick, and foamy.
Divide Almond-Roasted Apples evenly among 4 ramekins. Spoon custard over top, dividing evenly.
Ignite a blowtorch and caramelize custard until evenly melted, moving the torch constantly so custard doesn't burn.
About Dominique and Cindy Duby: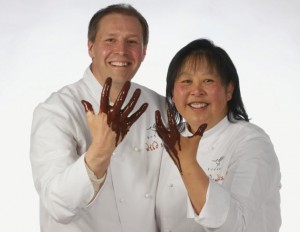 Dominique and Cindy Duby are world-acclaimed chocolatiers and owners of DC Duby Wildsweets. They have won many international gold and silver medals and continue to be valuable contributors of trade articles in food magazines worldwide. The Dubys have written various critically-acclaimed recipe books such as Wild Sweets Chocolate: Sweet, Savoury, Bites, Drinks, Crème Brulee and Wild Sweets: Exotic Dessert and Wine pairing.They regularly work with food scientists to research, develop, and implement techniques to create new tastes and textures that improve the Palette of flavours which they offer.
Recipe courtesy of their cookbook – creme brûlée